The $5.9 billion Tampakan copper-gold project of global miner Xstrata Plc (OTC:XSRAY) was put at risk last year by a mining ban instituted by the Province of South Cotabato on the Philippine island of Mindanao. In effect for some months now, many expected it would be quickly over-ruled. However, the nearby Province of Zamboagna del Norte just passed a similar provision. This has all the hallmarks of a protracted political dispute as the provinces defy the will of the national government in Manila. The implications for Xstrata are not good, for this will certainly cause delays to the project. It may also inhibit development in the country by other miners. The Philippines sits on an estimated $1 trillion worth of mineral resources.
There are many kinds of risks in business endeavors and investments. Those specific to a certain country are known as "Country Risk". The Philippines is an island nation in Southeast Asia consisting of several large and many small islands. The rapidly growing population reached 100 million people last year, which makes it the 14th most populous country in the world.
Unfortunately, "the poor man of Asia" has not advanced as fast in the area of development. I am a frequent visitor to the Philippines and have visited Tampakan, which is in the fertile agricultural area of the Cotabato Valley. Tampakan, otherwise not well known, gets frequent mention in the local press and in mining publications worldwide.
From the 2010 Xstrata Annual Report:
The Tampakan mining project feasibility study was completed and submitted to the Philippine government on schedule in April 2010. The study indicates a potential large scale, low-cash cost, open pit mining operation with an average annual production of 375,000 tonnes of copper and 360,000 ounces of gold over an initial 17-year mine life.

In late June 2010, the then outgoing South Cotabato governor approved the South Cotabato Environment Code, a provincial ordinance that includes a ban on the use of open pit mining methods in the province. This provision in the Code runs contrary to the Philippine Mining Act of 1995. The Tampakan project is not immediately impacted by the ban on open pit mining as it is still in the exploration phase. However, Xstrata Copper continues to monitor the issue closely and engage with all stakeholders, including national and provincial governments, regarding the proposed development of the project.
The proposed mine may be sited at a place that contains the largest undeveloped copper deposit in all of Asia. The development of this 9,600 hectare project comes at a time when the exploration and development of new copper resources is sorely needed. Xstrata, a worldwide producer of coal and minerals, said in a report by Reuters on Friday, that growth in mined copper output this year will be the lowest since 2002 as declining ore grades, bad weather and strikes restrict volumes. Chief Executive Officer Mick Davis said, "Despite 10 years of investment, the supply side is still struggling to keep pace."
Xstrata is a large well established company with a strong balance sheet and significant cash flow. It is diverse enough, both product wise and geographically, so that no one project could ruin it. However, when dealing with a commodity in short supply, it will lose some competitive advantage if it lags other firms in getting a new large mine into production. When several other large mines, including the RIO/Ivanhoe (IVN) project in Mongolia and expansion efforts in Peru and Mexico by Southern Copper (NYSE:SCCO) come into full production the supply will increase and prices of the commodity may soften. The global copper market is tight enough, and the major players few enough, that an action like the current strike at Freeport-McMoRan's Grasburg mine in Indonesia can cause worldwide ripples throughout the industry. Continuing effort in exploration of new resources is crucial to all miners and something they closely track.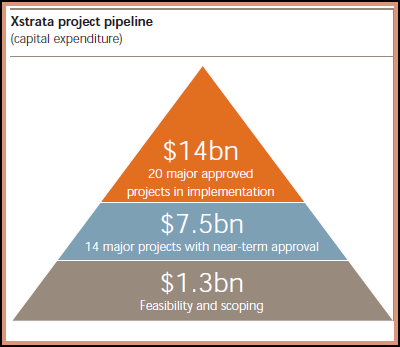 The local mining association in the Philippines asserts that, "The ordinance [ban], with all its onerous terms including sweeping new provincial regulatory powers over large mining operations that clearly usurp the authority of the national government, is grossly unconstitutional". All parties, including President Aquino, are very interested in getting the matter resolved. At its root, it is a constitutional issue. Where does National power stop and Provincial authority take over?
In developed countries like Italy and France, this was worked out over generations. Even in the U.S., though, there are squabbles over states' rights and occasional questions. Can a state enact stronger environmental regulations than the Federal Government requires? In developing countries, some of these issues remain ambiguous and the legal structure to define them does not exist. In the Philippines, government regulations prohibit or limit the property rights of foreigners and foreign corporations. A national law was passed exempting mining from this law. Later it reversed and its status remains questionable.
Benigno "noy noy" Aquino is the 15th President of the Philippines. Sometimes referred to as PNOY by the acronym loving Filipinos, he took office in 2010 and is attempting reform. An important initiative is the change in the national school system from a 10-year program to a 12-year program. The Global Competitiveness report by the World Economic Forum in Geneva lists the key negative factors of doing business in the Philippines as: Corruption; Inefficient government bureaucracy; and inadequate infrastructure.
The issues facing Xstrata in the Philippines are not unusual occurrences in develping nations. They, and other miners, face similar problems from Latin America to Africa to Central Asia. While the Philippines can be a nice place to visit, it's a tough place for a foreigner to start a business, especially a miner.
Xstrata is a $43B market cap Swiss based global firm with projects in 20 countries. Its businesses maintain a meaningful position in seven major international commodity markets: copper, coking coal, thermal coal, ferrochrome, nickel, vanadium and zinc. The company also offers recycling facilities and a suite of global technology products.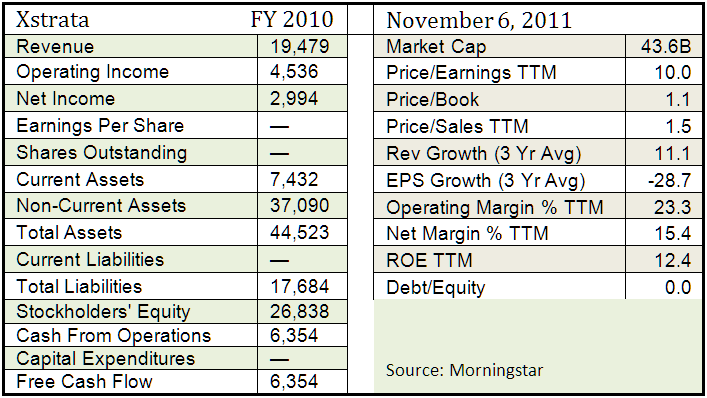 Click to enlarge
Click to enlarge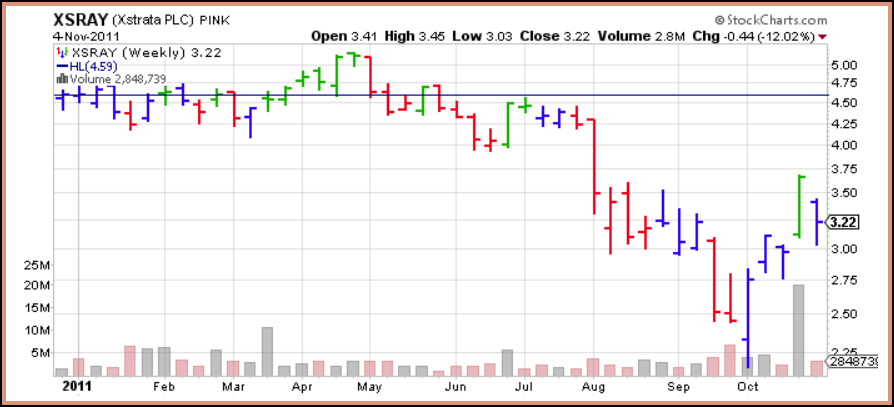 Click to enlarge