Contrarian investing is a lot like going to a ballgame dressed in the opposing team's jersey; the crowd is decidedly against you, sharing your view will draw jeers, and the only way you'll be happy is if things turn out differently from what the vast majority expects. Despite what it may look like on the surface, contrarian investing is not just blindly throwing capital into bleak-looking situations. The market is generally efficient and typically does a pretty good job of pricing in bad news, so assuming every beaten up stock is going to rebound is a great way to lose money. A lot of cheap stocks are cheap for good reason. That said, the way to earn outsized returns in the market is to take a stance that is counter to the prevailing sentiment. Contrarian situations are often messy and complex. Most investors would rather invest in a stock with a nice looking chart, clean financials, and positive analyst support. Why? Because it's easy and it feels good, it's like doing the elliptical at the gym instead of running on the track. Unfortunately, I have never heard of an Olympic runner that trains on the elliptical. The same is true with investing, by definition generating alpha requires one to venture into places where most are not willing to go. Gentiva Health Systems offers investors a compelling contrarian investment with significant upside potential.
Company overview:
Gentiva Health Systems (NASDAQ:GTIV) is one of the largest providers of home health and hospice services in the US. GTIV provides nursing, physical, occupational, and speech therapy, hospice services, social work, nutrition, help with daily living, and other therapies and services. GTIV has over 450 locations in 42 states. GTIV derives 55% of revenue from home health and 45% from hospice. Payer mix is 83% Medicare, 12% commercial and other, and 5% Medicaid.
Investment Thesis:
GTIV has been absolutely decimated (over -85% YTD) and is currently trading at a 9yr low as a result of a steady barrage of potentially negative news headlines. Upon closer inspection however, the sell-off in GTIV looks dramatically overdone. The primary overhang for GTIV over the past few months steamed from fears of the CMS making greater than expected reimbursement cuts in 2012, the Senate Finance Committee inquiry into Medicare reimbursement rates in the home health industry, and the uncertainty surrounding the actions of the Congressional Joint Committee as they pursue the budget cuts required by the debt ceiling deal. You wouldn't know it by looking at the stock price but the first two issues have been put to rest and actually on favorable terms for GTIV. The final overhang, the Super Committee outcome, remains however the stock is undervalued even if the likely worst-case outcome materializes.
CMS 2012 Reimbursement Rates:
CMS came out with the final rule for 2012 home health reimbursement rates last week and the rate cut was less than what regulators had proposed earlier in the year. Furthermore the cut will be phased in over two years. Medicare payment reductions will drop an average of -2.3% which is less than the proposed cut of -3.35%. In my opinion GTIV has not yet priced in this better than expected news.
Senate Finance Committee Inquiry:
The Senate Finance committee released a report in early October which accused the publically traded home health companies (AMED, LHCG, GTIV, AFAM) of encouraging employees to reach home-therapy visit thresholds in order to earn Medicare bonuses irrespective of medical need. This inquiry was in response to a WSJ article from April 2010 which used Medicare claims data to analyze patterns of dispensing care. The Finance Committee initiated an inquiry into the four largest home health companies in May 2010. The conclusion of the report is that the reimbursement system needs to be reformed to focus on patient well-being and health characteristics rather than numerical utilization measures. Despite the derisive accusations this inquiry is believed to be over according to industry sources as the committee has apparently achieved their political goals.
The data provided in the Senate Finance Committee report actually paints GTIV as the least-guilty party within the peer group. GTIV did show a drop in the 10 day cluster and a slight bump in the 14 day cluster however it was significantly better than the overall industry. The rest of the distribution curve showed no change. GTIV actually showed a -7% decline in 6 visit episodes vs. an industry increase of +19%. The increase in the 14 visit cluster (+20% vs. +41%) was about ½ that of the industry.
The report was yet another negative headline for a stock with terrible sentiment and technicials however it was not a "smoking gun" against GTIV. LHCG came off the worst in the report. Earlier this year LHCG settled with the DOJ for a fine of $65m for allegations that between 2006-2008 the company improperly billed for services that weren't medically necessary.
Joint Select Committee on Deficit Reduction
GTIV's swoon started in earnest following the announcement of the debt ceiling deal. The stock sold off hard from the uncertainty surrounding the looming budget cuts as well as disappointing Q2 earnings that were driven by the implementation of new regulations. The fear is that the Joint Committee will not find the necessary cuts and Medicare will see a -2% rate reduction across the board. While the failure of the Joint Committee is a distinct possibility, GTIV is currently pricing in this outcome and then some. Even if the automatic -2% cuts take place I still see the GTIV equity being undervalued. Given the stock's current valuation we are not betting on the outcome of the Joint Committee but rather on the belief that the government will not destroy the entire healthcare industry through draconian reimbursement cuts. I see fair value for the equity at $12 per share assuming the automatic cuts do not happen, should the 2% cuts occur I see the equity worth $9 highlighting the positive skew of the possible outcomes. There is no doubt GTIV faces uncertainty on future reimbursement rates but after the sell-off we have seen we are adequately being compensated for this risk.
Market pricing in the automatic Joint Committee cuts plus some, attractiveness of Hospice business being ignored
With the stock currently trading around $4 the market is pricing in an outcome that is more dire than the combined 2012 CMS cuts and the Congressional debt committee automatic cuts (-2% across the board). While further cuts may be implemented in certain areas of Medicare, I see this outcome for GTIV as unlikely because of the mix of business at GTIV.
My thesis is based on the underlying assumption that the US will not destroy the entire healthcare industry and create a shortage of care crisis. The Congressional budget cuts are aimed at removing the excess from the healthcare industry and are not designed to put everyone out of business. Some areas appear to have more excess "fat" (i.e. profits) than others and the CMS recognizes this. The chart below shows the average operating margin for various companies with high Medicare exposure over the past 5 years. As you can see the average operating margin for the group is 13.6% vs. 7.6% for GTIV. This differential is due to the service mix that GTIV offers relative to others. GTIV is 45% hospice which is lower margin and 55% home health. Within home health some players (AMED, LHCG) provide a lot of therapy which is higher margin. In my opinion the market is treating GTIV as if it is 100% home health (or even a skilled nursing facility company) and is ignoring the favorable outlook for hospice reimbursement. There are no pure-play hospice companies that are publically traded.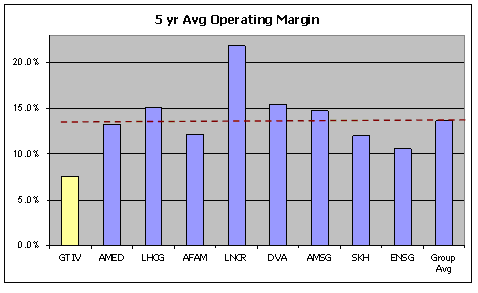 GTIV vs. home health group: (GTIV bills for relatively less therapy)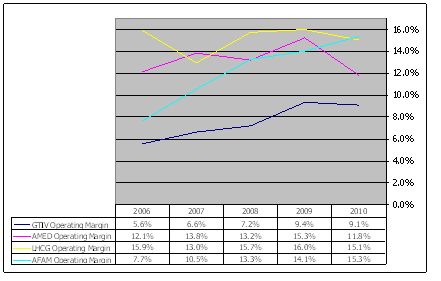 GTIV vs. skilled nursing facility group: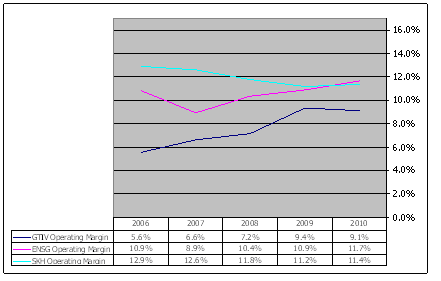 GTIV vs. others with high Medicare exposure: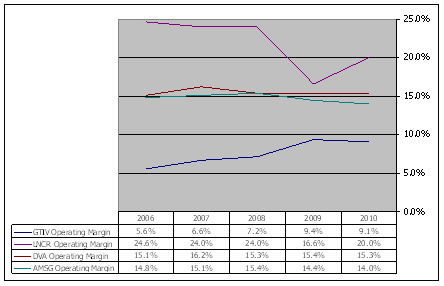 As you can see GTIV already operates in low-reimbursement rate areas which I think protects them from further draconian cuts. Evidence of this can be seen in the CMS reimbursement schedule for 2012, hospice rates are going to actually increase by +2% in 2012 compared to skilled nursing facilities (nursing homes) which are going to see rates slashed by -11.1%. Home health is being somewhat targeted and is slated to see a -2.3% cut. Our margin of safety for GTIV is that the stock price is pricing in these cuts, the automatic -2% deficit trigger cuts, and even additional cuts.
At the end of the day these CMS-induced rate pressures favor the larger and more sophisticated players such as GTIV as they can enjoy economies of scale and develop cost advantages. According to the National Association for Home Care, the 2012 rate cuts will leave 50% of all Medicare home-health agencies unprofitable in 2012. If this continues long enough it will drive out the capacity from the smaller/weaker players until a threshold is hit and there is a shortage of care. Our bet is that we are closer to that threshold than the market is implying. I don't think the government is looking to put every "mom and pop" operation out of business so they will be prevented from slashing rates much further for hospice and home care.
Betting on the biggest players in this type of scenario is always the best course of action because they will be the survivors. This phenomenon has been seen with LNCR in the oxygen therapy space, the government thought profit margins were too high so they dramatically cut reimbursement rates which in turn put a lot of smaller players out of business and allowed LNCR to capture market share. My valuation works assumes no market share gains and no growth in volumes which is unlikely given the demographics of the US. Any gain in share or volume growth will be incremental upside.
From the work I've done I think the US government should have a comfort level with Medicare health care companies earning ~10% operating margins. Operating margins at 5% would result in many players shutting down and lead to a shortage of care problem. My valuation assumptions are based on GTIV earning an operating margin of 7.2% which is comfortably below this threshold and well below the current peer group average.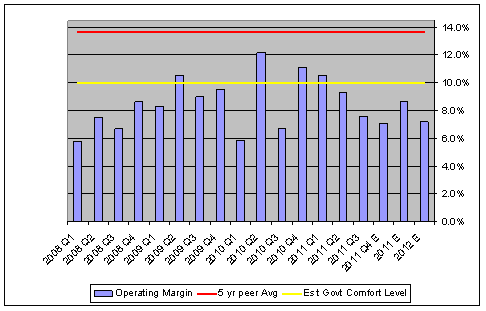 Hospice and home health care are part of the healthcare cost solution not part of the problem
Both hospice and home health care are cost effective compared to facility-based care. The average Medicare payment for a day in the hospital is almost $1,500 per day vs. $135 per for hospice and $50 per day for home health. These alternative methods of care should become a larger part of the healthcare solution going forward and thus the CMS will not want to take significant capacity out of the system via unprofitable reimbursement rates.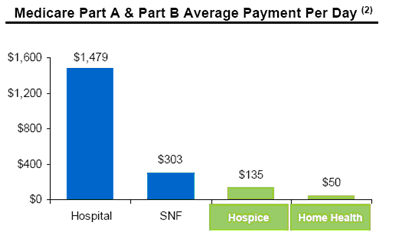 GTIV has a lot of debt but financial distress is unlikely
GTIV levered up when they acquired Odyssey HealthCare last August for ~$890m and as a result now have a fairly large debt load. After analyzing the debt covenants I see GTIV being fairly tight with their consolidated leverage ratio however they have ~$196m in cash that they could deploy if needed to bring the debt down. The covenant levels step down going forward which I see as being a problem. GTIV is currently in talks with their lenders regarding covenant relief. GTIV plans to approach this in two phases, the first phase being immediate covenant relief for Q4 as GTIV pursues cost saving initiatives which will result in a $20-25m charge next Q. The second phase is for longer term covenant flexibility which will be negotiated after the Super Committee saga concludes and visibility improves. GTIV has been pretty diligent in paying down debt with FCF since the Odyssey deal closed. In the past 4 quarters they have paid down $130m worth of debt. Their term loan A doesn't mature until 2015, term loan B until 2016, and bond issue until 2018.
Risks
Congress/ CMS exercise no restraint and set future reimbursement rates at unprofitable levels. This would drive GTIV out of business however this seems highly unlikely as a shortage of care issue is politically and socially unacceptable. GTIV is one of the largest and most sophisticated players in the industry and a shortage of care would kick in long before GTIV is insolvent.
Medicare billing fraud. This is always a risk with these types of companies, given the historical operating margins it does not appear that GTIV has been overly liberal with billing codes, therapies, etc.
MedPAC recommendations for offsets to fund the elimination of the physician fee sustainable growth rate formula. Possible recommendations include home health co-pays and cuts to hospice services in nursing homes.
Medicare ceases to exist. While this is certainly a possibility in my lifetime I don't see this happening in the intermediate future given the predicament it would create for the elderly population that coincidentally is really "into" voting.
GTIV lenders refuse to negotiate relief for the leverage ratio covenant. I see some type of renegotiation as probable however if the lenders were to play hardball GTIV should be able to raise enough money via asset sales. GTIV has over 450 locations so it is reasonable to assume they could sell entire territories to raise cash in a pinch. The stock is trading at 56% of book value (most of this is goodwill) so presumably these assets have more inherent value as a business than just the absolute value of the leases, furniture, equipment, etc.
Disclosure: I am long GTIV.