I recently suggested that Business Development Companies (BDCs) merit further investigation for income-oriented investors. Given the complexity of some of the management structures as well as the risky nature of the underlying investments made, investors interested in this niche should pay careful attention to the alignment of interests between management and shareholders. I had indicated that I would follow up with a review of this dynamic if readers were interested, and that was overwhelmingly the case. Therefore, I am reviewing each of the 14 dividend-paying BDCs I had highlighted in order to assess the amount of "skin-in-the-game".
After recently reviewing Ares Capital (NASDAQ:ARCC), the largest of the group, I am following with Apollo Investment (NASDAQ:AINV), which has a market cap of $1.6 billion. AINV has traded publicly since 2004. Click to enlarge: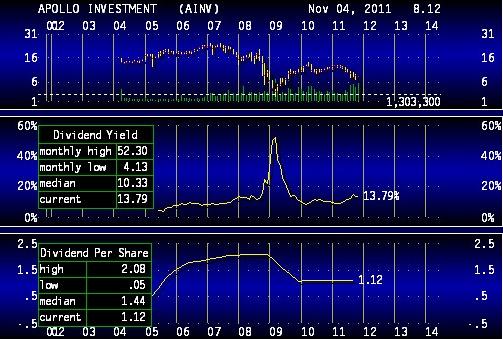 The company filed its annual proxy on June 21st. As is the case for many BDCs, management is provided by an affiliated company, in this case Apollo Investment Management.
Total insider ownership is listed in the proxy as 387K shares, or 0.2% of all shares. John Hannan (58), a co-founder of Apollo and Chairman of the Board since 2004, owns 79K beneficially. James Zelter (48), CEO since 2008, owns 127K shares. CFO Richard Peteka recently purchased 10K shares at 7.79 in August. $3mm total equity exposure is a red flag in my view considering the management fees exceeded $100mm in 2010.
Due to the structure of outside management, investors are unable to clearly weigh the alignment of interests, as there is no disclosure regarding salary and incentive pay levels (or metrics) for the individuals involved in running the firm. As the 10-K describes in detail, there are many potential conflicts of interest.
While there are many more BDCs to evaluate regarding management's alignment with shareholder's, AINV looks to be far inferior to the previously reviewed ARCC. With no skin in the game, management may be pushed to take excessive risk in order to boost incentive fees.
Disclosure: I have no positions in any stocks mentioned, and no plans to initiate any positions within the next 72 hours.