"There are some things money can't buy. For everything else, there's MasterCard." That is the slogan of MasterCard (NYSE:MA), one of the world's 2 dominant payment networks. Just as a MasterCard is a great thing to have in your wallet, MasterCard stock is a great thing to have in any portfolio.
MasterCard is benefiting from a fundamental shift in the way the world conducts business. The world is shifting to electronic forms of payment, and business is becoming increasingly global. MasterCard is well-positioned to benefit from both these trends. Over the past year, shares of MasterCard have risen by over 42%, compared with a rise of 2.87% by the S&P 500. The shares have been depressed for most of the year by the overhang over debit card interchange fees, and once those were resolved, the stock took off. However, we think that stock still has room to run, given its strong fundamentals, which we profile below.

Investors often make the mistake of thinking MasterCard is a financial company, given its role in the financial system. Yet, MasterCard is a technology company, enhancing the flow of business worldwide. The company reported record EPS of $5.63 in Q3, on record revenues of $1.8 billion, a 27% rise year-over-year. Purchasing volume, a key metric, rose 17.2% to $628 billion. Though the company acknowledges slow economies both in the US and Europe, that is not stopping MasterCard from investing aggressively in its business. The company recently wrested the debit card business of Huntington Bank (NASDAQ:HBAN) away from Visa (NYSE:V), a key win for the company.
The company is seeing huge growth in not only emerging markets, but also here at home. On the conference call, CEO Ajay Banga noted that,
volume growth in the U.S. of almost 14% was led by strong debit results aided by the roll on of business wins and double-digit increases in our commercial credit business. Despite persistently high unemployment rates and a weak housing market that has resulted in the low levels of consumer sentiment that we all read about, we are still seeing the consumer spend.
Shares of MasterCard have been held back by fears of a reduction in consumer spending. But we think that misses the fundamental reason behind the success of MasterCard. A secular shift to debit and credit cards is occurring, and even if overall consumer spending declines, it is more important that they spend using MasterCard products. MasterCard is poised for further success, due to the following:
Debit overhang lifted: The cap on debit interchange fees, which was set at 21 cents, impacts Visa far more than MasterCard, given its huge market share in debit cards. Visa's debit card purchase volume was $1.05 trillion in 2010, while MasterCard's was $333 billion. Given these market dynamics, Visa has far more to lose than MasterCard. Visa must defend its huge debit business, while MasterCard simply concentrates on taking share. On the call, CEO Banga summed this up perfectly, saying MasterCard is far better positioned than "others in the debit space. [Visa]" Banga stated, "Our perspective remains unchanged from what you heard Chris McWilton and me said on last quarter's earnings call and at our September investor meeting. We are in a completely different competitive situation from others in the debit space and do not have the need to defend a large incumbent position. We are focused on 4 objectives within our U.S. debit business: first, to retain our existing placement on the minority of our debit portfolios that are exclusive MasterCard debit portfolios. It's important to remember most MasterCard debit portfolios are already Durbin rule compliant. Second, to get Maestro as the PIN debit brand on the back of competitive debit cards; third, to continue to convert competitive portfolios to MasterCard as we have done with SunTrust, Sovereign and the recently announced Huntington Bank; fourth, to win routing preference with selected merchants and acquirers." MasterCard will inevitably continue to take market share in the debit space, and this will lead to further earnings and revenue records. The company also began working with a major Italian bank to convert their card portfolio to Maestro cards on an exclusive basis. Visa has much more to lose than MasterCard in the debit space, and this sector is MasterCard's to win.
Emerging markets (consumer & government): More than 60% of MasterCard's revenue comes from overseas, and those markets are growing rapidly. Cross-border volume growth in Latin America and APMEA (Asia Pacific, Middle East, and Australia) exceeded 20% in Q3, and MasterCard has signed many partnerships this quarter that will benefit both the company and its customers. Despite the uncertainty in Europe and the US, emerging markets are still growing nicely, and the data from this quarter proves that. In Latin America, BBVA (NYSE:BBVA) has begun to roll out MasterCard branded cards across all of its Latin American markets, displacing competitors. MasterCard is not only signing contracts with banks, but also with governments, helping them modernize their operations and financial systems. The company has signed a deal with the Italian government to issue pre-paid cards for its social programs, and has signed a deal with the Indian state of Punjab to automate the procurement operations of the Ministry of Food and Civil Supplies. The current manual system costs the government there $6.5 billion, and the deal with MasterCard will meaningfully decrease that expense.
Mobile: Concerns have abounded about the effect of mobile payment services on MasterCard's bottom line, yet mobile represents the next great frontier for the company. MasterCard has partnered with Google (NASDAQ:GOOG) to launch Google Wallet, and the company is pleased with its efforts. CEO Banga said that, "As far as Google is concerned...I would say that 2 things are happening: one, of course, the bunch of new merchants that we talked about in my remarks. But within the next few months, I think Google Wallet will open up to the other networks, which I believe is the right thing. I believe that open systems is the only way. I've been saying this for a while, that mobile payments will begin to acquire traction." Mobile commerce is the next wave, and MasterCard is well positioned for it. The partnership with Google, as well as Telefonica in Latin America, will help MasterCard transition to the future. MasterCard has partnered with Telefonica to launch co-branded products. In the UAE, the company has partnered with Etisalat to launch a contactless payment solution in 2012. PayPass is gaining rapid adoption, and is now implemented in 37 countries. Over 341,000 merchants accept it. The company is partnering with an increasing number of merchants, and has recently signed up Walgreens (WAG), Subway, American Eagle (NYSE:AEO), Guess (NYSE:GES), Peet's (NASDAQ:PEET), and Macy's (NYSE:M), as well as several other merchants.
MasterCard, like so many firms, has had questions asked about its operations in Europe. While there are some analysts that understand that the economic malaise in Europe does not always mean a lack of success in the continent, many analysts cannot decouple the crisis from secular trends. The very first question on the Q3 conference call was about the company's European operations. Robert Napoli, of William Blair & Co., asked about Europe, saying that he'd,
like a little update on Europe if I could. I mean, it's 1/3 of your spending and your slowdown -- your performance there in light of the circumstances is pretty impressive, and I'd like a little more color on what you're seeing there on a real time basis and imagine that some of these processing deals that you've won that's made the numbers look better than the market itself.
Not all analysts can seem to grasp the fact that macro-economic events do not always affect a company's bottom line. CFO Martina Hund-Mejean answered the question, noting that growth in both debit and credit segments was at double-digits. She took care to highlight that that part of the company's success, aside from its strong operational capability, is the secular shift occurring from cash and checks to electronic payment platforms. That shift is happening no matter what kind of economy Europe or the world at large is in, and that is a fact investors must remember. At the end of the call, MasterCard highlighted the fact that cash "is not free." It costs, on average, 1.5% of GDP for central banks to print, secure, and distribute cash throughout the economy, and it costs both merchants and consumers. A shift towards electronic payments will decrease these costs.
MasterCard not only has strong fundamentals, but strong financials as well. Its operating margin for the first 9 months of 2011 was 54.6%, up from 53.2% a year ago, and the company has publicly stated that it will keep margins above 50%, despite heavy investments across all of its divisions, as well as acquisition expenses. Unlike certain companies that sacrifice profitability for business investments (Amazon), MasterCard is able to balance the needs of maintaining current profitability and investing to increase future profits. The company has a fortress balance sheet, with $4.4 billion in cash and investments, and no debt. This works out to $35 per share.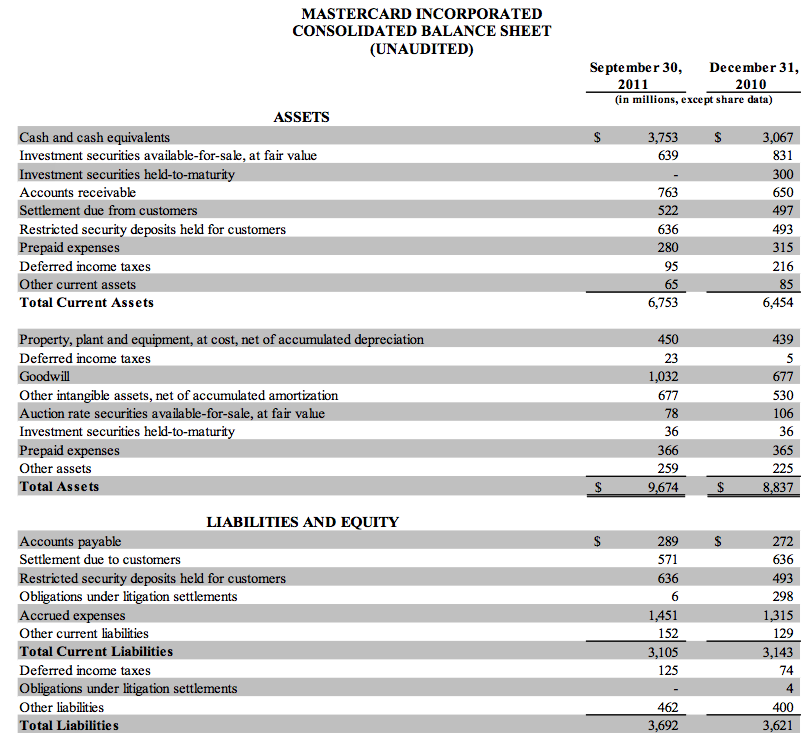 MasterCard has been using cash on all fronts, including investments, buybacks, and dividends, all while its cash on hand rises due to its high cash flows. The company bought back $77 million worth of stock this quarter, and has $879 million left in its current repurchase program. We think that given the company's strong financials, the buyback program will be renewed. MasterCard also pays a dividend, that while small at the present, should grow over time. The stock currently pays a dividend of 15 cents a share, for a yield of 0.16%.
MasterCard is undervalued at current prices. Earnings have been growing at an annualized 48% pace over the last 5 years, and revenues have grown by 13.5%, highlighting the profitability of the MasterCard model. Cash flow has grown by 39.6% annually. Despite consistently posting record profits, MasterCard trades at a P/E of just over 20, and a forward P/E of 17. We think that this is too cheap. And analysts agree. Argus and S&P see the stock at $400, while JPMorgan and CLSA see it at $435. Deutsche Bank is at $415, and Jefferies is at $401. Credit Suisse sees it at $430. Though the Reuters average price target is $388.38, we think that will rise as more analysts go through this most recent quarter and see that the company is poised for great success. MasterCard is transforming the world of payments and is changing the way business is conducted worldwide. The company is one that few merchants can be succesfull without, and we think that the stock is one few investors should avoid.
Disclosure: I have no positions in any stocks mentioned, and no plans to initiate any positions within the next 72 hours.