Recent rating downgrades by sell-side analysts following Nvidia, Inc. (NASDAQ:NVDA) have sent shareholders of the graphics processor producer into a funk. The stock price has followed. Nvidia shares are trading at 54% of the stock's 52-week high set in February 2011. The question today is whether those rating downgrades may have been a gift to investors hoping to take on bullish positions in NVDA at a cheap stock price.
This little piggy went to market, this little piggy stayed home ...
Most shareholders have been anxiously awaiting the debut of Nvidia's Kal-El quad-core graphics processor this fall, expecting this extension of Nvidia's Tegra product line to drive the company back to double digit sales growth. Apparently the two dozen or so analysts who publish estimates on Nvidia are less than enthusiastic.
In an interview at AsiaD in Hong Kong in late October 2011, Nvidia's CEO Jen-Hsun Huang was quoted as explaining, "our challenge is to create something surprising every generation." The latest surprise from Nvidia is supposed to be the new quad-core chipset to accelerate graphical processing. Nvidia licensed technology from ARM Holdings (NASDAQ:ARMH) to build a "system on a chip" that could first be used in tablets and then in mobile phones. Nvidia engineers have promised up to five times the performance of the company's dual-core graphics chip. Drawing its Kal-El name from the Superman saga, Nvidia previewed the new chipset in February 2011 at the Consumer Electronics Show with promises of an August 2011 market introduction. Investors are still waiting.
In the same AsiaD interview Huajg went on to reveal that Nvidia "built the world's first dual-core graphics processor, the Tegra 2, and that's what we're shipping today. And now we're working on our first quad-core processor, Tegra 3, which is really going to be called Kal-El."
The words hung heavy in the air as most were hoping to hear Huang speak about actual Kal-El shipments, not make reference to continued development. A week before Huang's AsiaD interview techies following ASUS Tek Computer were spreading talk that the new ASUS Transformer 2 with teh Kal-El chip on board would begin shipping in early November. The fast approaching date of November 9th has been prominent on message boards.
Keeping up with the crowd ...
An immediate concern for some investors is Nvidia's competitive position. Nvidia's arch rivals Intel (NASDAQ:INTC) and AMD (NYSE:AMD) have both introduced quad-care processors. Qualcomm (NASDAQ:QCOM) has been making noise about an early 2012 introduction of a quad-core processor that is designed to support Microsoft's next generation operating system.
The shakeout in the graphics processor market took place years ago, winnowing down over five dozen competitors in the early 1990s to just a handful today. Nvidia has a strong market position, with a presence on over 70% of non-iPad tablets and over a dozen cell phone models.
Like all other technology companies during the recent recession, Nvidia has been tested. Sales volume shrank in calendar year 2008 and 2009 (corresponding to fiscal years 2009 and 2010 which ended in January). The company finally resumed growth in calendar year 2010, delivering a respectable 6.5% growth rate in fiscal year 2011 sales. Nvidia operations remained profitable during the downturn and converting 14.7% of sales to cash in the very tough year of FY2010. Cash conversion slipped a bit in the first half of 2011, but remained respectable 12.8% of total sales in the six month period.
Slow or fast to the market with new products, at its core Nvidia is a highly efficient operation with a defensible market position. Is it worth more than a share price of $14 bucks and change?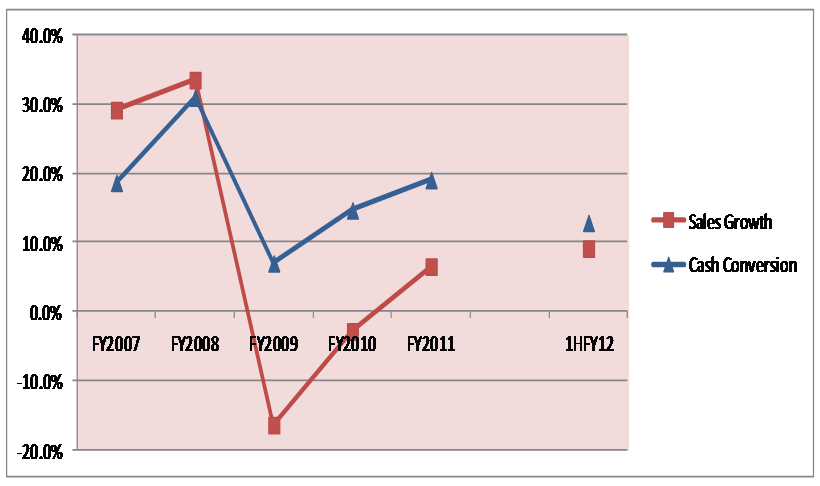 Click to enlarge
(Click to enlarge)
Over sold? Over bought?
NVDA shares are now valued at 14.9 times the fiscal year 2012 consensus earnings estimate of $0.99. Is a 14.9 multiple appropriate or is Nvidia being given short shrift by analysts protecting their track record? It is often difficult to fix on a fair price earnings ratio other than through a list of comparable companies and even then determining an appropriate benchmark can be challenging. Investors valuing growth companies like Nvidia by-pass even the bench marking conundrum by setting the price multiple of projected earnings against the company's own growth rate. The so-called PEG Ratio provides a neat and tidy buy signal (less than 1.0) or sell signal (greater than 1.0).
Today the PEG Ratio for NVDA suggests the stock is ever so slightly undervalued. [ ($14.75 / $0.99) / 14.98% ] or 0.99. The growth rate of course comes from the two dozen or so analysts who publish estimates on Nvidia and is only as reliable as analyst models can be.
Any further drop in stock price might compel some investors to begin accumulating long positions in NVDA. However, that might be a mistake. One of the failings of PE Ratios and the attendant PEG Ratio is equal treatment of stocks regardless of risk. Adjusting the PEG Ratio by risk as measured by beta provides a unique framework to pay the right price for future earnings as driven by growth as well as command compensation for a stock's sensitivity to fluctuations in broader market.
Adjustment of the PEG Ratio of 0.99 by NVDA beta of 1.48 yields a PERG Ratio of 1.27 - a result that points decidedly to an over-bought stock. Sell-side downgrades may have been a gift to the market but so far only traders who sold short are happy with what is in the box.
Neither the author of the Small Cap Strategist web log, Crystal Equity Research nor its affiliates have a beneficial interest in the companies mentioned herein.
Disclosure: I have no positions in any stocks mentioned, and no plans to initiate any positions within the next 72 hours.