Dryships (DRYS) and its majority owned subsidiary Ocean Rig UDW (ORIG) reported earnings after the bell on Monday. Dryships reported net income of $25,000,000 or $0.07 cents/share. Included in these results were $31.5 million in losses from interest rate swaps. Excluding these losses the company would have made $0.16 cents per share, exceeding analyst estimates of $0.14.
Because ORIG is a majority owned subsidiary, their income and balance sheet is included on those of DRYS. Below, I have broken down the income statement for the just reported Q3 2011 in order to differentiate the two companies. This is important for two reasons. One, can Dryships currently operate profitably in the drybulk shipping segment? And two, can Dryships afford to sell ORIG as they have discussed.
The income statement allows me to answer the first question, and the answer is no. Dryships would not have been profitable in Q3 it was just shipping and tankers. They are still able to make an operating profit, and even eek out a profit after interest but what is hurting them is the interest rate swaps. Most of these swaps were entered into during the height of the financial crisis, and many of them were conditions of the loan covenant waivers that Dryships received when they were struggling through their liquidity issues. However, those swaps are expensive to maintain and have tended to lose value in the current low rate environment. Ultimately Dryships will have to pay on these swaps when the positions are unwound.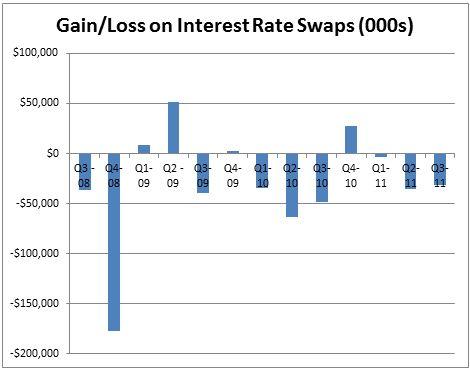 What this leads me to believe is that Dryships needs the cash flow that Ocean Rig provides in order to maintain its financial position. As the drybulk market continues to stagnate and Dryships' overvalued charters roll to much lower spot rates, operating income for the shipping segment will decline.
I don't see DRYS selling ORIG at anywhere near current prices. ORIG currently has a market cap of just under $2 billion but as recently as October, DRYS stated that they believe the appropriate equity valuation for the company would be $4.2 billion, or about $32.6/share. As this would be a 125% premium to current prices I don't see any buyers.
However, this does not mean that I don't want to own Dryships. There are two reasons that I believe DRYS is still a long term buy. First, I want to own ORIG and I believe DRYS is the best way to do that. For the full analysis see my article here. But in brief, depending on how you value Dryships, you are getting their ORIG stake for somewhere between cheap and free.
Second, because Dryships has the cash flows from Ocean Rig to carry them through, they will be one of the best positioned shipping companies as conditions improve. The eurozone crisis has likely pushed back the recovery of the sector, but I still believe that we will see a recovery of spot shipping prices by mid-2012 to early 2013. They won't get back to the excessive rates of 2008 when rates were $100K+/day, but they will get back to profitable levels. Additionally, Dryships will be able to take advantage of shipping companies that aren't in such good shape. With over $400 million in cash, as well as their ORIG stake which they have shown a willingness to use, look for DRYS to do more deal making when opportunities present themselves.
Dryships' shipping side will survive this downturn and Ocean Rig is developing into one of the strongest players in deep water drilling. Buying DRYS allows you to win on two fronts.