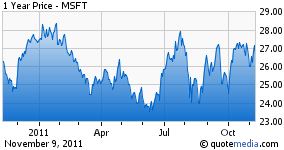 In a recent article by Seeking Alpha contributor Leonid Kanopka, I was reminded why I first invested in software giant Microsoft (NASDAQ:MSFT). However, upon reading the article's comparison to Apple (NASDAQ:AAPL) and the suggestion that Microsoft might be a sleeping giant, I also realized why I might just have held on to my shares too long and should now consider selling.
The article starts with the following:
It seems that for quite some time now, Apple has taken over the world with iPods and iPads and even talks of iTV. The stock price has increased over 400% in the past five years, and it seems like Microsoft just sits in the shadows. Because of the "iMovement," I feel that Microsoft is heavily overlooked. I am still a heavy supporter and user of the company, and frankly, don't see why Apple has received so much attention. Looking at the stock price for the past five years it looks as if Microsoft is a sleeping giant, while Apple is winning the race for technological bliss.
While Leonid is correct in his assessment of Apple's rise to dominance, I would have to disagree in his notion that Apple's success makes Microsoft an undervalued play. The fact of the matter is, (as a shareholder) I can say that Microsoft's perceived irrelevance is the fault of its own. The company has been immaterial long before Apple's prominent rise. There is no lack of opinion for why it has been so average and uninspiring, but the questions that should be asked are how can its value be restored?
As a shareholder, that is the most important question to ask and I cannot help but to realize that its failures started when its current CEO Steve Ballmer took over the company. Since then there has been a series of missteps. Since reaching the high point of the stock prior to Ballmer's appointment, Microsoft appeared to have lost its competitive spirit, or whatever it once had that helped create its empire.
Microsoft poorly underestimated the vitality of the search market. The company allowed Google (NASDAQ:GOOG) to dominate the industry and now has introduced Bing to supposedly compete in the search space.
It was outsmarted in previously strong areas of its business such as browsers where Mozilla seemingly came out of nowhere. I suppose you can say MSFT was "outfoxed."
Worst of all, though, has been the company's approach to both its core business and its biggest future opportunity.
The Vista launch was less than stellar. Some have said it was a complete disaster.
The company has been heavily criticized for choosing to focus on its low-growth legacy businesses.
Microsoft's mobile strategy has been a complete mystery. Once a competent rival to Palm, it has - for the most part - gone nowhere in terms of the most dynamic segment of the consumer technology market.
During the course of Ballmer's leadership, it aborted various projects that could have generated creativity and produced "must-have" items – Kinect being the only exception.
I don't think Microsoft's board or its shareholders have held the company accountable enough for these failures. In any other company with this type of a track record, I have no doubt that a new CEO would have been by now installed. Its current leaders have clearly underestimated the competition and have failed to acquire a firm footing in the mobile computing race.
These failures were direct consequences of Microsoft inserting Ballmer, who many consider a great manager but just not the sort of visionary that the company needs as CEO. When is the board going to acknowledge that this was a mistake?
While Leonid's article makes a great case for Microsoft from a bullish standpoint, I just don't see how Apple's success and or its potential failures will render the effect of Microsoft's fate. That idea alone makes me wonder if Microsoft will ever regain its glory on its own terms. He says:
Overall, once the Apple storm has weathered and cleared, there will be a new PC company that dominates. There might even be a new phone and app wave, but what remains clear is that Microsoft has moved on to "bigger and better things." Looking at the growth rate of the graph, one can conclude that Apple has slowed down while Microsoft has sped up. I think this is a great company and a fantastic stock, and it looks like the time is now for this sleeping giant to awake.
Another thing that I have to agree with in the article is that Microsoft is in fact sleeping and evidence suggests that it has been for quite some time. Can it wake up? I have no doubt that eventually it will, but it will not be with Steve Ballmer at the helm. Another sleeping giant that recently awoke was Cisco Systems (NASDAQ:CSCO). Like Microsoft, its stock has languished for over a decade. But it suddenly realized that it had to make some changes, and now it's in a significantly better situation for it.
Summary
While many have poked fun at companies such as Hewlett-Packard (NYSE:HPQ) and Yahoo (NASDAQ:YHOO) for frequently changing CEOs, what is clear to many investors is that at least those firms are trying. Microsoft continues to receive the benefit of the doubt – I get that – and frankly it has earned it. But to the extent that accountability should no longer apply to its leadership failures, as an investor, this is where I draw the line.
Disclosure: I am long MSFT, CSCO, AAPL.