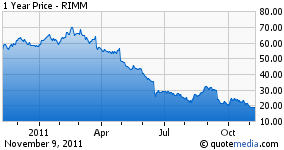 It has been a while since I talked about Research In Motion (RIMM). After being flat out wrong about my prediction, I felt it was time to go back to the drawing board to get a better sense of where the company may now be headed. I'm not going to tell you that the stock is heading up, I've made that mistake recently. The fact is, after falling below its book value, at $18 dollars per share, there is no way to say with any degree of certainty where its next level of support is.
Does RIM Still Have Value?
The obvious answer to this question is yes. But the more important question is to whom? Investors are answering this question daily within each trading session and yet during each quarter, its management only raises more doubt.
In its most recent earnings announcement, the company reported more numbers that disappointed the Street and the stock has since been punished for it. It reported net income that fell by almost 60% to $329 million or 63 cents a share - a significant drop from $797 million, or $1.46 a share in the same quarter a year ago. Its revenue also fell by 10% to $4.2 billion, much larger than what any analysts were expecting.
During the conference call, the company's co-CEO, Jim Balsille attributed the poor sales to the company's aging line of smart phones. This is even though the company recently introduced seven new phones - a number of which are only updates to older models. RIM clearly has lost the battle in the mobile devices market to Apple (NASDAQ:AAPL) and Google (NASDAQ:GOOG), but is the war over? Many are beginning to suggest that has been the case for quite some time as its management has failed to deliver even on its own projections.
I said this previously, making top line growth projections of any company is arguably the most significant aspect of determining the potential growth of its stock. The reality is, unless one has intimate knowledge of how the company takes orders and makes shipments to distributors, there is really no accurate way to assess sales forecasts, at least not to the level to pinpoint the company's exact figures. What is remarkable is that many still attempt to make these forecasts 12 months to five years out.
This is where investors have been stuck with the daunting task of trying to assess RIM's value – and as I have asked above, to whom does it have value?
With the company now looking beaten-up and bruised, it should be time to consider that it may be valuable to another entity – clearly RIM has lost its ability to be self sustaining. In terms of a potential M&A, it is now a matter of when, not if. In that discussion, there should be several names to consider. Microsoft (NASDAQ:MSFT) should be at the top of the conversation, as well as Hewlett-Packard (NYSE:HPQ), Dell (NASDAQ:DELL) and Cisco (NASDAQ:CSCO).
Both Dell and Microsoft have been huge tech disappointments for quite some time. But I think both have a tremendous opportunity at redemption. However, both companies need to get creative. In order to move forward and reverse the malaise that both have suffered over the past several years, an acquisition of RIM should be seriously considered.
In Dell's case, it may not have the capital to make such a move, but the dollar value it would take can easily be raised with minimal effort. Innovation has always been a great driver of a stock. To date, Dell has not shown that it has the ability to innovate. But the great thing about the stock market is that facelifts are often just one acquisition away.
For either Dell or Cisco, a RIM acquisition would present a chance to break away from their respective corporate slow growth mold into a behemoth of innovation with RIM's current portfolio of assets. In Dell's case, the company can once again become very attractive by transitioning from such heavy reliance on computers and transform itself into the areas of content delivery in order to become a diversified tech provider.
Summary
As great as these scenarios may sound, I have to also wonder would any of these potential acquisitions offer a remedy to the many illnesses from which RIM suffers. I realize that this is all wishful thinking and it's much more fun to either play CEO or spend other people's money. But as a market participant, it is hard to ignore some of the things that appear (on the surface) as making too much sense to not happen. In RIM's case, being acquired not only makes sense, it is needed for its survival.
Disclosure: I am long CSCO, AAPL, MSFT.