By Brendan Gilmartin
Overview
NVIDIA (NVDA) is scheduled to report 3Q 2012 earnings after the close of trading on Thursday, November 10. The results are typically available at 4:20 p.m. EST and will follow with the conference call at 5 p.m.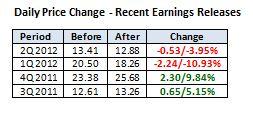 Outliers & Strategy
Key Measures:

Non-GAAP Earnings Per Share (EPS)

: The value for Non-GAAP EPS is the value that compares with the "adjusted" consensus ($0.30).

Earnings Per Share (EPS)

: Estimates range from $0.22 to $0.29.

NVIDIA

is one of the rare cases whereby the Earnings Per Share value compares with general consensus estimates, as opposed to the Non-GAAP EPS figure.

Revenue

: NVIDIA previously said it anticipated revenue in the range of 4% to 6% above the 2Q. That equates to a range of $1.058 bln to $1.078 bln.

NVIDIA is expected to earn EPS of $0.26 per share (estimates range from $0.22 to $0.29) on revenue of $1.06 bln, the mid-point of the range the company provided in August.

Back on October 27, AMD said its graphics segment revenue increased 10% sequentially and 4% year-over-year. The sequential increase was driven primarily by seasonality in the add-in-board market. The year-over-year increase was primarily driven by increased discrete mobile graphics revenue.
11/09: JPM Securities cut NVIDIA to Market Perform from Market Outperform, according to Barron's. The report cited risks ahead of the 3Q earnings release and concerns the "Tegra" microprocessor chips for smartphones and tablets will fall shy of estimates.
11/07: Raymond James reiterated an Outperform rating on NVIDIA, according to Barron's. The firm sees an in-line 3Q release.

10/31: Goldman Sachs maintained a Neutral rating and a $14 price target on NVIDIA, suggesting the company could miss its 3Q outlook for 4% - 6% revenue growth, according to a report on Benzinga.com. However, the firm noted that the launch of a number of popular PC games toward the end of the quarter could drive the desktop market.

09/07: J.P. Morgan Chase reiterated a Neutral rating on NVIDIA, according to Benzinga.com. It noted that, while fundamentals are improving, the PC end-market (which accounts for 60% of revenues) remains weak.

09/06: NVIDIA said it expects 2013 revenue of $4.7 billion to $5.0 billion, with GAAP and non-GAAP gross margins of approximately 51% to 53%. As part of the announcement, NVIDIA sees growth across its GPU and mobile-processor business and noted the future for computing is visual and mobile – two areas where it considers itself well-positioned.
NVIDIA shares have been mired in a fairly tight trading range between $13.50 and $16.00. Near-term, support is at the 50-Day SMA near $14.30, with further downside risk to the aforementioned $13.50-level. Below $13.50, there is downside risk to the 52-week low of $11.47. Resistance is at $15.50, followed by $16. (Chart courtesy of StockCharts.com)
(Click to expand)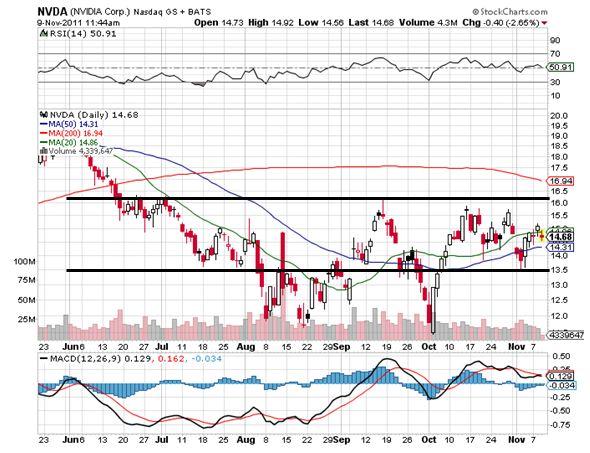 NVIDIA shares are in a sideways holding pattern ahead of the 3Q 2012 earnings release after the closing bell on Thursday, November 10. The shares have been held in check amid concerns that a slower PC market, which accounts for 60% of the company's revenue, and speculation that slower shipments of microprocessor chips used in smartphones could also hold the shares in check. Despite the cautious backdrop, NVIDIA trades at a modest 13.3x FWG earnings with a PEG ratio of just 1.17, with minimal debt and more than $4/share in cash on its books. Fundamentals are also improving and the company could benefit from the October launch of a variety of popular PC games.

Disclosure: I have no positions in any stocks mentioned, and no plans to initiate any positions within the next 72 hours.
Disclaimer
: By using this report, you acknowledge that Selerity, Inc. is in no way liable for losses or gains arising out of commentary, analysis, and or data in this report. Your investment decisions and recommendations are made entirely at your discretion. Selerity does not own securities in companies that they write about, is not an investment adviser, and the content contained herein is not an endorsement to buy or sell any securities. No content published as part of this report constitutes a recommendation that any particular investment, security, portfolio of securities, transaction or investment strategy is suitable for any specific person.