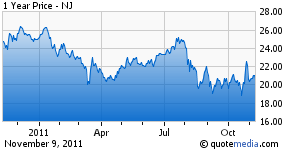 More good news from Thailand. Damage to the tech sector from flooding may not be as bad as first thought.
The good news comes direct from Nidec (NJ), the leader in hard drive motors, which says its Thailand plants have already resumed production and that the current supply gap could close by the end of the quarter.
Nidec is a big favorite here at Seeking Alpha, with even editor Eli Hoffman putting his smiling face next to a Barron's profile on the company. It is now Japan's fifth-largest electronic company, the profile says, still led by founder Shigenobu Nagamori.
The company adds that it was already in the process of moving production of its gear away from Thailand, into mainland China and the Philippines.
This, of course, is not just good news for Nidec, the dominant supplier of drive motors. It's also good news for drive users, for companies like EMC (EMC), HP (HPQ), and Dell (DELL) which place those motors into high-capacity storage servers for the cloud. It's also great news for consumer electronics manufacturers who still use hard drives (as opposed to the chip drives common to cell phones and tablets), and to DVR makers like TiVo (TIVO).
Lower cost storage and no interruptions of supply on key components. It's a sun shiny day for the hard drive business.
Disclosure: I have no positions in any stocks mentioned, and no plans to initiate any positions within the next 72 hours.