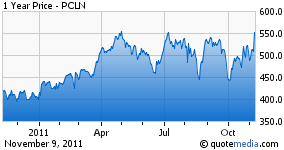 Priceline.com (NASDAQ:PCLN) reported solid third-quarter results after the close Monday. We are maintaining our $584 per share fair value estimate. In the spirit of transparency, our full report on Priceline and hundreds of other firms can be found here.
The firm's gross travel bookings increased an impressive 56.2% from the same period a year ago, while revenue jumped 45% led by international sales expansion (which increased almost 80% in the period). The company noted that its airline ticketing business experienced its strongest quarterly growth in the last seven quarters, with sales increasing 8%.

Importantly, the firm was able to leverage this tremendous sales growth into an 83% increase in operating income, a very nice showing. Non-GAAP net income jumped almost 90% from the same period a year ago, and diluted earnings per share came in at $9.95, above consensus expectations of $9.30. Cash flow from operations exploded to over $1 billion through the first nine months of the year, up from under $600 million from the same period a year ago. That's well in excess of net income, so we like the firm's earnings quality.
Looking ahead, Priceline.com expects gross travel bookings to expand as much as 44% in its fourth quarter led again by international expansion (mainly Europe). Revenue is expected to jump as much as 32%, with non-GAAP net income as high as $5 per share. Both of these numbers were slightly lower than what the Street was expecting.