Turnaround plays are significantly less risky than most investors see them. In order to become a turnaround, a stock must have obviously had some terrible news, and a subsequent steep reduction in share price. This large decline in price removes a lot of the risk from investing in a stock. Of course, as is the case with most turnarounds, a bankruptcy probably means you just lost your initial investment; the idea here is to find something that other investors aren't seeing, and be comfortable knowing that the odds are heavily in the company's (and your) favor. While getting a turnaround play right may not make you rich, you can certainly enjoy substantial returns for your foresight.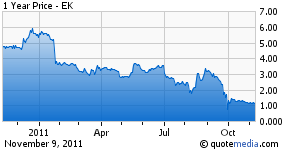 Eastman Kodak (EK) is an excellent company to, at the very least, consider.
Obviously, the worry here is simple: bankruptcy. The company is dealing with $1.35 billion in long-term debt, $210 million current debt and short-term borrowings, and $673 million in accounts payable. EK has $862 million in cash and cash equivalents, and $1.05 billion in net receivables.
The CEO, Anthony Perez, is estimating that EK will have $1.4 billion in the bank at the end of this year; this cash will come through what the company is calling "non-strategic asset sales," or assets that don't fit into the company's growth and restructuring plan going forward. Additionally, Kodak has been licensing some of their patents in order to produce streams of cash, but it hasn't been nearly enough to help cover their obligations and operating losses.
EK lost $222 million in the third quarter, and burned through about 10% of their cash. Clearly, asset sales absolutely have to be made. EK believes they should be able to close most of their deals by the end of 2011.
In terms of their patent portfolio, they could potentially sell the portfolio in its entirety for $3 billion. Google was among several companies who signed a confidentiality agreement, which is a standard part of the process when considering whether or not to purchase the portfolio. EK is likely aiming to divest 10% of their most valuable, but non-strategic patents, for a sum of cash around $1 billion.
During the course of the next several weeks, Eastman Kodak's shareprice is going to depend wholly on their ability to do one of two things:
Make a large sale, likely from their patent portfolio, to ensure fiscal stability for at least the next year
Obtain a massive line of credit that ensures fiscal stability for the next couple of years
The best thing Eastman Kodak can do is to generate as much cash as they can, pay off all current liabilities, and continue to chip away at their accounts payable until they are near zero. It should be noted that EK has reduced accounts payable from nearly $1 billion in December to their current $673 million.
I wouldn't exactly call Kodak an asset play, given their debts, but their patent portfolio is worth more than $1 billion, while the company as a whole is only worth about $300 million (in market cap). Its enterprise value (the theoretical buyout price for the purchasing firm), however, is close to $1 billion.
If Eastman Kodak can get $1.5 billion in the bank by the end of the year, obtain, at the very least, a new line of credit, and divest of all unnecessary assets by the middle of 2012, then investors should be heavily rewarded in a short period of time. For now, EK simply needs to show that they can stay afloat for the next couple of years. Investors have plenty going for them:
EK is almost certainly not going to bankrupt within the next three months
There is a potential for an outright purchase of the company, or a large sale of a portion of the patent portfolio
The potential for positive news is significantly higher than so for negative news (The only negative news left is bankruptcy, or failure to close hundreds of billions of dollars worth in deals)
Further out, EK needs to show investors that they have the innovation to make desirable products in the digital space, and that they have the capability to sell them profitably, though turnaround investors don't need to worry about prospects two to three years out to make a profit.
I understand that there are a lot of "ifs" that go along with investing in EK, but the "ifs" aren't so much speculation as they are just plain trust in that management will close the big deals, and shop their patent portfolio. Take a good, long look at EK's financials, and run a few different fiscal scenarios to see if you're comfortable. I'm still doing some research, but Kodak is very compelling.
*Data sourced from Yahoo! Finance
Disclosure: I have no positions in any stocks mentioned, but may initiate a long position in EK over the next 72 hours.