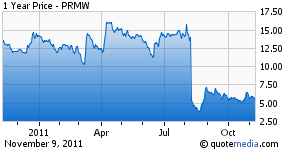 Primo Water's (NASDAQ:PRMW) third quarter results are in, casting further doubt about the viability of the company's business model.
Revenues came in at $24 million for the quarter, matching expectations, but the company dropped what is becoming its regular quarterly bombshell by slashing fourth quarter revenue expectations. They now expect revenue of $22-24 million. A potential sequential revenue decline is a big shock. Primo's business of supplying water has minimal seasonality and any possible value to the stock is contingent on big top line growth, ultimately resulting in the scale that will generate positive profit margins.
As for margins, in the quarter Primo's revenue wasn't even sufficient to cover its cost of product and general and administrative expenses. On that basis alone the company lost $145,000. This doesn't include the significant amounts they are spending to expand and on capital equipment, store displays, bottle inventory, etc. Operating loss in the quarter was $2.9 million, higher than last year's $2.1 million even though sales were up 120% and even though Primo purchased a profitable water refilling business in November 2010 (which was responsible for two-thirds of the revenue increase). That business had been earning $7 million a year in operating profits. So far the trend is, the bigger they grow, the more money they seem to lose.
Primo could be running out of time. Cash dwindled from $10.3 million to $1.1 million in the quarter and the company began, again, to draw on its credit line. Recall that the company closed a secondary in June, raising $39.5 million, which was used to pay off previously accumulated debt. As to the revolver, Primo received a waiver in the second quarter because EBITDA was significantly below the minimum required under their credit line, and they were seeking an amendment. Any amendment will likely come with higher borrowing rates or a lower availability.
Thursday will be Primo's one year anniversary as a public company after listing on November 10, 2010, at $12 a share. The prospectus at that time revealed a company with a checkered past, full of credit line amendments and below plan sales growth. Primo relies on local bottlers for water fulfillment, making the supposed "razor blade" part of their offering a competitive and low margin business. We think the business model is flawed and unsustainable, and that it's possible that Primo's only residual value is the self-refill business they purchased from Culligan in late 2010.
Disclosure: I have no positions in any stocks mentioned, and no plans to initiate any positions within the next 72 hours.
Additional disclosure: Previously short PRMW.