December 27, 2005 Cobra Electronics (COBR) hit a high of 15 dollars. Investors were excited about a lucrative holiday season and were soon to hear the company made $1.81 per share for 2005. Those were happy times and the business was kicking on all cylinders. Little did shareholders know, the fun was not here to stay. Over the next few years the recession became a common word heard throughout conference calls and in press releases. On March 12, 2009 Cobra's success had all but disappeared. The share price hit a low of 0.81 and the company just had a second year of substantial losses with a negative 2009 EPS of $1.59.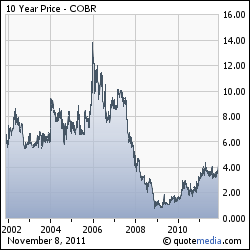 So why look at Cobra today?
Cobra looks to be back on track and its share price is on an upswing. The company just had its fifth quarter in a row of comparable revenue increases and the eighth quarter in a row of EPS improvement. Along those lines, the company expects to see substantial profitability improvement in the fourth quarter and entire year 2011. More on expectations can be heard in their latest Q3 2011 conference call.
For the nine months ended September 30, 2011 revenues increased to 85.7 million compared to 75.7 million in the prior year. Nine month EPS has already reached 16 cents versus a comparable loss of 14 cents during 2010. Last year Cobra Electronics earned 36 cents in the fourth quarter and ended fiscal 2010 with an EPS of 0.24 cents. Ignoring company guidance for increased profitability, if Cobra Electronics has an equal Q4 2011 as Q4 2010, the company would be on track to earn 52 cents and have a PE ration less than 8 relative to the November 8, 2011 closing price of $4.15.
On the product front, the struggle appears to be behind the company as revenues are increasing in most product categories. Cobra has also added some new and innovative products to their portfolio. Cobra's newest iRadar combines radar detection with the capabilities of a smart phone. When connected thought the internet cloud, the iRadar has the ability to share data and adds value to the detection technology of the past. Other new products take advantage of Bluetooth; those include the Cobra Tag and PhoneLynx. New products information and much more information about Cobra Electronics can be found at their website.
In conclusion, Cobra's share price has been on an upswing. With the company expecting continued success, the trend may continue.
Some of Cobra's competitors include Garmin Ltd. (GRMN) and Motorola Solutions Inc. (MSI).
Disclosure: I have no positions in any stocks mentioned, but may initiate a long position in COBR over the next 72 hours.