US treasuries have experienced an amazing price increase over the past 5 years; likewise treasury yields have fallen to historic lows. See the chart below for the 10-year yield going back to the early 1950s.
(Click chart to expand)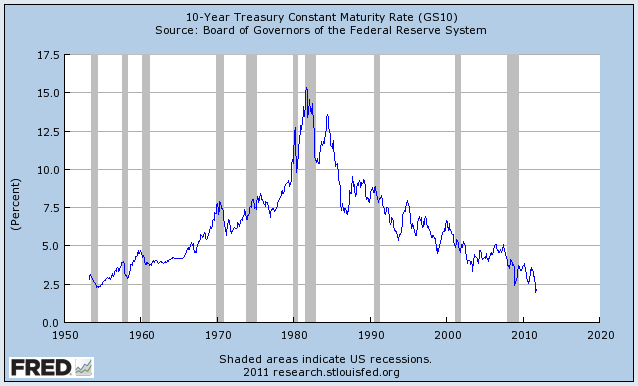 Funds like (IEF) offer exposure to 10-year t-bonds, and funds like (PST) offer a short position on the 10-year t-bonds. (TLT) offers exposure to 20-year yields, and (TBT) offers exposure to a short position on 20-year t-bonds.
If interest rates rise dramatically, shorting treasuries, especially of high duration like the (TBT) fund, will result in dramatic profits. This profit would likely be lowly correlated with stock market returns because stock market performance doesn't necessarily occur while government bond interest rates rise. The cost of shorting US treasury ETFs is only a margin rate and the dividend (bond interest) of the fund. This means that at this time, it is less expensive than it has ever been in modern history to bet that government interest rates will rise.
The Federal Reserve is not hinting that it plans to raise interest rates anytime soon, but if the economy does get moving, rates could rise very swiftly, resulting in huge gains for US treasury shorts.
Probably one of the smartest ways to make a bearish bet is to write calls on treasury funds, or to write puts on treasury short funds. After all, how can treasuries rise dramatically more? Writing puts on treasury short funds makes particularly good sense because the risk is limited and the natural decay of the funds over the long term create a natural advantage for the bet.
So, why are people buying treasuries of any duration with such low yields? Many would argue that the purchases are serving as a negatively correlated market risk insurance type of investment for portfolios. And in normal times, I would agree completely. But at this time, this author's opinion is that only fools are buying treasuries of any duration.

Disclosure: I have no positions in any stocks mentioned, and no plans to initiate any positions within the next 72 hours.