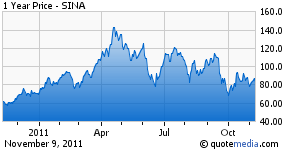 This morning Sina Corp. (NASDAQ:SINA) reported that in its September quarter, it beat consensus earnings estimates by 3 cents (26 cents versus 23 cents), slightly missed revenue estimates ($125.6 million versus $127.0 million), and they reported in-line forward revenue guidance for the current December quarter ($128-$131 million versus $130.0 million). Comparing these results to the prior six quarter trend of analyst beats and misses (see table) indicates that this is a fairly healthy beat. However, as of early morning, the Street has taken the stock to the cleaners, dropping it to almost 10% below yesterday's close.
We believe that the Street is concerned over a few factors: (a) earnings although beating estimates, at 26 cents, are down almost 50% below last year's September quarter earnings of 50 cents, (b) revenue growth is still stuck in the 18%-20% range, (c) gross margins are down to 56.1% from 59.6% in the prior year September quarter, (d) operating expenses are up an astronomical 78% from the prior year September quarter, and (e) forward statements during the company's conference call indicate that this underperformance may continue at least in the short time period. Add to this the fact that the stock at yesterday's closing price of $86.94 traded at a very high 74 P/E on a trailing-twelve-month (TTM) basis, and at a still high 56 forward P/E based on next year's earnings, then the market's reaction seems understandable.
However, SINA's premium valuation is nothing new. It has in the recent past traded at a premium to its brethren in the China Internet content space. By comparison, Chinese Internet portal company Sohu.com (NASDAQ:SOHU) trades at a forward 11 P/E, Chinese Internet search engine leader Baidu Inc. (NASDAQ:BIDU) trades at a forward 31 P/E, and Chinese online dating platform provider Jiayuan.com (NASDAQ:DATE) trades at a forward 20 P/E. What the Street may be missing in part is that the SINA story is no longer just about historical or even expected numbers over the next couple of quarters. Rather, it is at least in 'half' part about SINA's innovative twitter-like microblogging service Weibo that has truly taken China by storm.
Weibo, although popularly believed to be a Twitter-like service, is actually a hybrid of Twitter and Facebook, and in some ways better than Twitter as it allows users to post comments to other user's updates or news feeds. With a reported 250 million registered accounts, Weibo already claims more than half of China's 485 million online users, and subscriber growth up 21% from the previous quarter is still very robust. Although competitors SOHU, Chinese Internet online gaming provider Netease (NASDAQ:NTES), and Chinese social network services provider Tencent Holdings (OTCPK:TCEHY) do have microblogging services of their own, Weibo, the Chinese word for "microblog(ging)" is the leader of the pack. BIDU recently shut down its competing microblog service. Weibo is SINA's competitive edge that differentiates it from its peers in the China Internet content space.
However, it was investment in Weibo product development that ate away at profits in the September quarter, and it will probably continue to be an overhang at least for the next couple of quarters. Investment in Weibo amounted to $30 million during the quarter, and as a result, product development, sales and marketing and general and administrative expenditures for the quarter were up 124%, 72% and 40% year-over-year, respectively. Backing out the $30 million investment in Weibo, although not completely fair, would have led to earnings in the 70 cent range for the current quarter. So, the real question, given that Weibo currently generates no revenue, should be whether SINA's investment in Weibo is justified and whether they have a plan to realize the return from their investment.
As mentioned earlier, the service already commands more than half of Chinese Internet users, and had a robust 21% quarter-over-quarter growth in the most recent quarter. User messages at 86 million in the last week of September are up 15% from the last week of June. The company recently launched a new version of Weibo, and plans to continue adding more applications as well as adding photo sharing, social games and instant messaging that should improve the stickiness of the site. Furthermore, SINA has indicated that they should begin to monetize ads on Weibo starting in the second quarter of 2012, according to Jeffries. The company sees three types of ads that can become viable: (a) interactive, targeted display ads, (b) social ads, and (c) search ads through Weibo search.
We believe that while an investment in SINA at the present time may not appeal to short-term traders given that the company may report underwhelming results at least for the next couple of quarters, long-term investors that believe in the value of Weibo could take advantage of the meltdown in prices and add it to their portfolio, buying in stages to take advantage of any further weakness over the next few months.
Table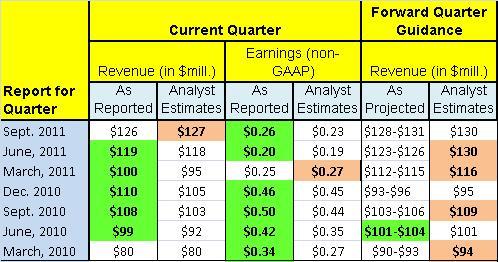 Disclaimer: Material presented here is for informational purposes only. Nothing in this article should be taken as a solicitation to purchase or sell securities. Before buying or selling any stock you should do your own research and reach your own conclusion. Further, these are our "opinions" and we may be wrong. We may have positions in securities mentioned in this article. You should take this into consideration before acting on any advice given in this article. If this makes you uncomfortable, then do not listen to our thoughts and opinions. The contents of this article do not take into consideration your individual investment objectives so consult with your own financial adviser before making an investment decision. Investing includes certain risks including loss of principal.
Disclosure: I have no positions in any stocks mentioned, and no plans to initiate any positions within the next 72 hours.