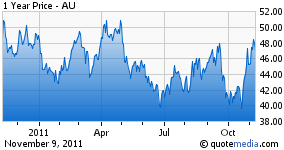 As the yield on the Italy 10 year rapidly approaches 7.5% and the country implodes faster than predicted, the ramifications for our market will be borne out over the next several weeks. One area of the market that should do well is gold and gold mining stocks due to uncertainty with sovereign debt in the Western world. One of my favorite gold mining stocks just reported extremely solid earnings and is a strong buy is AngloGold Ashanti (NYSE:AU).
Key data points from earnings report
The company reported record earnings of $1.18 a share
AU reduced its debt 28%
The company had record operating cash flow of $863m
Production was almost 1.1m ounces at a cost of $737/ounce
Total dividends for 2011 will be almost double that of 2010.
AngloGold Ashanti – "AngloGold Ashanti Limited primarily engages in the exploration and production of gold. It also produces silver, uranium oxide, and sulfuric acid. The company conducts gold-mining operations in South Africa; continental Africa, including Ghana, Guinea, Mali, Namibia, and Tanzania; Australia; and the Americas, which include Argentina, Brazil, and the United States". (Business description from Yahoo Finance).
5 reasons AU is a strong buy at $48 a share:
1. AU has had strong run over the last couple of weeks but is still selling near the bottom of its five year valuation range based on P/E, P/B and P/CF.
2. Consensus estimates for 2011 and 2012 EPS have dramatically increased over the past 90 days. Given this earnings report, this trend should continue.
3. AngloGold Ashanti has a forward PE of under 8.5 while growing earnings an average of 33% annually over the past five years.
4. AU is literally printing money with gold at $1000 an ounce over the cost of production. Given the state of world, the selling price of gold should remain extremely strong. The company is also unhedged so it is a pure play on the price of gold.
5. AU is selling under analysts' price targets. The median analysts' price target on AU is $66, which portends plenty of upside on the stock.
Disclosure: I am long AU.