Most data center related companies have already reported Q3 earnings, with each one but Internap (NASDAQ:INAP) showing a positive stock price one-day change after the announcement: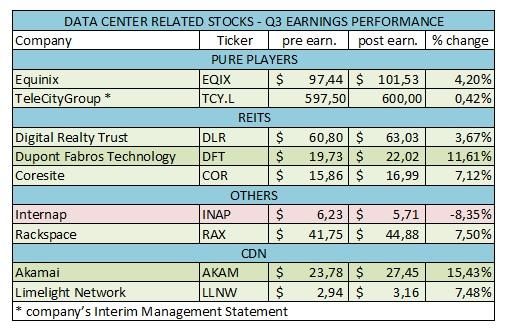 (Click to enlarge)
Akamai (NASDAQ:AKAM) scored the best performance, so far, with a 15% jump after announcing better than expected revenue and EPS. This week, Limelight Networks (NASDAQ:LLNW) also reported higher revenues and a smaller loss than analysts' consensus, sending its shares about 7% higher.
All data center REITs delivered numbers that positively reflected on the stock price, with increases ranging approximately between 4% and 12% in a single session.
Both network-neutral providers were positive, with Equinix (NASDAQ:EQIX) up 4% after earnings, and TeleCity Group also enjoying a positive trading day after announcing, in its Interim Management Statement, that it was going to start paying a dividend in 2012.
Cloud computing's specialist Rackspace (NYSE:RAX) also delivered good results and announced a new service that is hopefully adding a new royalty stream to a company already growing, in Q3, at a very healthy 33% Y/Y rate – the market liked both the initiative and the numbers reported, and the stock scored a 7.5% increase.
Summarizing, most data center related companies delivered positive numbers in Q3 that were probably better than expected – or, said in a different way, the market appreciated the fact that the sector confirmed its capacity to report, on average, solid growth in spite of all concerns about the surrounding economic climate.