Potlatch (NASDAQ:PCH) can trace its roots back to 1903 when it was then the Potlatch Timber company and as a publicly-traded company since the 1950's when it first traded over-the-counter before moving to the Pacific Coast exchange and finally the NYSE in 1969. Despite often being labeled a timber pure play, Potlatch is an integrated forest products company structured as a REIT that operates a real estate business and five manufacturing facilities. The investment thesis however rests on the underlying value of Potlatch's 1.45 million acres of timberland the company owns in Wisconsin, Arkansas, Idaho, and Minnesota. Potlatch is in fact the largest private landowner in Idaho and Minnesota and the third largest private landowner in Arkansas.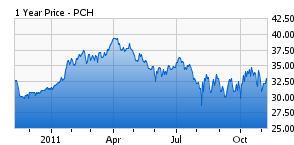 The company (like all timber REITs) consist of both attractive economics in the harvesting and selling of timber as well as raw land coupled with operating the low margin production/mill facilities.
Business
Potlatch divides itself into three segments: Resource, Real estate, and Wood products. These segments accounted for 38.5%, 14.5%, and 48%, of 2010 revenue.
The Resource segment manages the company's 1.45 million acres of timberlands, which consists of planting and harvesting trees and recreation lease management. A key in managing timberlands is maintaining a rational focus with respect to harvesting timberland when prices are high and deferring harvests when prices are low. An example of this was during 2006 when Potlatch deferred 200,000 tons of their planned timber harvest in Arkansas due to weak markets. A year later prices rebounded and the initial harvest was increased offsetting the 2006 deferred harvest. For 2010, the overall harvest from the company's timberlands was 4.2 million tons compared to 3.8 million in 2009. In 2009 the company deferred about 0.6 million tons or around 14% of their originally planned harvest for the year due to weak prices. Harvest levels in 2011 are estimated be at about 2010 levels of 4.2 million tons.
Breakdown of timberlands:
| | |
| --- | --- |
| Idaho | 838,000 |
| Arkansas | 408,000 |
| Minnesota | 228,000 |
| Wisconsin | 1,000 |
More than 9 million people live within the four states of the company's timberland ownership. Every acre that is harvested is reforested, either through replanting or through natural regeneration. Since 2000, the company has planted more than 120 million trees.
The Real Estate segment consists of the sale of non-core real estate, timberland, acquisitions, and development activities. Generally, revenue from this segment varies from quarter to quarter and year to year depending on relative values.
The sale of non-core timberland real estate is divided into three categories.
Higher and better use or HBU
Rural recreational properties and
Other non-strategic.
Higher and better use or HBU land has development potential and generally a much higher value than timberlands. Rural recreational properties also have a higher value than timberlands, but do not have the same qualities of HBU land. Rural recreational land may be good for hunting or conservation. Other non-strategic properties are usually on the fringe of ownership areas. Potlatch has stated that between 16%-18% of their timberlands have value that is more valuable for development or recreational purposes than it is for growing timber. For 2011, this segment accounted for about 14.5% of revenue.
The Wood Products segment manufactures and markets lumber, plywood, and particleboard at five mills in Arkansas, Idaho, Michigan and Minnesota. This is basically the home building segment and has been in the doldrums for some time as the housing industry remains in dire shape. Revenues for 2010 however came in at $274 million representing about 47% of total revenue and an increase from $216 million in 2009. The increase was due to average lumber prices increasing 16% combined with a 14% increase in sales volumes.
Profitability of the wood products segment depends on mills operating at or near full capacity. At times of low lumber prices, one can expect mills to be operating at reduced capacity (perhaps substantially) as in 2009 when mills were running at 50-75% of capacity further compounding the problem.
In March of 2010 they sold their Idaho particleboard manufacturing facility's building and equipment. In November they sold their Arkansas lumber mill which had ceased operations in 2008 due to poor market conditions.
The forest products industry in general was hit quite hard in 2008 by the national decline in home building. The effect on Potlatch was a permanent closing of a lumber mill in Arkansas as well as a significant reduction in production at the remaining five mills. The slowdown ran well into 2009 and although lumber prices rebounded in 2010, this industry remains a permanent low margin business.
The brief numbers below reveal the tough economics of the wood products industry coupled with the strength of the resource and real estate segments:
| | | | | |
| --- | --- | --- | --- | --- |
| Year | 2007 | 2008 | 2009 | 2010 |
| Resource | | | | |
| Revenue | $297 | $265 | $234 | $226 |
| Operating income | $81.7 | $76 | $82 | $62 |
| Wood products | | | | |
| Revenue | $286 | $263 | $216.5 | $274 |
| Operating income | $4 | ($13.6) | ($21) | $7 |
| Real estate | | | | |
| Revenue | $24 | $46 | $65.3 | $85.2 |
| Operating income | $17 | $31.4 | $49 | $30.4 |
(Figures in millions)
Economics of timber
As a quick disclaimer, timber REITs are not timber pure plays and this must be understood. As noted at the beginning, timber REITs combine the excellent economics of growing and harvesting timber with the low margin production facilities.
According to The Campbell Group, the U.S. contains about 490 million acres of potentially productive timberland, more than two-thirds of which is private. Over 80% of the private land is controlled by small, non-industrial landowners with integrated forest products companies such as Potlatch and private timberland investors accounting for the remaining 20%.
While land has always been a well-known place to put money over the long-term, timber has provided better returns coupled with less risk but has only come to mainstream investors in the last 20 years or so. Much like water, timber has been one of the best performing asset classes since asset classes have been tracked delivering market beating returns coupled with safety of principle and low risk.
Historically, timber has shown little correlation to the stock market and generally been insulated from all the vagaries of the economy. Regardless of market, economic, or political conditions, trees continue to grow and increase in value. When the housing market is at a standstill and timber prices are down as is the current situation, timber companies can simply choose to forego harvesting and wait for prices to rebound.
According to an article from indexuniverse.com, author George Nichols cites an academic study that found biological growth drives more than 60% of total returns while timber price changes and land appreciation account for the remainder.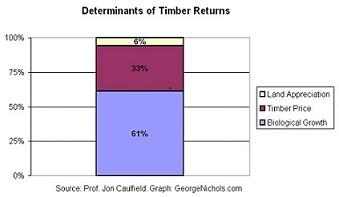 Timberland value changes Changes in timber valuations are driven by the increase in quality of the trees as they grow and overall supply and demand. This is certainly an area where having good management in place that acquire high quality timberlands at a good price becomes important as well as employing forest management practices such as thinning and fertilization with the goal of increasing biological growth rates.
Raw timber sales generate current income and cash flow.
Biological growth The rate of growth depends on a number of factors including age, species, and productivity of the site. On average, a tree grows around 2% to 8% a year.
Timber distinctly different from real estate
The correlation between timberland returns and real estate has been quite small due to the fundamental economic differences between the two. Although timberland is typically included in real estate as an asset class, it is a different animal marching to the beat of its own drummer. Although both use physical land to generate income, there are very few other shared economic similarities. Listed below are a few key differences:
Timberland is a growing asset generally requiring low capital investment over time relative to total asset value.
Prices for timberland are less volatile than real estate as the economic life cycle for timberland is much longer.
Timberland cannot be over-built as it is a finite resource. The current housing market provides a good example of this. The ability to increase the timber supply can only happen over long investment cycles. Further, Federal government restrictions on harvests from national forests affect the supply available from federal lands. This constraint on supply has resulted in price and value increases in privately owned timberland.
The supply and demand equation is equally dynamic. Timber harvests from the U.S. National Forest System have been reduced dramatically under public pressure starting in the 1990's when heavy restrictions on harvesting from public lands were imposed. This is principally why over the past decade net growth in U.S. federally managed forests has exceeded harvest by 55% or more.
The reduction of cutting on public lands however has led to increased dependence on international sources. The United States has been a net importer of wood for over 30 years with per capita consumption of forest products about 25% higher today than in 1970 according to Evergreen Magazine.
What's it worth?
It gets a little sticky when trying to get an estimate for the value of the company's shares as there is some hard data that we can look at for some accurate pricing with respect to their timberland but the brunt of the company's acres are not appraised by a third party. Potlatch owns roughly 1.45 million acres scattered across 3 states as listed below: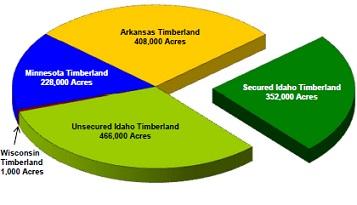 Of this amount, the company has identified 235,000 acres as having values that are potentially worth more than the timberland itself. I have been unable to get an answer from the company as to where these acres lie however. For simplicity's sake with respect to the valuation, this figure was just divided into three and backed out from the acreage in each respective state.
Backing out these higher value acres leaves around 1.21 million acres. The company has what it calls "secured" timberland of 352,000 acres in Idaho which is used as collateral to secure the company's revolver on its $216 million in debt. Potlatch has stated that this has been appraised by a third party and currently has a value of $707 million or just over $2,000 an acre. This leaves 388,000 "unsecured" acres in Idaho after backing out the estimate for the higher value acreage. A presentation listed on the company's website from February showed that the total acreage used to secure the revolver on its debt used to consist of 641,000 acres of its Idaho timberland (price per acre of $1,716) opposed to the 352,000 acres they now use. Based on these figures we can get a pretty good estimate that the value of the Idaho timberland falls between $1,716 and $2,000 an acre. To be on the safe side $1,700 per acre is used to value the unsecured timberland.
With respect to the higher value timber acres, the price per acre for the past few years is listed below: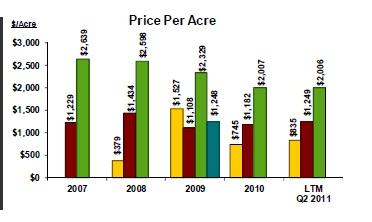 For the chart below, the average price per acre was used for valuing the higher value acreage:
| | | | |
| --- | --- | --- | --- |
| Land | Acres | Ave. price/acre | Value |
| Core Idaho timberland | 352,000 | $2,008 | $707 m |
| Non-strategic timberland | 15,000 | $871 | $13 m |
| Rural real estate | 95,000 | $1,240 | $117.8 m |
| HBU/Development | 125,000 | $2,313 | $289 m |
| Total | 587,000 | $1,608 m | $1.1 b |
The big question that remains though is what is a ballpark figure to use for valuing Potlatch's remaining 480,000 acres in Minnesota and Arkansas? For some very rough estimates, looking back at past land sales lends a bit of clarity.
In 2008 Potlatch sold 42,00 acres in Minnesota for $16.1 million or $376 an acre. In 2009 the company sold 49,500 acres for $49 million or $990 an acre in Arkansas. Another sale in Arkansas during 2009 netted them $43.5 million for 24,500 acres or $1,775 and acre.
As a very rough estimate, values of $500 and $1000 per acre were used in gauging the remaining 480,000 acres in Minnesota and Arkansas. We do know that this is not swamp land so I don't believe these figures over inflate the value.
This is certainly far from perfect but the these two figures hopefully fall in the ball park of reality.
Value of Minnesota and Arkansas acreage at $500 per acre
| | | |
| --- | --- | --- |
| Land | Acres | Value |
| Non-core Idaho est. | 388,000 | $659.6 m |
| Minnesota | 150,000 | $75 m |
| Arkansas | 330,000 | $165 m |
| Total | 868,000 | $900 m |
| | |
| --- | --- |
| Core timberland+higher value | $1.1 b |
| Non-core & remaining timber @ $500/acre | $890 m |
| Cash+ST investments | $81 m |
| LT-debt | $342.7 m |
| Pension obligations | $389 m |
| Intrinsic value | $33.40/share |
Value at $1,000 per acre average:
| | | |
| --- | --- | --- |
| Land | Acres | Value |
| Non-core Idaho est. | 388,000 | $659.6 m |
| Minnesota | 150,000 | $150 m |
| Arkansas | 330,000 | $330 m |
| Total | 868,000 | $1.139 b |
| | |
| --- | --- |
| Core timberland+higher value | $1.1 b |
| Non-core & remaining timber @ $1,000/acre | $1.139 b |
| Cash+ST investments | $81 m |
| LT-debt | $342.7 m |
| Pension obligations | $389 m |
| Intrinsic value | $39.60/share |
As of writing, the stock closed at $32.48. All told, perhaps an estimate of fair valuation is between $33-$39 dollars per share.
The company's debt maturity extends fairly far into the future with the brunt of it coming due after 2015 with roughly $22 million coming due in 2012. A perhaps bigger issue is that the company has underfunded its pension plan for the past 3 years. For 2010, this came in at ($66 million) and ($81 million) in 2009. For 2012 pension obligations are estimated to come in at $29 million.
Dividend danger?
With respect to the payout ratio, the company uses Funds Available for Distribution (FAD) calculated as earnings from continuing operations, plus depreciation, depletion and amortization plus basis of real estate sold, and minus capital expenditures. So basically owner earnings or structural free cash flow. The FAD is listed below:
| | | | | |
| --- | --- | --- | --- | --- |
| Year | 2007 | 2008 | 2009 | 2010 |
| FAD | $85m | $92m | $111m | $105m |
| Payout | $77m | $81m | $81m | $81.6 |
| Payout ratio | 90% | 88% | 73% | 77% |
Even though the wood products division accounted for roughly 47% of revenue during 2010, it accounted for only 1.7% of the FAD. The dividend is basically entirely dependent on the real estate and timber business accounting for 91% of the FAD during the year.
Is it sustianable? It appears so, at least in the short term but a future dividend cut wouldn't be surprising. I think a lot of folks know that they fund their dividend through the real estate and timber business and believe that it is not sustainable. Well, it has been for several years as the company continues to manage harvesting levels and sell attractive real estate properties. Are they selling off attractive properties on the cheap in order to keep up the payout? Tough to say as it would require intimate knowledge of each property sold.
An interesting aspect is that while Potlatch is a REIT and requires that they derive the brunt of their income from selling timber, the company restructured creating Potlatch TRS which enables them to operate several subsidiaries which include their manufacturing facilities and other non-timerbland assets. This corporation is taxed as a C corporation and enables them to continue operating these businesses without violating REIT requirements. While normal REITs require that 90% of taxable income is distributed, Potlatch is able to get around this by having the structure mentioned above and are not required to distribute 90% of their income. Potlatch's REIT income is mainly capital gains from payments they receive under timber cutting contracts with Potlatch TRS and others rather than ordinary taxable income. They are thus not required to distribute material amounts of cash to remain qualified as a REIT. This, in effect, enables them to do whatever they wish with the dividend and not put their REIT status at risk. This is certainly a caveat if you are buying because they are a REIT and required to distribute 90% of their income in the form of dividends. They are not and this could potentially burn dividend seekers if the company ever cuts its payout.
Disclosure: I have no positions in any stocks mentioned, and no plans to initiate any positions within the next 72 hours.