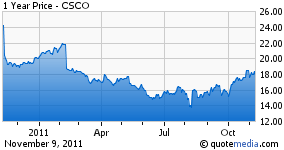 Breaking ranks with its competitors, Juniper Networks (NYSE:JNPR) and Brocade Communications (NASDAQ:BRCD), Cisco Systems (NASDAQ:CSCO) beat Wall Street expectations, once again. The company reported an EPS of 43 cents on $11.26 billion revenues, compared to an analyst expectation of an EPS of 39 cents on $11.03 billion revenues.
Cisco is beginning to turn the corner in a few areas:
1. Profit margins. A little bit of disappointment, again, especially on the product side. Overall margins dropped from 62.7% last quarter to 61.2% - well below the 63.9% two quarters ago.
The slide in product margins confirms that the company is facing increasing competition from high-end competitors like IBM (NYSE:IBM), Alcatel-Lucent (ALU), Hewlett-Packard (NYSE:HPQ) and Juniper Networks, and low-end competition from Chinese players like ZTE Corporation and Huawei Technologies Co. and their bold strategy: Sell what Cisco sells at a deep discount and dispatch cheap labor for support. Nevertheless, the rise in the service margins confirms that the company is doing well in "bundling" traditional products that are increasingly turning into commodities with superior services.
2. The top line. Cisco's top line was up 5% to $11.26 billion, exceeding analyst expectations - not bad for a mature $82 billion gorilla with 5.5 billion shares (the company reduced its outstanding shares by 100 million last quarter through buybacks) and tens of thousands of employees. The law of large numbers is, therefore, working against Cisco - though it didn't work against Apple (NASDAQ:AAPL). What was encouraging, however, was that revenue from new products increased by 7% - suggesting that Chambers' "One Cisco" strategy works. The bottom line should include "a number of unusual items," such as the recently announced layoffs.
3. Innovation. Cisco seems to be shifting from an external to an internal innovation model that is more sustainable. But Chambers didn't give any details about this shift as there weren't any questions on this issue.
4. Guidance. The company gave an upbeat guidance (a 7% increase on the top line and a 3% increase on the bottom line) that exceeded analysts' estimates. Mr. Chambers was bullish on the company's prospects in Japan, and though he used the words "in times of limited spending," and "difficult macroeconomic environment," he avoided the use of words "challenging environment," uncertainty: and "unclear visibility."
The bottom line: Cisco's earnings report confirms that the company seems to have turned the corner on the top line and innovation. And the market seems to like it - it is a buy.
Disclosure: I am long CSCO.