Review of Facts
As shown in Table 1, since its launch on July 23, 2010, the Global X Lithium ETF appears to have undergone significant changes.
1. One battery company (Sanyo) was excluded from the Fund, following its acquisition by Panasonic (PC) and another one, Ener1 (NASDAQ:HEV), was taken off due to its delisting from the Nasdaq Stock Market on October 28, 2011.
2. Three new resource companies (Talison Lithium Limited (OTC:TLTHF), Lithium Americas Corporation and Reed Resources Limited) were incorporated later.
3. Except for Galaxy Resources Limited (OTCPK:GALXF), Orocobre Limited (OTCPK:OROCF), and Canada Lithium Corporation (OTCQX:CLQMF), all resource companies showed positive percent variations in their market prices. On the contrary, only one (out of ten) battery company (Valence Technology Incorporated) registered a higher market price for its shares.
4. Except for one resource company (Avalon Rare Metals Incorporated), all the rest saw their percent holdings increased – many of which (Orocobre Limited, Lithium One Incorporated and Canada Lithium Corporation), substantially. By contrast, percent holdings of most battery companies – three exceptions being Saft (OTC:SGPEF), Yuasa, and Valence (VLNC) – reduced dramatically.
5. The results for YTD returns are the most worrying ones; except for Rockwood Holdings Incorporated (NYSE:ROC), all the rest resource and battery firms reflected negative values.
6. Stock performance as measured by trends in market prices on charts published by Reuters also showed striking findings: only the three largest resource companies were seen to have upward trends.
7. ETF investment action - looked at in terms of the contrast between stock performance trends (SPT) and percent holding variations (PHV) - gave only 6 (out of 18) "good" results (i.e. positive relationships between SPT and PHV), 1 (out of 18) "bad result" (i.e. negative relationship between SPT and PHV), and 11 (out of 18) "undetermined (?) results" (i.e. neither positive nor negative clearcut relationships between SPT and PHV). Note that although in a way SPTs are similar to Percent Market Price Variations (PMPV), they differ considerably from them on one important account: Unlike PMPVs, that are concerned with what happened to market prices between the start and end dates of the period of analysis, SPTs pertain to the complete period of analysis. Ideally, it would have been extremely useful to perform a holding weight analysis comprising the entire period under scrutiny; lack of data on daily holdings, however, conspired against this possibility. In order to capture additional information on general trends across companies, a number of correlation coefficients were calculated. These figures can be found in Table 2. Low values of correlation coefficients 1 and 2 ratify the findings in column 9 of Table 1, further showing to a great extent that PHVs were not necessarily a result of PMPVs or YTD returns, which in turn appear to be highly correlated. It is quite astonishing to find that the percent of "good" results is essentially the same as the figure attained for correlation coefficient 1 which implies that the latter may be a good proxy for evaluating ETF investment action in the complete period of analysis. Note also that PMPVs or PHVs and YTD returns numbers correspond to different periods of time and may not be strictly comparable.
Table 1
Global X Lithium ETF (NYSEARCA:LIT)
Market Prices, Holding Weights, YTD Returns, Stock Performance and ETF Investment Action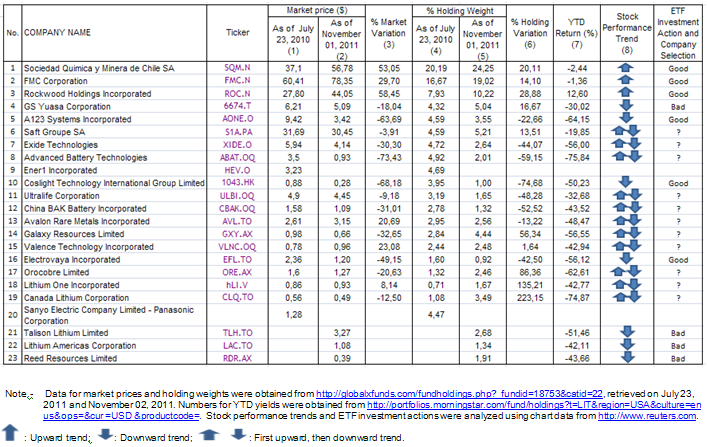 Another interesting result is that correlation coeeficients between market prices and holding weights at a point in time may be substantially misleading.
8. Company selection was put under scrutiny by looking at SPT and YTD returns of the three newly incorporated companies into the ETF (Talison, Lithium Americas and Reed Resources). These three stocks reflected both downward trends in stock performance and negative YTD returns, pointing to a "bad" selection of these companies to be part of the Lithium ETF.
9. In Chart 1 we can see that although holdings of resource companies jumped from 53.69% on 07/23/2010 to 74.04% on 11/01/2111, those of battery companies fell from 46.26% to 25.82% during the same period.
Table 2
Coefficients of Correlation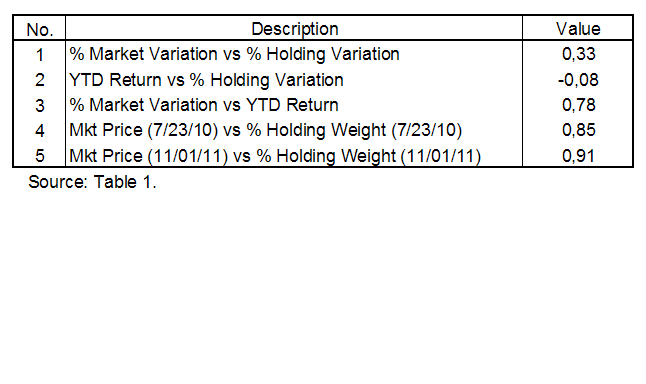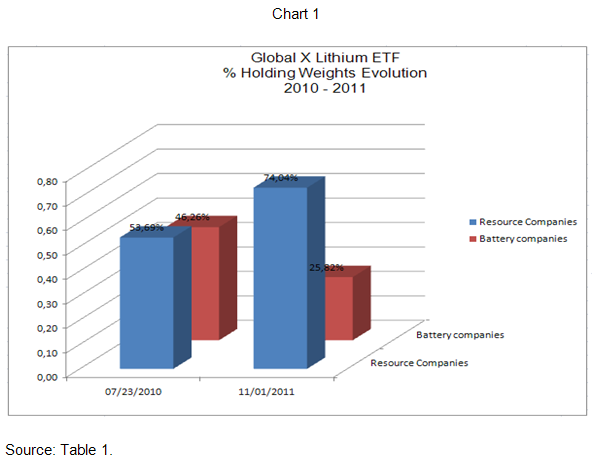 Analysis
The following conclusions can be drawn from the previous review of facts as well as a closer look at the data on the table above and a valuable exchange of views with Global X, the firm responsible for management of the Lithium ETF.
1. According to Global X, the Lithium ETF (LIT) follows passively the Solactive Global Lithium Index (SGLI). This index "tracks the performance of the largest and most liquid listed companies active in exploration and/or mining of lithium or the production of lithium batteries. The index is calculated as a total return index in USD and adjusted semi-annually." Hence the exclusion of Sanyo and the inclusion of Talison and Lithium Americas in November 2010 as well as that of Reed Resources in 2011 would have been the result of lack of compliance with the minimum requirements of the index, in the case of the former, and compliance with them, in the case of the latter. By contrast, Ener1 was removed from the Fund following its delisting from the Nasdaq Stock Market a few days ago due to its current severe financial problems.
The index does appear to have some problems. To begin with, it seems rather odd to think that Panasonic, following its acquisition of Sanyo, the largest lithium battery maker in the world in 2010, couldn´t meet the requirements of the SGLI. As I have argued in a previous article, Toyota (NYSE:TM) has invested in Panasonic with an aim "at getting ready for electrification of the global car industry". So the index doesn´t seem adequate to react to technological trends in the industry that should have some influence upon the choice of the stocks in which the ETF should invest or disinvest. One can only wonder why the SGLI recommended not to invest anymore in Sanyo/Panasonic and continue to invest in other battery makers such as OTCPK:ABAT, Ener1, etc. with much less potential to produce Li-ion batteries than Sanyo-Panasonic. This problem is also apparent when looking at Exide (XIDE) which was included in the index notwithstanding the fact that in July 2010 Exide was only "evaluating technologies for production of lithium-ion batteries for automobiles" and is currently well known as an important producer of lead-acid batteries. In addition, it´s difficult to believe that the three newly incorporated resource firms were the only ones in the lithium industry capable of complying with the above mentioned conditions. The comments above put seriously into question the effectiveness of the "Index Committee", responsible for decisions regarding the composition of the SGLI.
2. By and large investments do not seem to have been made in accordance with the relative market performance of the different stocks included in the ETF with negative consequences in the earnings and yields of the ETF´s holders. True, 6 (out of 18) times Global X did invest following the stock market signals, but this only amounted to 58.96% of total holdings (See columns 6, 8 and 9 in Table 1). Hence, the data indicate that the ETF did not take adequate investment action with more than 40% of holdings. That means that in general the ETF did not react effectively to an upward/downward trend of some stocks, increasing/decreasing its holdings of them.
3. Following the launch of the ETF – and for varied reasons - most battery stocks originally included in the ETF plunged which forced Global X to reduce investments in those companies and increase them mostly in the largest resource companies - which appeared to have performed significantly better (See charts 2-4 below) - to avoid the risk of an even more serious loss. This, nevertheless, affected the previous parity between resource and battery companies, one of the most important features of the Fund at the time of its launching.
Chart 2
Sociedad Quimica y Minera SA de Chile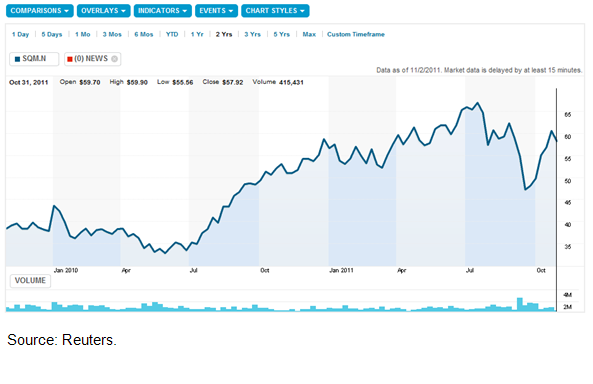 Chart 3
Rockwood Holdings Incorporated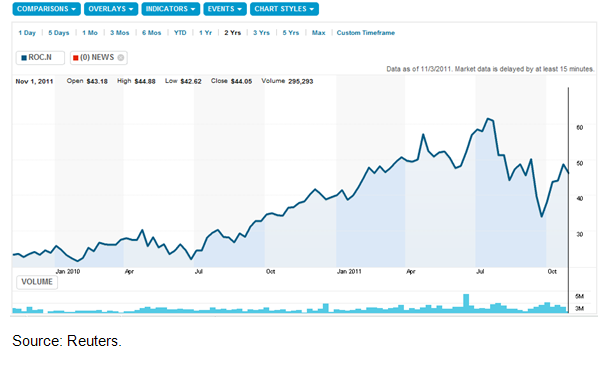 Chart 4
FMC Corporation (NYSE:FMC)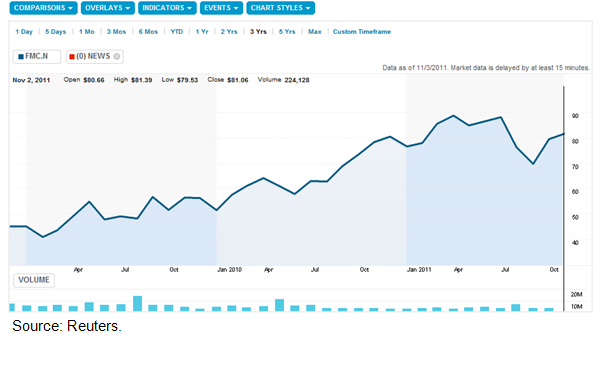 4. The question remains as to why the SGLI didn't consider substituting some of the battery companies by other more relevant Li-ion battery makers such as LG Chemical (OTC:LGCLF) and Samsung (OTC:SSNLF) from South Korea which have shown a consistent growth over the last five years. (See Charts 5 and 6 below). Following a recent report, LG Chemical holds 17.3% of the global Li-ion battery market, while Samsung's market share accounts for 25.3%. They have become the world´s third and first Li-ion battery producers, respectively.
Chart 5
LG Chemical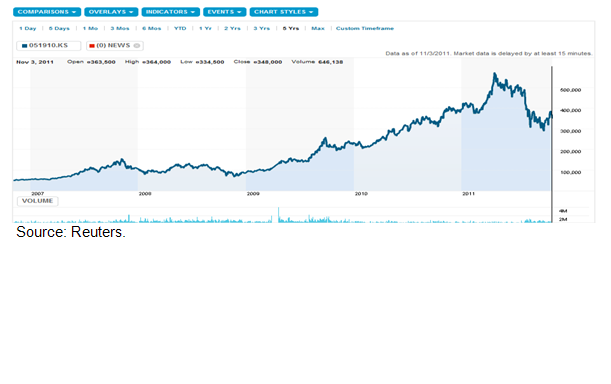 Chart 6
Samsung Electronics Limited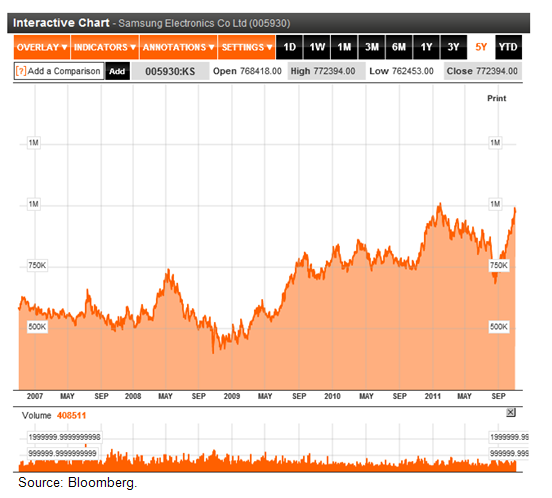 As is well known, the Li-ion batteries manufactured by LG Chemical are nowadays powering two of the most revolutionary electric vehicles of all times: the GM Volt and the Hyundai Sonata Hybrid. In an email communication in May 2010, Global X has stated that including LG Chemical in the index would be as questionable as not including it because batteries only represent 7.9% of sales in this company.
This reminded me of an article published in July, 2010 that justified the inclusion of SQM, Chemmetal (Rockwood Holdings) and FMC in the Fund as follows: "Lithium production appears to be a small portion of the operations of the largest holdings, which are primarily fertilizer and chemical firms. However, they are the largest players in the segment, making their inclusion appropriate". For instance, according to Patricio de Solminihac, Executive Vice President and Chief Operating Officer of SQM S.A., in his presentation at the Second Lithium Supply & Markets Conference held in January 2010 in Las Vegas, lithium and derivatives only constitute 8% of revenues in this company, but SQM is the world´s largest producer of lithium carbonate, which makes it imprescindible in the index. Under these circumstances, one needs to wonder why SQM is (and LG is not) included in the index.
According to the Green Car congress, two BMW electric cars will be powered by SB LiMotive, the Samsung SDI-Bosch Li-ion 50:50 joint venture constituted in 2008: the BMW i3 which will hit production line in 2013 and the BMW Active E which will be tested on fleets in 2011. In addition, the Fiat 500EV will also be powered by a Li-ion battery system made by SB LiMotive. I wonder whether this will be enough to insure inclusion of Samsung in the Fund.
5. The situation of NEC is somewhat puzzling. Since last year it has been producing the advanced Li-ion batteries to power the Nissan Leaf, a zero-emission car. Moreover, following Nissan's (OTCPK:NSANF) recent announcement that by 2016 it, together with Renault, will deliver 1.5 million zero-emission vehicles, chances are the five-year downward trend of its stock (See Chart 7) will be reversed in the near future. Hence despite its current negative performance, it is clear that NEC has much more potential to produce Li-ion battery than the great bulk of battery companies included in the SGLI. Time will tell whether this argument can be applied to Panasonic/Sanyo as well. Beware that in 2011 the Japanese giant became the second largest producer of Li-ion batteries in the world with a combined market share of 23%.
Chart 7
NEC Corporation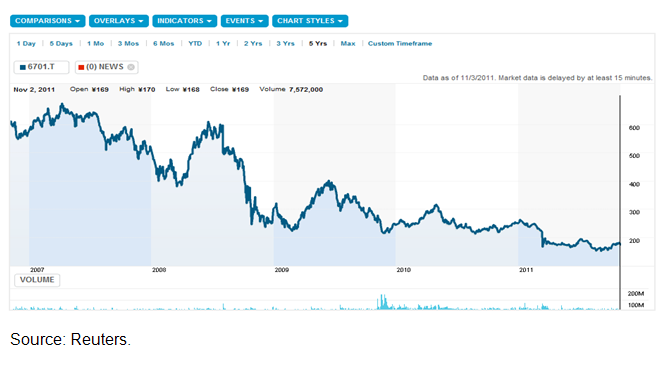 In summary, all the above difficulties have most likely already influenced the performance of the Global X Lithium ETF. As revealed in Chart 8, since the beginning of the year both the SGLI and the ETF have reflected a worrying albeit consistent downward trend. Perhaps the time has come for Global X to start thinking of a major restructuring of the SGLI.
Chart 8
Solactive Global Lithium Index and the Lithium ETF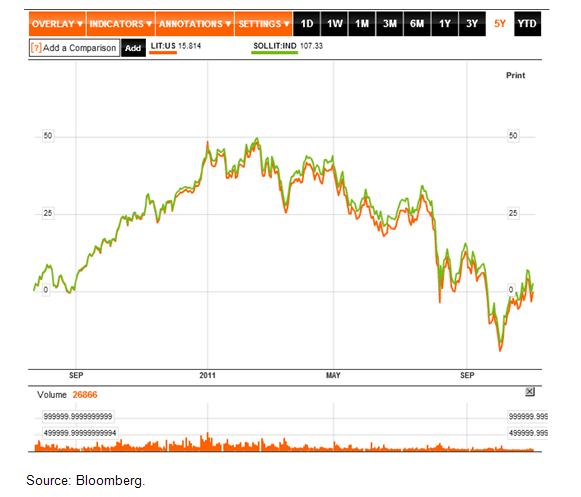 Disclosure: I have no positions in any stocks mentioned, and no plans to initiate any positions within the next 72 hours.