The 30-month old Bull Market that began back in March of 2009 came to a screeching halt in August of this year as problems in Europe began to rear their ugly head.
At that time, I showed a chart that very clearly showed a break in the 30-month primary uptrend, otherwise known as a Bull Market. I recommended hanging on to your strong stocks, keeping a close eye on anything that may be weakening, and to start thinking about adding some inverse exchange traded funds as hedges.
The market next entered into a very volatile eleven week long sideways trend. The S&P 500 ranged between a low of 1074 on the bottom and 1231 on the top. Many of the gyrations were directly related to the news coming out of Greece and the European Union.
The Nasdaq finally broke out of that nasty sideways trend a few weeks back, and was soon followed by the S&P 500 and the DJIA just one week later. Here is a chart showing the action in the market that I have described above: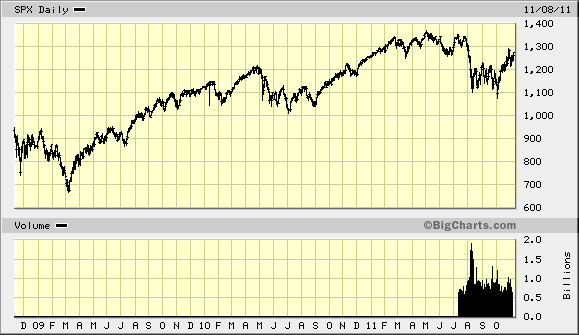 Click to enlarge
3 Year Chart of the S & P 500
As we stand now, the market would have to break above its August high to begin a new primary uptrend or Bull Market. However, it looks to me that the market does have some room to run to the upside now that we have broken out of the violent, 3 month long trading range. I have been selling my hedges over the last several weeks and have shifted to offense for now. It is not easy to do in this market as the news continues to flow out of Europe, but I have to go with the charts that favor the bulls right now.
While a rising tide generally lifts all boats, I still like owning great "A" rated stocks vs. mediocre stocks. Here are some good examples of some great grade "A"s.
I continue to own Autozone (NYSE:AZO). I have held it all through this market turmoil and the stock is currently threatening to breakout to new highs once again. I wrote an in-depth article recently here on Seeking Alpha with a detailed analysis of this stock. See the current chart of the stock. It still has significant upside potential as I outlined in my article: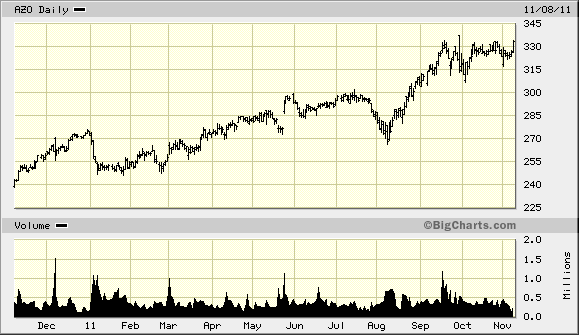 Click to enlarge
I continue to hold my Apple (NASDAQ:AAPL) position. It is still one of the greatest stocks in the market. I wrote an in-depth article on the stock recently. The company has had brisk sales of its latest iPhone and continues to be a great grower at a reasonable multiple. The stock is once again closing in on new all-time highs and still has significant upside potential.
I also continue to hold a position in Priceline.com (NASDAQ:PCLN). The company reported very good earnings once again and the stock may finally be ready to break out of its 6-month sideways trend. Priceline also has significant upside potential from its current level. Here is an in-depth article I recently wrote on the valuation of the stock.
For Growth and Income-the best of both worlds, I like McDonald's (NYSE:MCD), Enterprise Products (NYSE:EPD), and Kinder Morgan (NYSE:KMP). I recently wrote articles on all three of these great growth and income players.
I like the market right now, and I think we are set up for a nice year-end rally. Earnings season has been fairly good and it looks like we have dodged the "R" word for now.