Let's walk through our evaluation of Target's (TGT) dividend below.
(click to enlarge all images)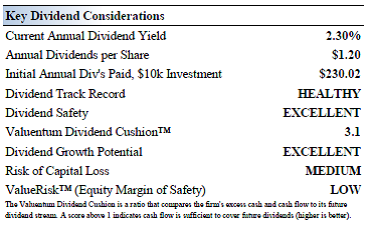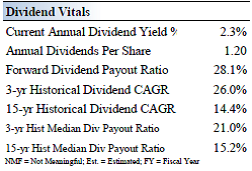 Dividend Safety / Dividend Cushion: EXCELLENT / 3.1
We assess the safety of a firm's dividend by adding the company's excess cash to our forecast of its free cash flows over the next five years. We then divide that sum by the total expected dividends over the next five years. This process results in our Dividend Cushion™ ratio. A Dividend Cushion™ above 1 indicates a firm can cover its future dividends with cash on hand and future free cash flow, while a score below 1 signals trouble may be on the horizon.
And by extension, the greater the score, the safer the dividend, as excess cash can be used to offset any unexpected earnings shortfall. Target scores a 3.1 on our Dividend Cushion™, which is EXCELLENT. This means it can cover payments of future dividends by more than three times with existing cash on hand and expected future free cash flows over the next five years.
Dividend Track Record: HEALTHY
We assess each company's dividend track record based on whether the fundamentals of the company have ever forced it to cut its dividend. If the company has ever cut its dividend (within the last 10 years), we view its track record as RISKY. If the company has maintained and/or raised its dividend each year (over the past 10 years), we view its track record as HEALTHY. Target's track record is HEALTHY.
Dividend Growth: EXCELLENT
We judge the future potential growth of the dividend by evaluating the capacity for future increases, as measured by the Dividend Cushion™, and management's willingness to consistently raise the dividend, as measured by the firm's dividend track record. Target registers an EXCELLENT rating on our scale, and we think the company's annual dividend will be $1.57 per share within the next several years (please see graph immediately above).
Dividend Strength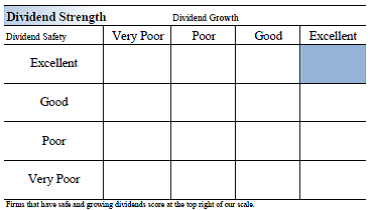 Our assessment of the company's dividend strength is expressed in the matrix above. If the safety of a company's dividend is EXCELLENT and its growth prospects are also EXCELLENT, it scores high on our matrix (top right). If the company's dividend safety and the potential future growth are VERY POOR, it scores lower on our scale (bottom left).
Risk of Capital Loss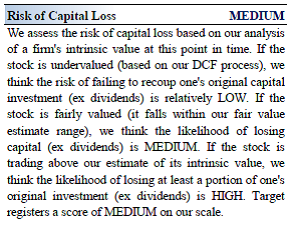 Initial Annual Income per Investment ($)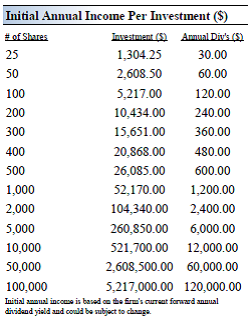 Definitions