Living in the Southwest part of the U.S., one finds many interesting personas. But the one stereotype that still predominates is that of the "Cowboy". Still wearing the hats, boots, and riding horses, these iconic symbols of the Old West remain part of the mainstream of society today. Actually many of my associates fall into this genre and when one individual bet I could not make an income portfolio based upon his "Cowboy Way", I gladly accepted the challenge.
At the heart of the bet was the definition of the "Cowboy Way", and my challenger quickly laid this out for me. The portfolio had to contain only equities concerning guns, gold, and the open range, and must provide a competitive yield to boot. Had it not been an income portfolio it would have been a much easier task. But being an income strategy will make it a bit tougher to pull off. Before continuing, it should be communicated that this portfolio is going to be rather unique as the constraints are so tight it limits the choices. I would in no way suggest that an investor follow this portfolio as its parameters are much too strict. That being the case here is what I came up with.
Guns
My initial response to the "Gun" requirement was that it would be rather easy to get a couple of stocks from weapons manufacturers to give me a great yield. Unfortunately I was quickly put back in my place when I was told that cowboys don't ride tanks and shoot missiles. My picks had to be companies manufacturing firearms for the public and not high tech weapon systems for the military complex. That being the case, I was forced to look at only two companies that would fit the bill. They are Smith & Wesson Holding Corporation (SWHC) and Sturm, Ruger & Company (RGR).
Both of these companies make fine firearms, but the question is which would make its way into the portfolio. Turning my attention to Smith & Wesson, I find a chart that is a bit concerning. Just by looking at the chart one can see that Smith & Wesson is probably not going to make the cut.
Click to enlarge: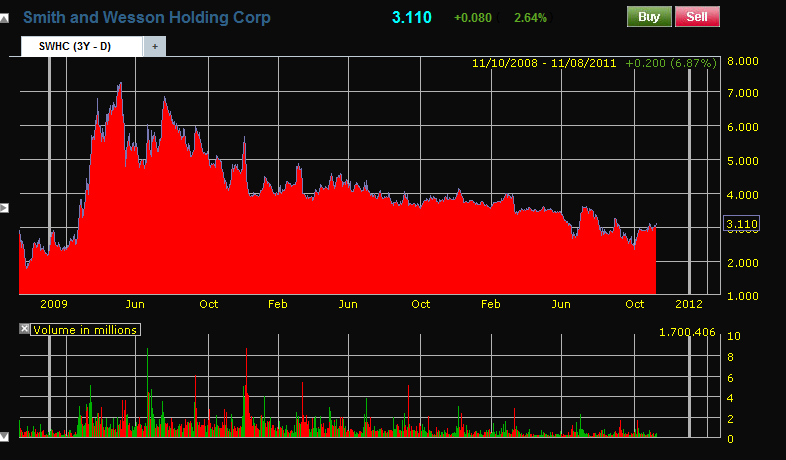 The fact that the company has no dividend pretty much seals the deal. But since I'm here, let's see what this company is all about. Smith & Wesson provides products and services for safety, security, protection and sports in the United States and internationally. The company offers firearms, handguns, sporting rifles, hunting rifles, black powder firearms, handcuffs, and firearm-related products and accessories. It also provides turnkey perimeter security solutions to protect and control access to key military, government, and corporate facilities.
Digging into the first quarter fiscal 2012 highlights of the company sheds a bit of light on the issues. Net product and services sales for the three months ended July 31, 2011 were $99.2 million, an increase of $4.3 million, or 4.5%, over net product and services sales of $94.9 million for the three months ended July 31, 2010. Firearm product and services sales were $91.7 million for the three months ended July 31, 2011, an increase of $14.0 million, or 18.0%, over the three months ended July 31, 2010, while security solutions sales were $7.5 million for the three months ended July 31, 2011, a decrease of $9.7 million, or 56.4%, from the three months ended July 31, 2010. As the gun side of the house is doing well, it seems that within security solutions, the reduced federal spending is going to negatively impact sales. This is easy to see in the net income for the three months ended July 31, 2011, which was $791,000 compared with net income of $6.2 million for the three months ended July 31, 2010. As good as Smith and Wesson's guns are, I will have to pass on the equity.
That being the case, I am forced to pick up the only other gun manufacturer possible for the portfolio, Sturm Ruger. Sturm, Ruger & Company engages in the design, manufacture, sale, and export of firearms in the United States. The company offers single-shot, autoloading, bolt-action, and sporting rifles; over and under shotguns; rim fire autoloading and center fire autoloading pistols; and single-action and double-action revolvers under the Ruger brand name. It also manufactures and sells accessories and replacement parts for its firearms. The company sells its firearms through independent wholesale distributors principally to the commercial sporting market in the United States; and exports directly and through commercial distributors to foreign customers primarily consisting of law enforcement agencies and foreign governments. In addition, it manufactures and sells investment castings made from steel alloys directly or through manufacturers representatives to commercial, sporting goods, and military markets. Looking at the chart, one sees a very different story than Smith & Wesson's.
Click to enlarge: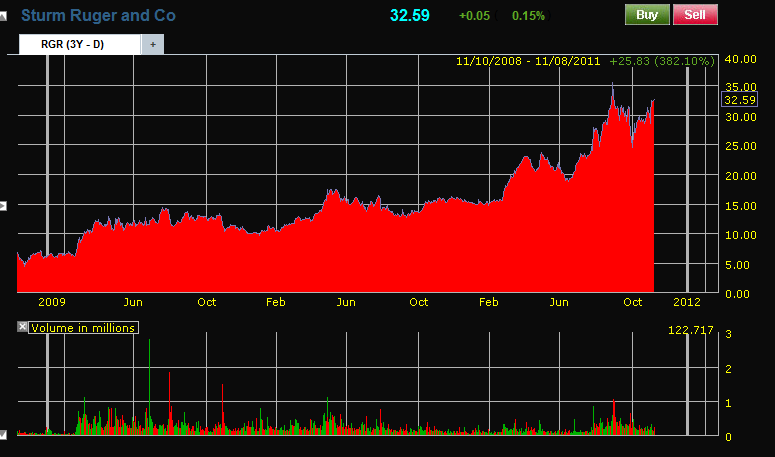 This company is doing quite well. For the third quarter of 2011, Sturm Ruger reported net sales of $80.5 million compared with net sales of $58.4 million in 2010. For the nine months ended October 1, 2011, net sales were $235.6 million compared with net sales of $191.1 million for the same period in 2010. Sturm Ruger's earnings increase was driven by the 38% increase in sales and ongoing focus on continuous improvement in its operations. One last positive note was that during the first nine months of 2011, Sturm Ruger returned $7.5 million to its shareholders through payment of $5.5 million in dividends and a repurchase of 133,400 shares of common stock in the open market at an average price of $14.94 per share. To add to this, RGR at the end of the third quarter of 2011 has $8.0 million available for future stock repurchases. The company is sporting a 1.9% yield, which has not been consistent, but it's there now. Seems Sturm Ruger is going into the portfolio.
Gold
Well it looks like I'm going to have a similar issue in the gold section as I did in the guns. Gold is a fantastic investment but not really well known as an income play. My challenger stated I have to have an investment in actual physical gold but I could also look into miners as well. (Seems the cowboys and miners get along at some point.) That being the case I needed to find a gold investment with a relatively high yield to make up for Sturm Ruger's low one. I chose the Gabelli Global Gold, Natural Resources and Income Trust (GGN). This is a closed-ended equity fund launched by GAMCO Investors, Inc. and managed by Gabelli Funds, LLC. Before I continue, I should make it clear that this fund is not an investment in physical gold. This closed end fund is using gold, silver, and natural resource-related stocks to derive income off the selling of covered calls and any dividends. The second issue is that a sizable part of the fund is made up of natural resource stocks outside the gold industry. So I'm sticking to my guns on this as I need the yield. The current distribution rate is 10.3% and is distributed on a monthly basis. The fund is selling for a small premium when compared to net asset value, which should be acceptable in this case. The only issue would be dealing with the funds Return of Capital (ROC) as a source of the distributions it makes. The fund does use a covered call income strategy and probably has some built up capital gains, so it is very easy to see how the fund can be using ROC to make a more consistent distribution throughout the year as these strategies play out.
Click to enlarge: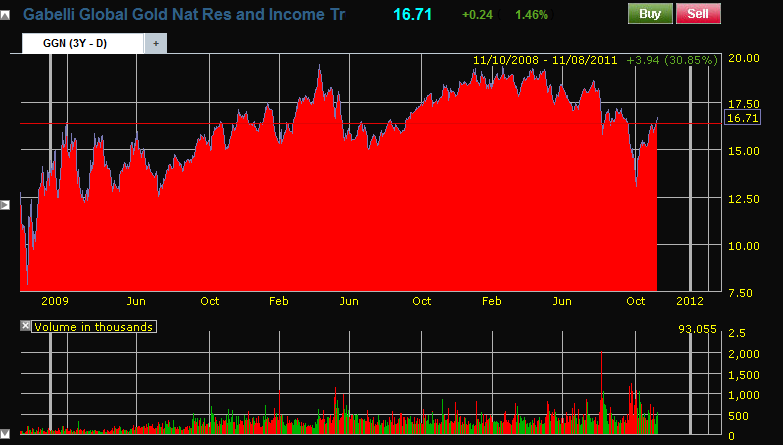 For my second pick I have to invest in the physical gold itself. I can easily just go to an ETF for this, but I have decided to go out on a limb and get Central Fund of Canada Limited (CEF). CEF is a closed end fund and was founded in 1961. Its shares trade on the open market like any other stock and are backed by gold and silver bullion that is stored in high security vaults in Canadian chartered banks. What I like about CEF is that I also get the silver exposure as well as gold. I doubt that will ruffle any feathers with the Cowboy. Currently CEF has 1,694,644 ounces of gold bullion and 76,964,103 ounces of silver. Obviously there are some negatives like the bullion incurring storage costs that eat away at share price, plus the lack of any dividend. Still, if forced to hold shares that represent bullion then I'm going to have to stick with CEF for now.
Click to enlarge: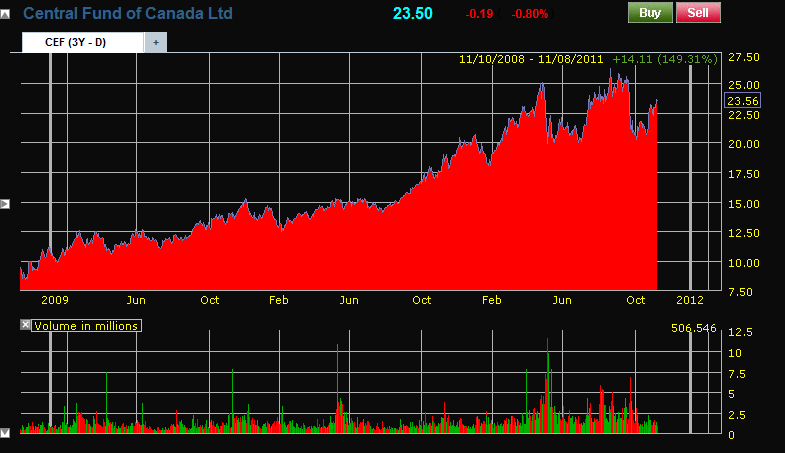 Whiskey
Finally, what is a cowboy without a shot of whiskey? How many countless storylines have played out where time and time again we find the standard motif of the old west saloon and bar? In this case, I think I would want Diageo (DEO) to be in the mix. Diageo engages in producing, distilling, brewing, bottling, packaging, distributing, developing, and marketing spirits, beer, and wine products worldwide. It offers a range of brands, including Johnnie Walker scotch whiskies, Crown Royal Canadian whisky, Jose Cuervo tequila, JEB Scotch whisky, Buchanans scotch whisky, Windsor Premier scotch whisky, Bushmills Irish whiskey, Guinness stout, and a host of other products. The company was founded in 1886 and is based in London.
In good times and bad the consumption of alcohol is a constant. When looking at Diageo over a three year period, the company has increased growth year over year despite the continuing weakness the global economy. Diageo is also the number one international spirits company in the emerging markets of Africa, Latin America and Asia. These markets now make up approximately one third of Diageo's net sales. Through organic growth driven by infrastructure investments and targeted acquisitions, these markets are predicted to contribute 50% of Diageo's net sales by 2015. As a result of the company's success, it even recommended increasing its dividend. This year the company paid out a $2.63 dividend which would be a 3% yield. It should be known that DEO pays an interim dividend in April and a final dividend in October of each year. Approximately 40% of the total dividend is expected to be paid as an interim dividend and approximately 60% as a final dividend.
Click to enlarge: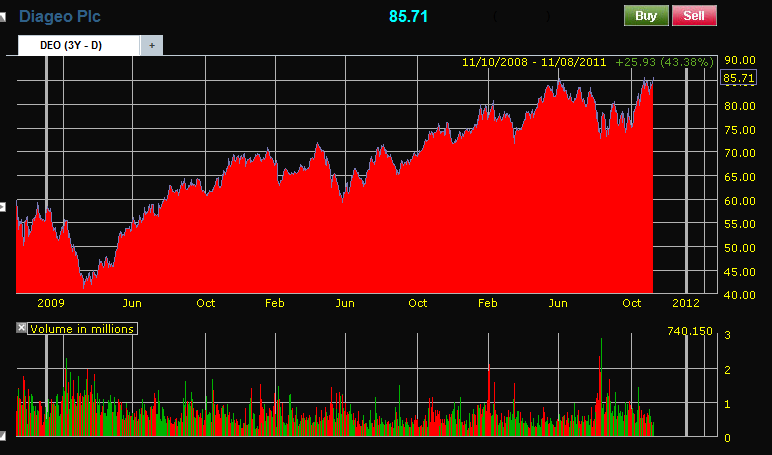 Fertilizers
As I have the guns, gold, and whiskey requirements met, now I have a bit more freedom as long as I adhere to the overall theme of the challenge. The thought process for the next choice was simple as cowboys work with cattle which produce lots of manure. Manure is fertilizer, so that sector should be open to me as it is used on the open range per the constraints of the challenge. It's a stretch, I know, as the companies I am picking are not using manure in their products, but I need the yields that the next two picks provide me, so I'm sticking with it.
CVR Partners (UAN). CVR Partners was derived as a partnership from CVR Energy Inc. which spun off the company to operate the fertilizer side of the business. CVR should be a perfect fit into the portfolio as it has many positive catalysts. The company is the only fertilizer producer in North America that uses a special petroleum coke process to make its product. What a coincidence that the coke happens to come from a refinery which is owned and operated by none other than CVR Energy, the parent company. Needless to say, this coke will be readily available from the parent and also tends to be much less expensive and much more stable in price when compared to natural gas, which other competitors have to use. Also CVR is located much closer to customers so it will enjoy a transportation cost advantage when compared to other companies. The company is also in the midst of an expansion project which is expected to be completed in the first quarter of 2013. This expansion should increase production by a substantial amount. Early on, CVR committed to have distributions of $1.92 for the first year and if so that will be a 9.1% yield.
Click to enlarge: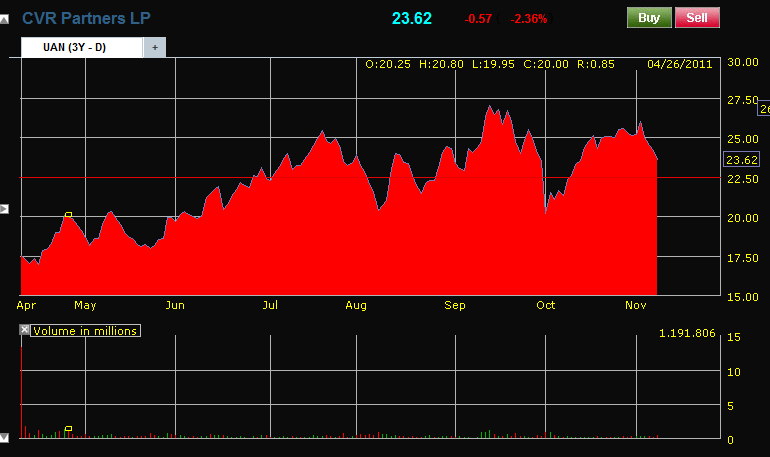 Sticking with the same theme, I am also going to get Rentech Nitrogen Partners, L.P. (RNF) as part of the portfolio. Rentech just had its IPO at the offering price of $20 per unit. Pretty much working from CVR's playbook, Rentech is a fertilizer business that was spun-off from parent company Rentech (NYSEMKT:RTK). The parent company provides alternative and clean energy solutions and by itself has not been a stellar performer. Upon the closing of the offering, the public will own about two-fifths of the outstanding common units of Rentech Nitrogen, while Rentech Inc will own the rest.
The fertilizer side of the house has been the bright spot of the company as the fertilizer industry has been expanding rapidly. Being driven by worldwide population growth, increasing demand in emerging markets, and domestic ethanol, there seems to be a steady built in growth rate for the sector and Rentech should be able to capitalize on it. The actual production facility has been around since 1965 and has a history of producing products used in the region in which it operates. Rentech originally acquired the plant in 2006 and was going to change its mission. That all changed when the fertilizer markets took off and it was quickly determined that the asset would be much more valuable if left as is. So despite Rentech's weak parent company, the stock is coming in at an estimated forward dividend yield of 11.7% which will be a dividend of $2.34. It's operating in a fertilizer sector that is on fire and looks to continue to grow for the foreseeable future. I think the company will make a fine addition to the portfolio.
In conclusion, the" Cowboy" income portfolio seemed to come together fairly well. No doubt that there are many other companies that could easily fit the portfolio as well. Being constrained to the limitations placed on it, the portfolio seems solid enough and should earn a competitive yield. Guns, gold, and whiskey can be a winning combination. Here is the final list of companies and the potential yields they offer. Let's see if I won the bet.