At Valuentum, we like to provide investors with a complete picture of their investments: not only for those seeking capital gains but also for those seeking income. We view these two sources of total return inexticably linked, and the following case study may show why evaluating intrinsic value is equally as important as evaluating the health of the dividend, itself.
Though we actually hold Morningstar (NASDAQ:MORN) in very high-esteem, despite poor stock picking results over the past five years, we'll again use the firm as an example to illustrate this point. In turning to page 178 of Morningstar's book, The Ultimate Dividend Playbook, the equity reseach firm showcases a managed portfolio it calls the Dividend Builder Portfolio. Here's the real-money portfolio as shown in the book.
click to enlarge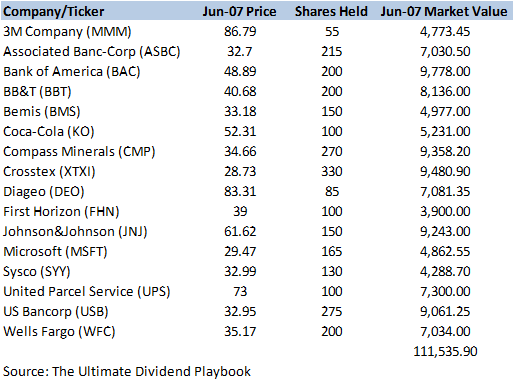 This is a great example because it is a real-money portfolio and the positions are not hypothetical (based on theory), but actually entered into by a portfolio manager. In June 2007, this portfolio was yielding 3.3%. Okay, let's say you held on to these firms because they had nice yields (in fact, Morningstar went on to say in the book--same page--that "if the market were to close for the next five years...I don't think I'd make many changes, if at all."
Well, investors were in for a shocker. Holding the capital gains of its biggest winner, Compass (NYSE:CMP) constant, the portfolio would have suffered a capital loss of 27% (including Compass, it only fell 17%, about in line with that of the market). Yes, that's right. Picking an undervalued, high-yielder would have mitigated the capital loss by about 10 percentage points (we peg Compass' fair value at $65 per share). We'll withhold judgment on the current income profile of this portfolio [hindsight is 20/20 and many portfolio managers missed the financial crisis and hefty dividend cuts by the banks, like Bank of America (NYSE:BAC)], but the point here is that while dividends are good, they are even better when they can be found from companies that are significantly undervalued (like Compass was).
That's why we love Altria (NYSE:MO) and Republic Services (NYSE:RSG), two stock sporting nice dividend yields and attractive valuations. In the spirit of transparency, our reports on these names can be found here. We continue to look to add these types of names to our monthly Best Ideas portfolio. After all, there's probably nothing better than finding an undervalued stock with a juicy yield.
Disclosure: I have no positions in any stocks mentioned, and no plans to initiate any positions within the next 72 hours.