In July 2011, I wrote an article that discussed the credibility issues surrounding China Green Agriculture (NYSE:CGA) and the devastating effect of such on its share price. For the past two years, the company has been on the defensive in response to short seller attacks and has been tainted by the implosion of a multitude of reverse merger Chinese IPOs. The point of the article wasn't about a definitive claim that the company is legitimate, for which I have no ability to judge with certainty. I was simply pointing out how it would be almost impossible for any company to defend its reputation under the circumstantial environment the company faces. However, I did believe that the longer CGA continued to exist as a listed NYSE company, report earnings and continue to subject itself to annual audits, the greater the likelihood that they are on the up and up. If they are on the up & up, the company is dirt cheap.
Tuesday night, CGA filed yet another 10-Q with the Securities & Exchange Commission with stellar numbers that soundly beat the consensus estimate. Let me point out that the consensus estimate is represented by only one analyst as all others have dropped coverage for obvious reasons.
For the quarter ended September 30, 2011, revenues came in at $53.1 million versus $39.5 million in the same quarter in 2010 and a consensus estimate of $47.4 million. EPS was an even bigger beat: $ .40 versus $ .30 in 2010, 33% better then the consensus estimate of $ .27. Unfortunately, shareholders will only benefit from these stellar results if CGA can prove to the market that it is a bomb shelter in the minefield of Chinese reverse merger IPOs when it comes to its credibility. If it can achieve credibility again the stock has great upside at current levels based on a very depressed valuation.
The following table provides the side-by-side comparison of CGA and Agrium (NYSE:AGU), a major global fertilizer competitor and it doesn't include CGA's September quarter which happens to be the best in its history. The last two columns of the table are the most revealing, as they take the side-by-side comparison of the first two valuation metric columns one step further by calculating the share price of CGA using AGU's respective metrics, and by calculating the share price of AGU using CGAs respective metrics. The numbers are rather interesting, and illustrate how undervalued CGA would be if it can overcome its credibility issues:
(Click to enlarge)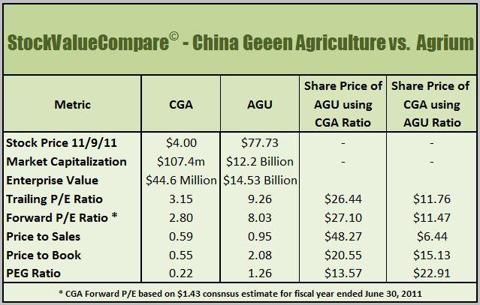 These are the personal views of Wall Street Titan. All investors should always do their own due diligence.
Disclosure: I am long CGA.