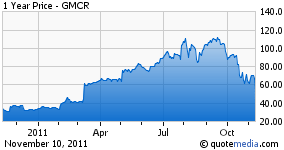 After Netflix (NASDAQ:NFLX) and Open Table (NASDAQ:OPEN), here comes another momentum company that will disappoint investors, Green Mountain Coffee (NASDAQ:GMCR). The stock was trading sharply lower in aftermarket hours after missing on both the top and the bottom line
What should investors do?
As we wrote in previous pieces, momentum investing has been a popular strategy on Wall Street, especially at times when money is cheap, and new investment themes hype investor imagination. The strategy can be very rewarding for investors who catch the train early, and leave it on time, before momentum turns in the wrong direction. But how can investors detect momentum shifts? What are the warning signs?
Momentum stocks have one thing in common: High growth. For a while, quarterly revenue growth beats investor expectations, stirring and hyping their enthusiasm. Eventually, the time comes when growth slows, failing to meet investors' expectations, setting the stage for a shift in momentum. But what causes this growth slow-down?
In "How the Mighty Fall," Jim Collins identifies five signals for stages of decline: Hubris born of success, leadership becomes arrogant as it considers success an entitlement, stock heads to the moon as investors chase after the stock; undisciplined pursuit of more and reckless behavior sets the company at great risk while the stock continues to climb; denial of risk and peril, failure of leadership to recognize and address risks, especially as stock peaks; grasping for salvation, a sharp decline visible to the public as investors flee in all directions as stock falls sharply; and capitulation to irrelevance or death, growth declines as the stock falls out of favor.
The rise and fall of telecommunications and networking stocks in the late 1990s and the early 2000 is the case in point. After almost a decade of fast growth, the leadership of Cisco Systems (NASDAQ:CSCO), Ciena Corp (NASDAQ:CIEN), JDS Uniphase (JDSU), Corning (NYSE:GLW), Ariba Inc. (NASDAQ:ARBA) and Lucent-Alcatel (ALU) became complacent and arrogant with success, setting the stage for the eventual slow down and downfall to irrelevance.
But what is the case with Green Mountain Coffee?
Momentum is shifting in the opposite direction, especially after yesterday's big decline in after-market hours. But even before the report, the stock hasn't behaved terribly well recently, as it traded below its 50 day-moving average. Thin profit margins may further make it extremely difficult for the company to maintain a profit growth rate north of 200%, especially in a slow growth economy that may negatively impact its coffee machine sales. And a big jump in inventories won't help either.
Click to enlarge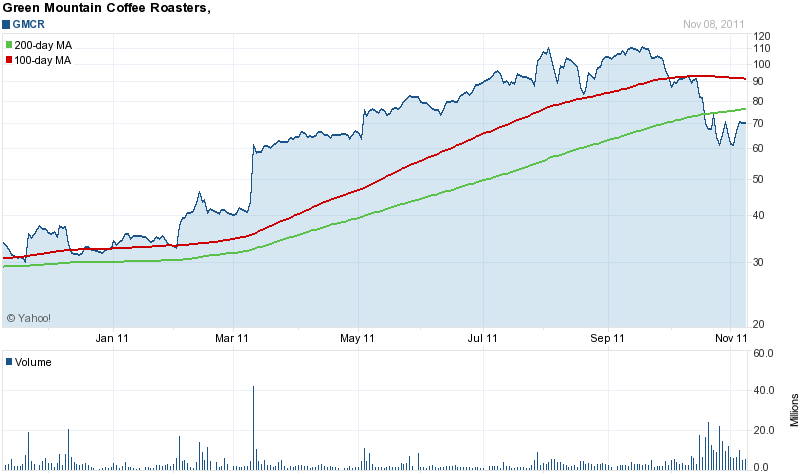 Bottom line: Green Mountain Coffee is a broken momentum stock. I will avoid it.
Disclosure: I am short NFLX.