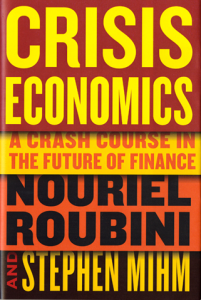 Today I am reviewing "Crisis Economics: A Crash Course in the Future of Finance," by Nouriel Roubini and Stephen Mihm. Read my other book reviews here.
Nouriel Roubini is a professor of economics at NYU's Stern School of Business and the founder and chairman of Roubini Global Economics. He is widely known as "Dr. Doom" for his dire (yet correct) prognostications leading up to the great recession. For a good overview of his past forecasts, check out his Wikipedia entry. In Crisis Economics, Roubini teams with professor Stephen Mihm to discuss the ongoing financial crisis, providing context and assessing the risks and opportunities that policymakers now face.
The first section of the book provides an overview of the progression of economic thought and political events that led up to the recession. Their thesis for this section is that economic crises are common and predictable, despite what many would have you believe. They move beyond theory to include a significant number of historical examples (e.g. Thailand, Mexico, Argentina, and earlier) as support for their argument.
The next section of the book deals with the ongoing crisis. The authors discuss the major events and the policy responses, along with the theoretical basis for these policies. Unlike other commentators who tend to discuss the policy response as a whole, either as a failure or success, Roubini and Mihm avoid this binary distinction by assessing each policy individually, it motivations and results. Consequently, and I think this is a tribute the authors given the emotionally charged environment, the reader never detects bias on behalf of the authors.
In the final chapters, the authors write about the future and assess the choices that regulators now face. The authors present a clear recommendation utilizing both monetary and fiscal policy, while recognizing the potential political difficulties. They take a pragmatic approach that is easily understandable and follows logically from their contextual discussion in the first section.
The reader is left with a better understanding of what factors contribute to economic crises and how policymakers can avoid them. For readers confused about the ongoing crisis, this book will provide a level of both clarity and depth that I have not found elsewhere. For anyone even remotely interested in understanding how we got into this situation, I would highly recommend it. Don't worry, this is not a dry economic treatise; I thoroughly enjoyed reading it and think you will too.
There is a good interview with the authors over on the Amazon page, and this video discusses some of the topics.
Disclosure: None.