Bank of America (NYSE:BAC) is the bank that received the largest payment from the United States government when it bailed the banks out from their financial mess in 2008/9. In total, it received $45 billion, and although it has repaid the full amount – with the government making a profit of $4 billion on the deal – it has found trading conditions tough through the last couple of years.
In attempts to improve its profitability, the company announced in late September that it would impose a $5 fee (per month) on its direct debit cards. This announcement came under fire immediately from customers, politicians and even received negative comment from President Obama. Finally, after its third quarter numbers had been released, BAC caved in to public outrage and withdrew these plans.
And talking about its third quarter numbers, these were nothing to write home about. Its businesses are struggling to make money, its loan book is shrinking, and it continues to suffer from the bad mortgage book it acquired when it bought Countrywide in 2008.
Third quarter net income was $0.56 per share (up from a loss of $0.77 a year earlier – mainly due to an accounting charge of $10.4 billion), and revenue rose by 6% to 28.7 billion. However, much of this improvement was due to two accounting gains totaling $9.8 billion, and from the sale of assets. Stripping both sets of figures of these items leaves the company pretty much at standstill over the period.
BAC shares are currently trading around $6.25. Its last 12-month earnings per share show an accumulated loss of $0.31. Its competitors are faring far better post bail out and post the credit crisis. Citibank's (NYSE:C) earnings over the last 12 months have been $3.75 per share, JP Morgan's (NYSE:JPM) are $4.69 per share, and Wells Fargo (NYSE:WFC) have bounced to $2.70 per share. The banking sector has, by and large, returned to paying dividends (JPM shares, for example, offer a yield of 2.90%). BAC paid a token dividend of $0.04 through the last year.
Analysts have penciled in a median forecast for earnings to rise to $1.01 per share in its next fiscal year (ending Dec 2012). This would place the shares on a forward price to earnings ratio of 6.18 (compared to similar forward price to earnings ratios at C of 6.58, JPM of 6.70, and WFC of 7.78). However, with current operating margins of 4.53% far lower than the industry average of 21.90%, and attempts (such as direct debit card fees) at improving its bottom line failing, I feel it likely that BAC will miss this forecast number for the next year.
In attempts to cut costs, it has announced plans to shed 35,000 jobs over the next few years. It may be forced to do this faster than it wants to, and this could bring further short-term costs to the company.
Overall, I don't think the fundamentals or news flow, are strong for BAC. It is losing out on the sale of loans to competitors such as JPM, and struggling with its existing loan book. It is selling assets, and attempting to cut costs. Poor margins could linger a while longer as it tries to regroup, and its decision to move its derivatives business to a subsidiary could be part of a bigger restructuring to come. Whilst this may be good news for shareholders in the longer term, there is no guarantee that it will happen, or if it does what costs – or losses - would be incurred. In the present circumstances, it also seems unlikely that there will be a return to payment of higher dividends. Indeed, in March this year, the Fed shot down any notion of a hike in BAC's second half dividend when it announced the results of stress tests on the 19 biggest banks in the United States.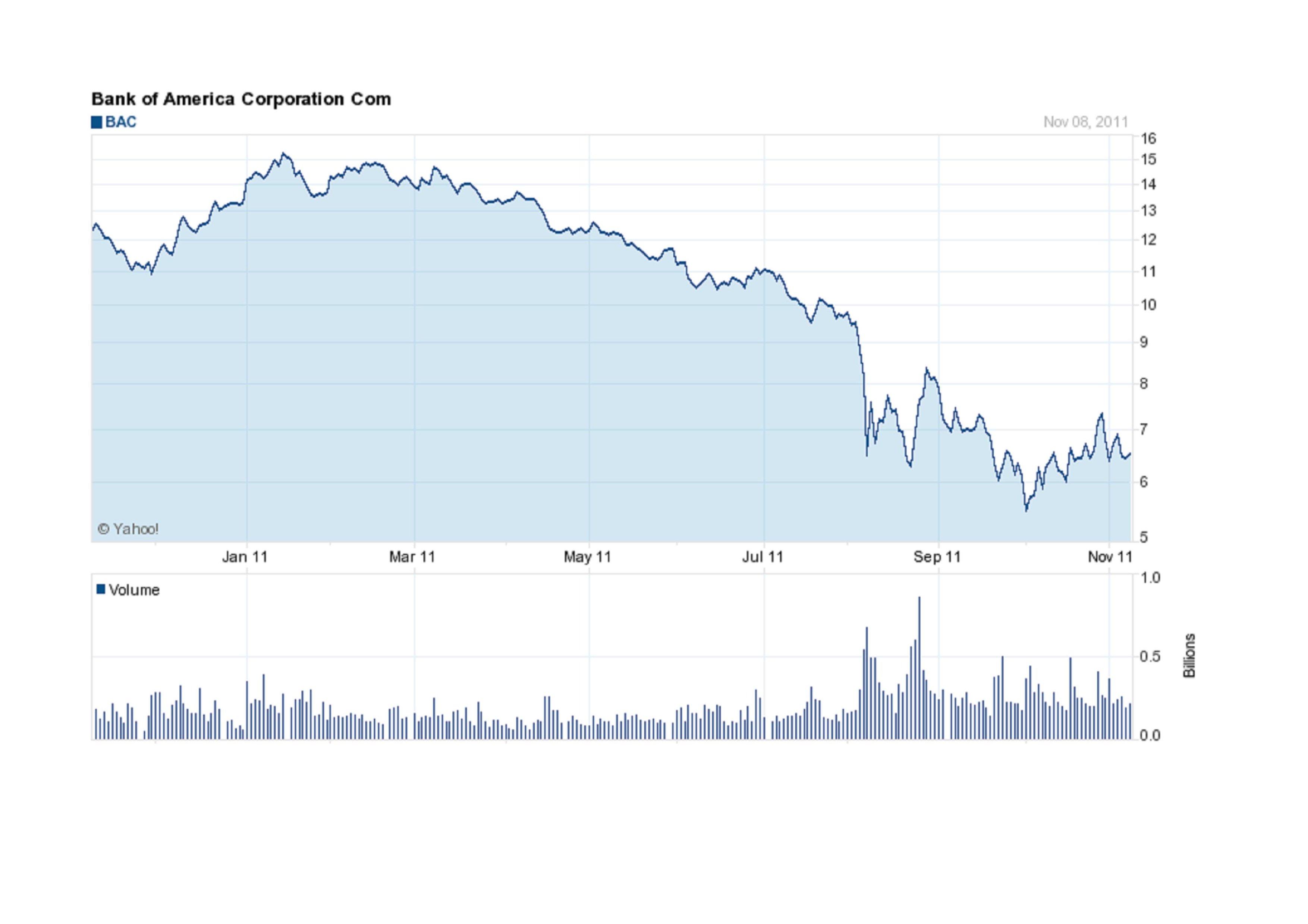 Click to enlarge
(Click to enlarge)
Finally, a look at the chart shows a small positive for the outlook of the share price. Having bounced from their 12-month low of $5.23 set a few weeks ago, the shares look ripe for a short term break out from their downward trend. However, I expect this trading pattern to be outweighed by the stock's fundamentals and negative news flow, and anticipate a re-testing of 12-month lows in due course. There is better value in other banking shares, and I would avoid BAC.
Disclosure: I have no positions in any stocks mentioned, and no plans to initiate any positions within the next 72 hours.