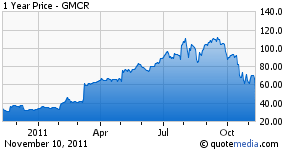 I learned the majority of my stock analysis skills from a book called Financial Statement Analysis and Security Valuation by Stephen Penman. In the first chapter of the book, the author lists 12 Tenets of Sound Fundamental Analysis. Long term investors in stocks like Green Mountain Coffee Roasters (NASDAQ:GMCR), Netflix (NASDAQ:NFLX), and a whole group of infamous tech stocks appeared to have broken Tenet 10: "Beware of paying too much for growth". A lot of investors believe that shorting these stocks is a no brainer move since some of them are so overvalued. Unfortunately, many top bubble stocks in today's market have continued to trade at incredibly high earnings. For example, salesforce.com (NYSE:CRM) has been perceived by many to be overvalued for a long time, yet since January 1st, the stock has performed very similarly to the market rather than dropping off the table.
After Green Mountain Coffee Roasters reported its earnings for its fiscal 4th quarter, shares dropped by over 30 percent in after hours trading. Now a stock that was trading around $110 in mid September has dropped to under $50 in about 2 months due to its earnings report and David Einhorn's bearish view of the stock. The surprising part of this huge drop-off in stock price is that Green Mountain's earnings report was not even that bad. The company missed earnings by 1 cent per share and missed revenue by 6.4 percent. Green Mountain even raised its next quarter outlook above analyst expectations.
What this boils down to is the shorts finally coming out on top. On October 31st, Green Mountain had a short interest of 24.7 million shares, out of about 153 million total shares. Many analysts were very confident that the stock was overpriced as a result of overhyped growth and the unrecognized potential for substitutes to enter in the near future. When comparing Green Mountain's drop to Netflix's, it looks like the long investors needing a reason to sell their shares and drive down the respective stocks' prices. Both Green Mountain and Netflix were overvalued to begin with. Each company's sup-par earnings report was the straw that broke the camel's back.
For those looking to speculate on another bubble stock bursting, I suggest looking at salesforce.com. The company reports earnings on November 17th and is expected to report revenue of $571 million and a loss of 5 or 6 cents per share (GAAP). Last quarter, the company reported a loss and in last year's fiscal Q3, the company reported an EPS of 15 cents. Any kind of a miss on earnings or revenue can send the stock down to under $100.
Penman's 12th Tenet of Sound Fundamental Analysis is "Stick to your beliefs and be patient, prices gravitate to fundamentals, but that can take some time". I believe that recent drops in these high P/E trendy stocks is strong validation of this tenet. Many stocks like Netflix and Green Mountain Coffee Roasters are simply moving to where they should be priced with realistic growth expectations. Investors who bought into these stocks early are still very much in the green. Those who bought in to GMCR a year ago are up over 25 percent and those who bought NFLX in early 2010 are up over 65 percent. The strong earnings reports from many large cap stocks further shows that it's not necessarily a bad economy that is bringing these stocks down. It's a group of investors overpaying for growth in a low interest rate world.
Disclosure: I have no positions in any stocks mentioned, and no plans to initiate any positions within the next 72 hours.