Green Mountain Coffee's (NASDAQ:GMCR) Q4 earnings bombshell Thursday should come as no surprise to anybody paying attention to the financial statements. (FQ4 EPS of $0.47 missed by $0.01. Revenue of $711M (+96% Y/Y) missed by $49.5M.
See the Full GMCR Earnings Call Transcript
We have on many occasions ( 9-20-10, 2-13-11, 5-4-11 to name a few) warned investors to a myriad of concerns regarding GMCR's financial statements and questionable accounting practices.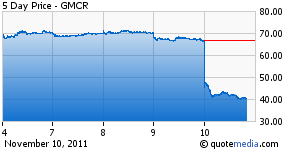 The Merriam Report's unique dual cash-flow and accrual analysis highlighted these issues long before David Einhorn made his bearish presentation in October and months prior to other analysts.
In retrospect, the bear camp was a lonely one. Our favorite observer of all things Green Mountain, Sam Antar of White Collar Fraud, has been warning investors about GMCR's accounting issues for quite a while.
CNBC's Herb Greenberg also raised questions about GMCR's bookkeeping in the past.
Being early isn't always a good thing either. Detractors criticized our analysis as outlandish, ridiculous and absurd. This, as GMCR's stock marched or rather skyrocketed into parabolic outer space. Talk about feeling like a chump!
High profile analysts such as Bill Chappell (SunTrust Robinson Humphrey), Alton Stump (Longbow) and Mitch Pinheiro (Janney) fed this fire with bullish fervor and nosebleed price targets. Ooops!
Yet, we find comfort in the fact that although it took a while for the problems to manifest, the outcome was pretty much in line with what our analysis was telling us. Unfortunately for bulls of GMCR, the fall from grace was far more swift and painful than the ride up.
Better late than never as the saying goes, but sticking to our knitting and making a good call feels pretty darn good too.
Disclosure: I have no positions in any stocks mentioned, and no plans to initiate any positions within the next 72 hours.