Many of you who are reading this probably own Ford (NYSE:F) stock, and have been wondering how much of this Europe mess matters to you. Well lucky for you, I did the research and figured it out. As of the Q3 10-Q, Ford has a max of $10.3B, up $1B from end of 2010, in combined exposure to Europe from financial and automotive cash and marketable securities. I doubt its exposure is actually that high, because the $10.3B number is the sum of all the exposure to foreign government debt ($1.6B), foreign government agencies ($6.31), corporate debt ($2.3B), and mortgage/asset-backed securities ($0.2B). Real exposure to Europe is probably much lower than $10.3B, unless Ford's finance guys never took a lesson in diversification. A total of $6.83B of cash and marketable securities is either U.S. government debt or U.S. government-sponsored agency debt. In addition, Ford has $20.2B in international (read mostly Europe) finance receivables. Of those receivables, only $180M are past due. That's under a 1% rate of current possible delinquencies. The delinquency percentage will go manageably up once the recession hits Europe, but if Europe craps out, which is looking more likely day by day, then that percentage will significantly go up.
Also, for the first nine months of 2011, about 27% of Ford's total revenue has come from Europe ($26.2B). The 10-Q doesn't separate out Euroland, but the 10-K does. On it, Ford lists that they had $3.65B of revenue from Italy, $2.22B from Spain, and $2.7B from France. A total of $8.2B of revenue comes from 'other' countries in Europe. Also, Germany and the U.K. contribute a total of $16.2B of Revenue in 2010, out of the total Europe revenue of $36.7B. I would consider those two countries much safer, although U.K.'s recent austerity has increased the chance of recession. All these above numbers are combined automotive and financial revenues.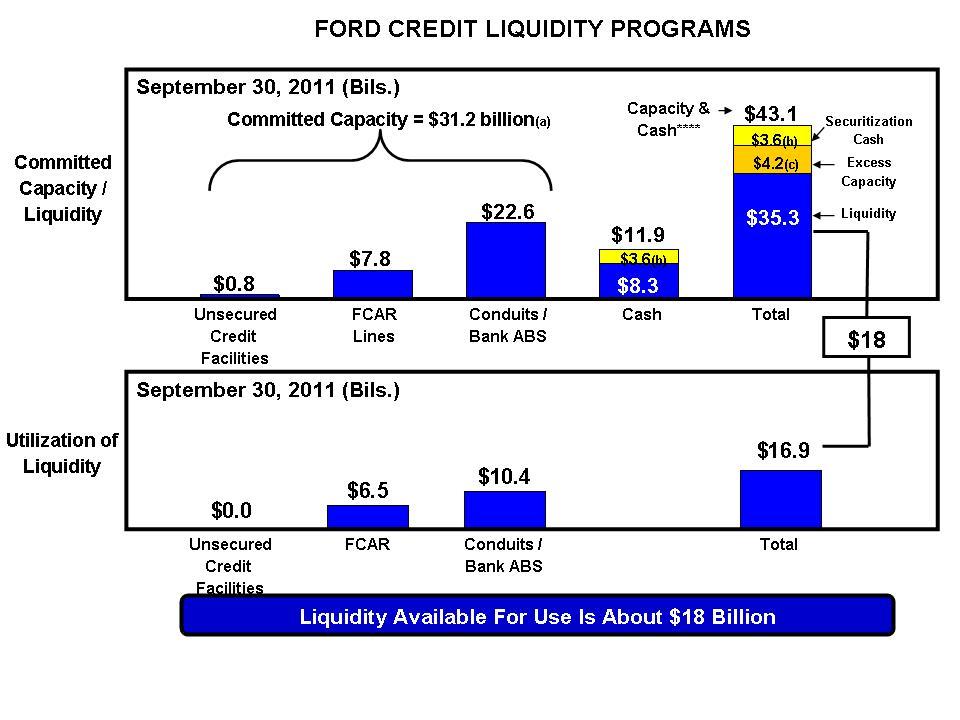 Click to enlarge
(Click to enlarge)
This chart is from Ford's most recent 10-Q, and you can see the automaker states it has available liquidity of about $18B. I believe this would cover even the steepest losses it would incur from Europe. Of course using up some of this liquidity to stave off Europe losses would be bad, but Ford has plenty of wiggle room.
Of course, Ford has a lot of indirect exposure to Europe right now, that's why it is so cheap right now on a historical basis (P/E of 5.6). If Euroland blows up, then banks and therefore credit will be severely reduced, possibly bringing a double-dip recession to the U.S. The current growth of private employment could deflate, prompting fewer credit-worthy consumers and less demand for new cars. That's how Ford would be affected. Currently, its feat of pulling a profit and reducing significant debt load in a shrunken car market, stagnant economy, and loads of uncertainty from Europe and U.S. fiscal policy is impressive, but the market and I doubt it would be able to pull it off in another U.S. recession. That's what it seems the market is pricing in, a U.S. recession. If one doesn't happen, and neither I nor most people expect one too, than I don't see the low price of Ford's stock justified in regards to direct and indirect exposure to Europe.
Directly, Ford has much less exposure. Ford as a company would be most affected by a failure of the debt 'supercommittee' to enact significant deficit reductions, enabling the European crisis to have much more of an effect on the U.S. economy. Once (if) all the macro factors clear, Ford's P/E, and hence stock price, should begin to appreciate. I am not advocating for you take a long or short position in Ford right now, because I have been debating putting a stop order on my Ford position for the last couple days. I am just trying to give you the information so you can make a better judgment and understand the risks better.

Disclosure: I am long F.