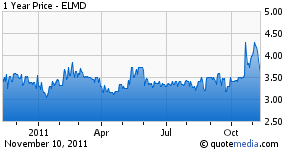 Q1 2012 Financial Results
Electromed (NASDAQ:ELMD) reported financial results for the fiscal 2012 first quarter ending September 30, 2011 on November 9th. For the fourth straight quarter revenue came in ahead of our estimate, with the Homecare segment again leading the way. Revenue growth was impressively strong, especially given that international sales have been hindered by the recent economic turmoil in Europe. EPS was also better than our estimate, despite an uptick in SG&A expense related to build out of the company's sales force and operational infrastructure, which has facilitated the very strong domestic revenue growth.
Management continues to ramp revenue through increasing the size and efficiency of its sales force. And while operating expenses came in higher than what we anticipated, management has proven to show great discipline in how and where they spend money, affording us comfort that much of these expenses are investments in future growth of the company.
Revenue
Q1 revenue of $5.38 million was up 29% y-o-y (+9% sequentially) and consisted of $5.13 million (+35% y-o-y) from the Homecare segment, $37k (-77% y-o-y) from International and $210k (+3% y-o-y) from Government/Institutional.
Homecare segment growth continues to be driven by increases in the size of the sales force and further adoption of HFCWO therapy. Electromed continues to incrementally add sales reps in targeted territories and ended Q1 with 23 reps. As we have noted in the past, it is typical that newly hired reps will require two to three quarters to get up to speed and become fully productive - this means there will be somewhat of a lag between hiring date and when they hit their peak productivity. Management noted on the call that they hope to have a total of 27 to 30 reps by the current fiscal year-end. This, along with Q2 and Q3 typically being the strongest quarters from a revenue standpoint, means revenue growth should again be very robust during the current fiscal year.
Total revenue came in about 7% better than our estimate as a result of the Homecare segment, which accounts for over 90% of total revenue, beating our number by 10%. As we have consistently underestimated this segment's revenue growth, we have adjusted future periods upwards in our model. Revenue from International, by contrast, came in significantly below our estimate and was down 77% from Q1 2011. Management noted on the call that economic turmoil and weakness in European markets has taken a toll on their international sales. As this economic environment may persist for some time, we have scaled back our estimates for Electromed's international revenue in future periods.
Gross Margin
GM came in at 75.4% compared to our 72.4% estimate and contributed to the $0.01 beat on EPS. Electromed's GM can jump around from quarter-to-quarter based on the mix of reimbursement rates so we would not necessarily expect this relatively strong margin to carry through to future periods. We do note, however, that we continue to model long-term improvement in GM as a result of increased sales volumes (i.e. - economies of scale).
Operating Expenses
SG&A came in at $3.40 million, or 63.2% of sales, compared to our 59.5% estimate. The difference can largely be attributed to expenditures related to increasing the size of their reimbursement department and related operations to support their rapid revenue growth. In essence, we think these can be theoretically categorized as investments for future growth of the company - and we fully expect to see SG&A as a percentage of sales to meaningfully decrease over the long-term. Electromed holds its annual sales meeting during Q1 and, combined with a non-recurring expense taken in Q1 related to the retirement of the previous CFO, means SG&A as a percentage of sales may be higher in Q1 than subsequent periods.
R&D expense was $208k in Q1, well below our $292k estimate. R&D expense will likely increase throughout the year, however, as Electromed works to bring new products and product enhancements to market.
Net Income / EPS
Net income and EPS were $246k and $0.03, slightly ahead of our $198k and $0.02 estimates. The difference, a result of the higher revenue number and better gross margin, partially offset by operating expenses and income tax rate (39.9% actual vs. 37.5% estimated) coming in higher than modeled.
Cash
Electromed exited fiscal Q1 2012 with $2.95 million in cash and equivalents, compared to $4.09 million at 6/30/2011. Cash used in operating activities was $823k in the most recent quarter, but stripping out the increase in working capital (including an $807k increase in A/R), operating cash flow was $410k. Long collection times, typical of the industry and associated with the payment policies of many public insurers (i.e. - Medicaid), means there can be intermittent spikes in Electromed's A/R. This can be exacerbated by rapid growth, similar to what Electromed is experiencing. We continue to see no concern with the increase in A/R. Cash balance and liquidity provided through short-term bank loans should be sufficient to cover variable spikes in working capital needs.
On November 8th Electromed extended and increased the borrowing availability under its revolving credit agreement with U.S. Bank National Association. The previous revolver was to expire on November 30, 2011. Under the new credit line, Electromed can borrow up to $6 million (up from the previous $3.5 million). Interest accrues at the rate of one-month LIBOR plus 2.75%. The revolver is renewable on an annual basis.
Total debt at 9/30/11 was $3.68 million which included $1.77 million drawn on the revolver and $1.91 million in term loans (also through U.S. Bank NA), $404k of which is due within one-year.
Valuation and Recommendation
We continue to value Electromed using Hill-Rom's (NYSE:HRC) long-term PE/G ratio as a comparable. Hill-Rom's long-term PE/G currently sits at 0.89 (down from 0.85 since our last update). We model ELMD to post EPS of $0.44 in 2015, implying a four-year CAGR of 34%. Backing this growth rate into the 0.89 PE/G results in a near-term P/E multiple of 30x. We look for ELMD to earn $0.18/share in fiscal 2012 which values the company at approximately $5.50 per share - which leaves our price target unchanged. ELMD currently trades at $3.92/share, implying there remains significant upside in the share price. As such, we are also maintaining our Outperform rating.
Clarification on Zacks' Investment Ratings and Recommendations
As brought up by Bob Hansen, Electromed's CEO, on the earnings call, the Zacks Rank on Electromed is 4, which indicates a Sell rating on the ELMD shares. We feel it is prudent to clarify that the Zacks Rank and our (mine, Brian Marckx, Zacks Small Cap Research fundamental analyst) investment recommendation for Electromed (which is currently Outperform) are completely unrelated. The Zacks Rank is generated for thousands of stocks, is the product of a quantitative black-box model and is a short-term trading rating. That is in contrast to our investment recommendation which is the product of fundamental research including in-depth analysis of the industry, competitive landscape and due diligence on the company itself. Our analysis and due diligence includes conversations with professionals within the industry and with management of the companies we cover. We would encourage those interested in the fundamentals of Electromed to disregard the Zacks Rank and focus solely on our investment recommendation.
Disclosure: I have no positions in any stocks mentioned, and no plans to initiate any positions within the next 72 hours.
Disclosure: I/we have no positions in any stocks mentioned, and no plans to initiate any positions within the next 72 hours.
Business relationship disclosure: I work as a Consultant Analyst for Zacks Investment Research. The article is written by me and is 100% my opinion. I receive compensation from Zacks for writing equity research reports and providing valuation analysis on this company's stock and expect to do so in the future. Zacks receives compensation from the company. Please see the Zacks Disclaimer for further information: http://scr.zacks.com/Disclaimer/default.aspx