"Life is like dancing. If we have a big floor, many people will dance. Some will get angry when the rhythm changes. But life is changing all the time." – Miguel Angel Ruiz
Italy changed everything.
Wednesday morning of this week I began channeling John Maynard Keynes who once said "when the facts change, I change my mind." When I tuned into various news websites and stations and saw the sudden spike up in Italian bond yields, I immediately re-evaluated the metrics I look at to gauge if the conditions favor taking risk or not in equities at a given moment in time. On September 29, those indicators led me to the conclusion that we would head for a "Fall Melt-Up." October ended up being one of the best months in decades, and it appeared that my scenario for further equity gains was intact.
Having said that, I write every Sunday a "Week in Review" for followers of my company who are interested in our investment models and the strategies we run for clients. In the most recent review, which is also posted on my SeekingAlpha InstaBlog, I stated the following:
"Between news of MF Global's bankruptcy and the bipolar nature of Greece's politics (from risk-on/risk-off to referendum-on/referendum-off), markets closed lower for the week as a fresh injection of uncertainty over Europe made investors question whether the October rally was justified. The media of course love to focus on the next major headline, even if it hasn't been created yet. So what about Italy now? Portugal? Nothing like continued fear to bring ratings up.
Markets internally appear to be unclear given all this, as investors perhaps are sensing a period of near-term vulnerability. Our ATAC (Accelerated Time and Capital) models picked up on this, resulting in our positioning out of nearly all equity exposure again and into bonds this past Friday across the board. The risk-off signals are not as strong as they were at the end of July before the August and September declines occurred, so it may simply be a very short-term switch. As followers of my writings will note, I continue to press on the theme that markets will continue their "Fall Melt-Up" into the end of the year barring some kind of exogenous event, which market internals are not sensing just yet."
Our models did position us out of equities last Friday after having positioned in stocks for the bulk of the historic October move. It appears market internals, which our models examine, did sense that something was off in the very near term. In truth, it appears that the "exogenous event" may indeed be Italy's surging bond yields.
Do not underestimate the potential for this to be far more significant than what the media portrays. Italy is both too big too fail and too big to bail. The spike in yields has now resulted in Germany explicitly saying there should be a mechanism in place to force countries out of the euro. This is a dramatic change in tone when all the rhetoric before focused on making sure Greece, minor compared with Italy, remains a member of the EU.
The bond market is generally more right than the stock market, and I believe it could very well be that the "Fall Melt-Up" may simply have occurred in October. The conditions internally within markets have deteriorated so suddenly on the Italy scare that it makes me wonder if something more severe may be in the pipeline unless the fever breaks, and breaks in days, not weeks. The fact that Treasury yields here in the U.S. spiked and have resumed their trend lower, looking ready to retest their bottoms, makes me concerned that a sudden "about-face" may occur in equities.
One way of showing the sentiment change is to look at the price ratio of the Utilities Select Sector ETF (NYSEARCA:XLU) relative to the S&P 500 (NYSEARCA:IVV). As a reminder, a rising price ratio means the numerator/XLU is outperforming (up more/down less) the denominator/IVV. Do not focus on the actual ratio numbers – look more at the relative trend and its direction.
(Click chart to expand)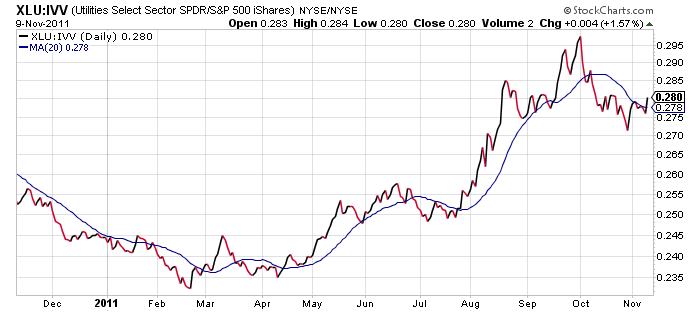 Click to enlarge
I have noted in many articles before that the Utilities sector is "defensive" and tends to outperform when expectations are rising for a period of increased volatility in broader beta. The ratio peaked out at the very end of September, and initiated what appeared to be the start of a true down-trend – consistent with further gains in equities and a further "Melt-Up" in stocks. However, the ratio abruptly bounced in late October, and spiked again on Wednesday when Italian yields surged.
The main point? Markets seem to very quickly be re-adjusting to the real risk that Italy poses to the global financial system and existence of the EU. Investing is never about certainties and always about probabilities. While the probabilities did exist for a continuation of the Fall Melt-Up, Italy appears to have changed everything. Unless this can be controlled quickly, I fear the bear will re-assert itself with a vengeance.
Disclosure: I have no positions in any stocks mentioned, and no plans to initiate any positions within the next 72 hours.
Disclaimer: The author, Pension Partners, LLC, and/or its clients may hold positions in securities mentioned in this article at time of writing. The commentary does not constitute individualized investment advice. The opinions offered herein are not personalized recommendations to buy, sell or hold securities.