If you've read my (admittedly sparse) blog, you know that I have a short position in Universal Health Realty Income Trust (UHT), in addition to my short position in Health Care REIT (HCN). Well, after reading the latest 10-Q from Universal Health, it seems appropriate to provide an update, showing just how poor the company's results are.
Dividends
We begin with dividends, which, of course, were my reason for targeting Universal Health in the first place. Let's first take a look at free cash flow and dividend payout ratio from the most recent nine months (In calculating FCF, I often remove the effects of changes in working capital; because Universal Health's are rather small, I won't bother with that here).
| | |
| --- | --- |
| Cash From Operatons | 15,797 |
| Investments in LLCs | (3,475) |
| Cash distributions from LLCs | 4,066 |
| Additions to real estate investments | (172) |
| Total FCF | 16,216 |
| | |
| Dividends Paid | (22,977) |
| Dividend Payout Ratio | 145.5% |
This continues a trend for Universal Health; the same stat for the prior year is over 300% (investments in LLCs were much higher). Even if you took out this investment in LLCs figure, for which an argument could be made, the payout in both years is in excess of 100%.
This is obviously unsustainable. But it's actually worse than it looks.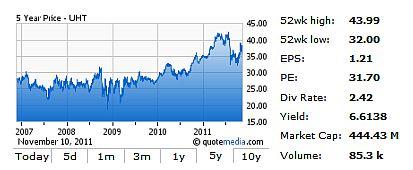 Revenues and FFO are Falling
Nine month revenues fell from $22.3 million to $20.8 million from 2010 to 2011. FFO, every REIT's favourite metric, fell slightly, from $24.3 million to $24.0 million. FFO also fell from FY2009 to FY2010, and remains only 12.6% higher than it was in 2006 (CAGR-3.0%). And assets increased by 12.4% between December 31, 2010 and September 30, 2011. Another way of reading this is that Universal Health requires more assets to produce similar (or slightly lower) revenues and FFO. Not good.
So, how is Universal Health paying the dividends?
Two ways: drawing down a revolver and selling assets. Universal Health drew down almost $40 million from its revolver in the most recent quarter. This increased its debt to cash flow from 2.19x two quarters prior (p. 16) to 2.70x in the most current quarter (p. 14). The revolver covenant calls for this to stay below 3.5x. Obviously, one or two more quarters like this and the company is knocking on the covenant violation door. Now this is unlikely to lead to bankruptcy, though conceivably it could. It is more likely to lead to a costly renegotiation of the credit agreement, something Universal Health can ill afford at this time.
So, what's a cash-poor/debt-rich (debt/equity is 81%) company to do? There are a number of possibilities, but Universal Health has chosen the least sustainable. The company is selling $50 million worth of unconsolidated LLCs. Of the 31 LLCs accounted for under the equity method listed by Universal Health, they are selling 10. Given that LLCs accounted for approximately 21.3% of Universal Health's net income to date, it's safe to say the bottom line will feel this loss in future years. Given the market these days (and that many of Universal Health's properties are located in the Sun Belt, hard hit by the recession), it is hard to believe that the company thinks it is getting a great price on these assets.
So why is Universal Health selling? I believe the company needs to raise cash and it realizes that: 1) to continue with its dividend policy is unsustainable from FCF alone and 2) that it is running low on other sources of cash as FCF is already used up (and then some) and the revolver is getting close to being tapped. Secondary stock issuances are also an option, which would also help the short case here.
One other note
Universal Health is acquiring the minority interest in another 11 unconsolidated LLCs. The REIT does not break out what it will be adding in the way of assets and liabilities to its balance sheet by being forced to consolidate these LLCs, but one can assume by looking at the unconsolidated LLCs as a group that it won't be pretty. The current Debt/Equity of all 31 is almost 600%. At least Universal Health's revenues grew year-over-year.
Wrapping up
It will be interesting to see how everything with Universal Health plays out. But one thing cannot be denied: The company simply uses more cash than it brings in. As long as this is the case, and as the balance sheet continues to deteriorate, Universal Health will be a great addition to any shorter's portfolio.