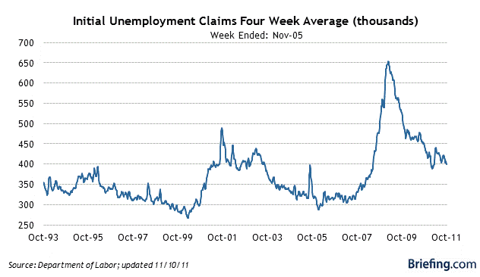 Click to enlarge
The market rallied back on Thursday as the market got some good news out of the States with jobless claims hitting a seven-month low as well as European markets recovering. Italian bonds fell and Greece named a new leader for the country. Additionally, the S&P reiterated a top credit rating for France.
Economic data coupled with the European relief news made us all sigh a breath of fresh air. Fear is definitely still prevalent, but if the market can stay afloat and work out these issues. Stocks should continue to show strength and make their way higher. We would be cautious with anything in this market, however.
Earnings were mixed on the day. Cisco (CSCO) had some great earnings that helped the DJIA continue to move higher. On the flip side, Green Mountain Coffee Roasters (GMCR) Q4 revenue missed, and the stock dropped 40% on the day. Kohl's (KSS) topped earnings estimates and continues a sign that retail is back for the mid-level consumer.
A lot of our positions are currently doing quite well. We are currently holding a Dec17 175/180 Bull Call Spread on Ralph Lauren (RL) that regained some of its premium today. We have a sold Amazon (AMZN) 195/190 bull put spread for expiration tomorrow that looks very solid to expire worthless. Our Google (GOOG) 530/525 bull put spread for next week looks solid. We sold Sina (SINA) 105/110 bear call spread in October, and the stock continues to show weakness. It is rated sell by us. We are looking good for our Cummins (CMI) sold $80 puts to expire worthless. We have bear call spreads on InterOil (IOC) and United States Oil (USO).
We also entered two new positions today. We went long on Starbucks (SBUX) stock, coupled with a long on Dollar Tree (DLTR) along with selling the 72.50/70 bull put spread for next week.
Moving into tomorrow, we are looking for the market to probably continue higher as the qualms the market was having moving into today seem to be relatively solved for the time being. As long as the European problems stay at least somewhat in check, the market will continue to operate to the upside.
We are currently watching four positions - two for upside, two for downside.
For upside, we currently like Mastercard (MA) and Qualcomm (QCOM). Both stocks have reported excellent earnings in their past quarter and have had great reactions since then to their stock price. Both stocks have limited downside from their current levels because of the earnings report they have had. Mastercard has limited downside in this market. The stock is on an amazing upward price channel. The 20-day and 50-day MA sit at 340, and that level should hold. We like selling puts around that level for premium. The same is true for QCOM, which should hold the $52 level for the rest of the year.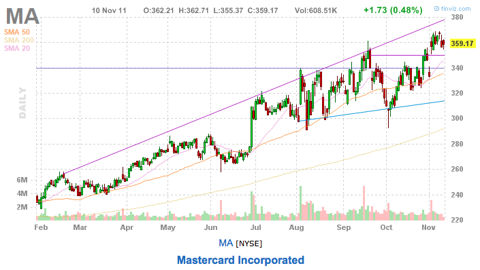 For downside, we currently think that General Electric (GE) and Comcast (CMCSA) have limited upside and should be played with bear call spreads. Both companies have had terrible earnings reports, and their price action has not been strong despite strength in the general market. We think that the 17 level is going to be tough for GE, and there is no way it breaks 18 by year's end. Comcast has fallen hard. The $24 level is definitely not going to be achievable by year's end.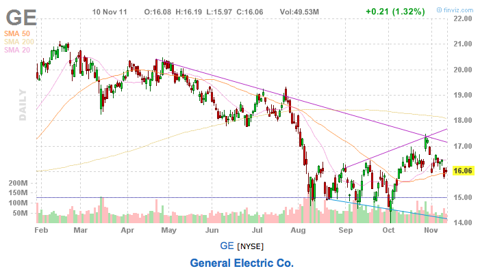 Additional disclosure: I am short USO, IOC, SINA.