Are you exhausted with market volatility? Are methods available to reduce the probability of high portfolio uncertainty or risk? Here are three possible suggestions investors can use to provide additional portfolio stability.
Reduce equity holdings and increase the percentage in bonds
Develop a simple timing model
Incorporate a hedging plan
Of the three suggestions, number one is the easiest to implement. There is a downside to reducing the percentage in equities as that move increases the probability of reducing future return. The equity/bond ratio in a portfolio becomes a balancing act and is a highly personal decision.
Market timing (#2) is filled with pitfalls. A professional advisor once told me that market timers do not need estate planners. However, it is not something to completely ignore, and I will go into more detail as to how this might be accomplished in a rather straight forward manner. Market timing does requires patience and discipline.
Suggestion number three is even more difficult and it might be classified as a subset of number two. Since small investors cannot afford "quality" hedge fund managers, an alternative is to use an ultra-short ETF such as SDS. The downside is knowing when to put on a SDS position and when to sell it and go long with the basic portfolio holdings.
The following screen shot lays out a nine-ETF portfolio. Included, but without any allocation, are IEF and IDV, two additional ETFs investors may want to incorporate into the Strategic Asset Plan sometime in the future. The portfolio includes U.S. Equities (VTI and IWN), developed international equities (NYSEARCA:VEU), emerging markets (NYSEARCA:VWO), commodities and natural resources (DBC and IGE), domestic REITs (NYSEARCA:VNQ), international REITs (NYSEARCA:RWX), and Treasury bonds (NYSEARCA:TLT).
The portfolio is well diversified as measured by the Diversification Metric (53%). The projected Return/Uncertainty ratio is a very high 0.67 and the projected return is expected to top the S&P 500 projection by nearly 1.2% points. Click to enlarge: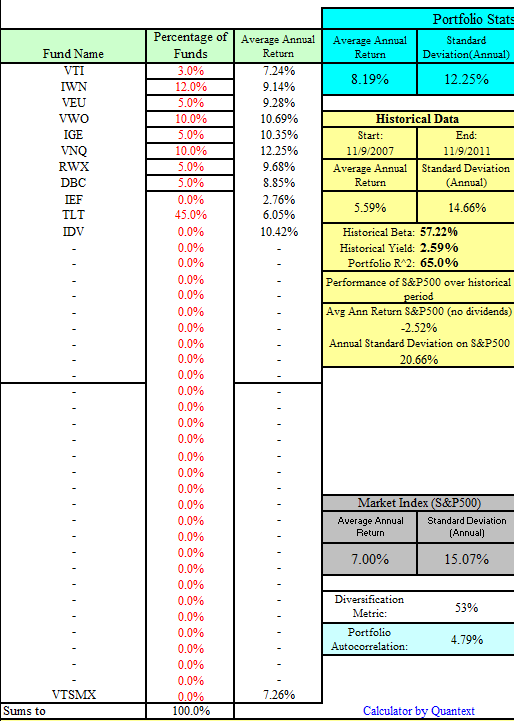 Using this core set of holdings, readers can see that a high percentage (45%) of the portfolio is allocated to Treasury bonds. This move is a major factor in bringing down the projected standard deviation to a respectable 12.3%. It is certainly much lower than the projection for the S&P 500 as it is expected to oscillate around 15.1% annually.
A retiree may not be comfortable with a 12% uncertainty projection and this is where a timing model comes into play. The ITA Risk Reduction (ITARR) model is a modification of the Faber - Richardson model explained in detail in the book, "The Ivy Portfolio: How to Invest Like the Top Endowments and Avoid Bear Markets." It is that last phrase, "Avoid Bear Markets" we focus on with the ITARR model. Click on the link to read the full explanation of how this model works.
The ITARR model is currently being used with three portfolios over at ITA Wealth Management, but it is still too early to know how well the model is working. The Maxwell, Euclid, and Madison portfolios were selected from a larger group of portfolios as the three are trailing their VTSMX benchmark. In order to increase the return with respect to the VTSMX, the ITARR model was initiated.
No plans are in place to implement suggestion #3 above, buying and selling SDS, with these three particular portfolios. We do use SDS with other portfolios.
Interested readers will be able to follow along with this on-going experiment. The real test is to see if these three portfolios will close the gap on the VTSMX benchmark and eventually surpass it.
Disclosure: I am long VTI, IWN, VEU, VWO, VNQ, RWX, IGE, TLT, IEF, IDV, SDS.