Exchange traded funds that invest in gold and silver mining stocks followed precious metal prices lower on Thursday.
Yet some portfolio managers are betting miner stocks may be ready to take the leadership role after trailing metal prices for years.
Market Vectors Gold Miners (NYSEARCA:GDX) and Global X Silver Miners ETF (SIL) both lost ground Thursday, although Market Vectors Junior Gold Miners (NYSEARCA:GDXJ) traded slightly higher.
Gold futures were trading around $1,760 an ounce on Thursday afternoon, while silver hovered around $34 an ounce.
Hedge fund manager David Einhorn has been reportedly shifting some of his investments in physical gold to miners as he believes a "substantial disconnect has developed between the price of gold and the mining companies."

Money management firm Sprott Inc also views the diverging performance in bullion and miner stocks as an opportunity.
According to Sprott chief executive officer Peter Grosskopf, the company is "confident in its physical metals position and believe the current market environment presents unique opportunities to invest in precious metals-related equities, many of which are trading at historically wide spreads to bullion prices," reports Boyd Erman for The Globe and Mail.
Market Vectors Gold Miners ETF

click to enlarge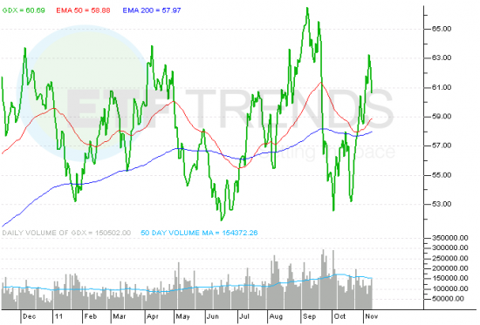 Max Chen contributed to this article.
Disclosure: None