Over the past year, Hewlett-Packard (NYSE:HPQ) has garnered a generous amount of publicity; sadly, the type of publicity most companies abhor. Its feeble leadership has made front page news with its erratic decision making and guidance. As a result, the market has punished the stock; the stock has fallen from a 52 week high of $49.39 per share to a recent $26.33 per share. The selloff has been overdone. Hewlett-Packard remains a tremendous company with enormous potential in the years to come.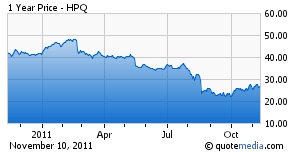 To fairly value HP one needs to determine what Hewlett-Packard is as a company. Hewlett-Packard is more than just a purveyor of printers and computers, its most recognizable products. Hewlett-Packard is a technology juggernaut, able to meet almost anyone's IT needs, from consumers to Fortune 500 companies. The company is organized into seven business segments: Services, Enterprise Storage and Servers (''ESS''), HP Software, the Personal Systems Group (''PSG''), the Imaging and Printing Group (''IPG''), HP Financial Services (''HPFS''), and Corporate Investments. Services, ESS and HP Software are reported collectively as a broader HP Enterprise Business.
Known for its printers and computers, Hewlett-Packard's greatest potential lies with its lesser known divisions, Software, Services and Enterprise. While not as headline grabbing as the PC business has been over the past year, these businesses produce much higher margins and has been the focus of HP for some time.
Software recently grabbed some of the limelight for HP with its recent acquisition of Autonomy. The acquisition positions HP as a leader in the large and growing enterprise information management space. Autonomy's software offerings power more than 25,000 customer accounts worldwide and, as part of HP, will provide high-value business solutions to help customers manage the explosion of unstructured and structured information. Autonomy offers solutions that are complementary across HP's enterprise offerings and strengthens the company's data analytics, cloud, industry and workflow management capabilities.
While the acquisition will prove beneficial to HP in the long term, the timing of the announcement could not have been worse. HP announced the deal on August 18th, the same day it announced it was looking at alternatives for the Personal Systems Group. The high price paid for Autonomy, over $10 billion, and the indecision on PSG created the type of uncertainty investors deplore, pummeling the stock. In 2010, the software division generated $759 million in earnings on $3,586 million in revenue, both earnings and revenue should grow substantially in the future (earning grew by 37% in 2009 and 11% in 2010).
The announcement to exit the Personal Systems Group was met with mixed reviews. Personal computers have become a commodity business and earn much lower margins than HP's other divisions, 5.9% in the most recent quarter. If HP did exit the PC business it would be able to focus on the other, higher margin, divisions, but at what cost? Hewlett-Packard is the largest computer maker in the world, with 17.7% of the worldwide market for PCs, generating $40.7 billion in revenue for HP in 2010 and $2 billion in profits. PSG is a valuable contributor to HP in more ways than just the bottom line.
On the business side, the PC business is extremely complementary to HP's other divisions; IT performance management, IT management software, and Information Management products are closely intertwined with the PC division. In addition, due to the large scale of the PC division, Hewlett-Packard estimates that it derives $1-2 billion in synergies for component acquisitions costs. The recent decision to keep the Personal Systems Group as a part of HP was well informed and should create stability for HP, its customers and shareholders.
The CEO at the time of the announcement, Leo Apotheker, was replaced September 22nd by Meg Whitman. Mr. Apotheker, formerly CEO of SAP (NYSE:SAP), was the lightning rod for much of the criticism directed at HP. The acquisition of Autonomy and the announcement to jettison PSG were seen as an attempt by Mr. Apotheker to turn HP into a SAP, instead of transforming and growing Hewlett for the future. While the Autonomy acquisition adds incredible potential for the software division, Hewlett-Packard's potential to outperform rivals lies with all of the company's diversified divisions, allowing the company to fill in product offerings that its competitors cannot. The Personal Systems Group, long seen as deadweight due to its lower margins, is an essential component of Hewlett-Packard as a whole.
The Imaging and Printing division generated 17% of 2010 revenues for HP, earning $4.4 billion on $27.7 billion in revenue. This is a stable business and a cash cow for Hewlett-Packard.
In 2008, Hewlett-Packard acquired EDS into its Services division. The acquisition has allowed HP to generate the scale needed to compete with the likes of IBM (NYSE:IBM) and Accenture (NYSE:ACN) in one of the industries most promising sectors. HP's services business consists of Outsourcing Services, Technology Services, Consulting & Integration, Application Services and Business Process Outsourcing. In 2010, the Services division generated $34,935 million in revenue and $5,609 in earnings, up from $2,518 in 2008. In the current economic environment many companies are looking to cut costs, by implementing HP Services they are often able to reduce their overhead while boosting HP's bottom line. As hardware continues to become more commoditized over time, services will become increasingly important.
Another increasingly important division is Enterprise Storage and Servers (ESS). ESS competitors range from broad solution providers such as International Business Machines Corporation to more focused competitors such as EMC Corporation (EMC) and NetApp, Inc. (NASDAQ:NTAP) in storage and Dell, Inc (NASDAQ:DELL) in industry standard servers. In April of 2010 Hewlett acquired 3Com, vastly expanding its networking line and allowing it to better offer a full line of technology solutions to clients. In September 2010, Hewlett acquired 3PAR and has begun integrating it into its converged infrastructure and cloud computing businesses.
In 2010, ESS earned $2,402 million on $18,651 million in revenue. As companies continue to increase storage capacity and drive infrastructure to the cloud, HP's ESS division should continue to grow and prosper. Spurred by competitive and economic pressures to become more agile, productive, and cost-efficient, many enterprises are spurning the traditional proprietary hardware and software model based on reduced-instruction-set-computer (RISC) technology that has dominated IT architecture for years. As companies migrate from the traditional proprietary model, HP stands to be a primary beneficiary.
In 2010, Hewlett generated $126,033 million in revenue and $8,761 million in earnings, $3.78 per share. At a current price of $26.33, Hewlett has a market capitalization of $52,300 million and an enterprise value of $72,683 million. Hewlett-Packard is trading at forward price/earnings ratio of 5.6. HP's competitors trade at far higher valuations, IBM with a forward P/E of 12.7, Cisco (NASDAQ:CSCO) at 9.8, EMC at 14.8 and Oracle (NASDAQ:ORCL) at 13.0. Applying a conservative 9.0 forward P/E to Hewlett-Packard would value the stock at $42.31 per share, at current levels HP looks like a steal.
Disclosure: I am long HPQ.