Molycorp Inc. (MCP) shares were getting shot down by almost ten percent in after-hours trading after the company reported that September quarter revenues missed estimates ($138 million versus $162 million), and earnings after taking out special one-time items also narrowly missed estimates (67c versus 70c). However, digging below the headline numbers, the company seems to be outperforming on almost every measure; its prospects at least in the intermediate term look as promising as ever, and the valuation at current prices looks compelling.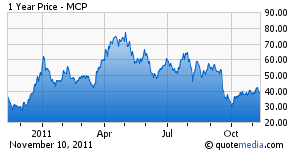 During the September quarter, its Mountain Pass facility sold 1,002 gross MT of REO equivalent products, up from 829 MT in the June quarter and up 92% year-over-year. However, sales revenue from Mountain Pass was up 64% sequentially on account of a 75% increase in prices. Company-wide gross margins also shot up to 63% from 57% in the preceding June quarter, and MCP generating record operating income of $72 million that was up 72% sequentially. Furthermore, an additional $37 million of intercompany sales of feedstock to its Estonia subsidiary was deferred, and will be recognized over the next couple of quarters when the Estonia subsidiary processes and sells the high-end material resulting from the feedstock.
MCP announced that its expansion plans are ahead of schedule, with the Phase 1 target completion date moved up to September 30, 2012, three months ahead of schedule, and the Phase 2 accelerated to six months ahead and scheduled now for mechanical completion by year-end 2012 and production build-out by mid-2013. This is significant as both phases involve significant ramp-ups in the production of REO from the September quarter production of 1,002 gross MT to a planned 19,050 MT at the end of Phase 1 and 40,000 MT at the end of Phase 2 completion.
Although prices can reasonably be expected to weaken somewhat as more of this capacity comes online, along with capacity from its peers Avalon Rare Metals Inc. (NYSEMKT:AVL), Rare Element Resources (NYSEMKT:REE), Quest Rare Minerals Ltd. (NYSEMKT:QRM), China Shen Zhou Mining and Resources (NYSEMKT:SHZ), Amerilithium Corp. (AMEL) and others in 2013 and beyond, it is evident based on the capacity outlays the company has planned for Phase 1 and Phase 2 that revenues and earnings should keep sky-rocketing at least for the next two to three years.
Furthermore, there are other positives that may keep rare earth prices high for a while, and even shoot them higher in the short-term. First, the U.S. Department of Defense has been considering establishing a stockpile of rare earths due to the military's over-dependence on Chinese supply for critical GPS and control system applications in its weapons capabilities. Second, China is expected to adopt a new invoicing system next year that could lead to tight supply and still higher prices at least in the short-term, which will be highly opportune for MCP as their Mountain Pass production facility ramps up production twenty-fold between now and September of next year.
And finally, although China controls more than 90% of the world's supply and is the largest consumer of rare earths, it is widely believed that they may go from a net exporter to a net importer by 2015, which would put a strain on the already limited non-Chinese supply of rare earths. This is because of wide ranging applications of rare earths in electronic gadgets, hybrid cars, and solar and wind products that will shoot up worldwide demand for these materials going forward.
We believe that the overall fundamentals that led to a rally in MCP prices to almost $80 in April are still present, if not better. Worldwide demand for rare earths is exploding, China continues to maintain a stranglehold on prices, pushing them higher, and MCP is executing well on its plans for capacity expansion that should lead to sky-rocketing sales even if prices moderate down with the additional capacity from MCP and its rivals AVL, REE, QRM, SHZ, AMEL and others.
However, MCP prices had been cut in half by yesterday's close, and they were trending even lower in the after-hours yesterday. While prices may react downwards on the miss over the next couple of days or weeks, they are unlikely to break down below the $29 lows set last month. The weakness may create a once-in-a-long-time opportunity for MCP bulls to get in at discount prices. Based on analyst projections of $3.62 earnings for FY 2012, MCP is now trading below a forward 10 P/E at after-hours prices, and its revenues and earnings are projected to almost double in 2012, with even more growth coming in 2013 and beyond.
Disclosure: I have no positions in any stocks mentioned, and no plans to initiate any positions within the next 72 hours.
Disclaimer: Material presented here is for informational purposes only. Nothing in this article should be taken as a solicitation to purchase or sell securities. Before buying or selling any stock you should do your own research and reach your own conclusion. Further, these are our 'opinions' and we may be wrong. We may have positions in securities mentioned in this article. You should take this into consideration before acting on any advice given in this article. If this makes you uncomfortable, then do not listen to our thoughts and opinions. The contents of this article do not take into consideration your individual investment objectives so consult with your own financial adviser before making an investment decision. Investing includes certain risks including loss of principal.