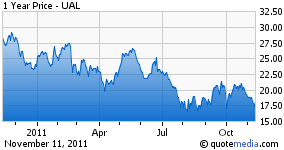 United Continental Holdings (NYSE:UAL), which operates the combined United Airlines and Continental Airlines, closed Thursday afternoon at $17.32, off by 3% in an up market. This decline can almost certainly be attributed to increasing oil prices. At its current share price, UAL trades for less than 5X projected FY 11 EPS of $3.74 (Source: Yahoo Finance). The forward P/E ratio is an even more stunning 3.4. By both of these measures, the company is substantially undervalued.
UAL's low valuation suggests that investors are worried that current earnings estimates are too optimistic and will be revised lower. Airlines are increasingly being squeezed between a weak economy and high fuel prices. The former tends to dampen revenue, while the latter substantially increases costs. However, to this point, the airlines collectively have been able to manage these issues through capacity discipline. The three largest airlines, United, Delta (NYSE:DAL) and American (AMR), have all reduced capacity for the current quarter.
Flying fewer planes means that more seats are filled in each one. More importantly, by imposing scarcity, it allows the airlines to successfully raise prices. In October, UAL reported a PRASM (passenger revenue per available seat mile) gain of roughly 10% year-over-year, in spite of a freak October snowstorm that struck United's hub at Newark Liberty International Airport. UAL has regularly been posting unit revenue gains of this magnitude over the past few quarters, and prices seem to be holding up going into the holiday travel season.
Many value investors avoid airline stocks like the plague. In articles like this one, analysts and investors argue that airlines have high debt, high fixed costs, bad labor relations, no pricing power, etc. Some of these charges are true, but due to industry consolidation, airlines have been able to mitigate the last factor, in particular. If airlines can maintain pricing power, then they should be able to offset their costs, even those (like fuel) that are largely out of their control. Because leisure travelers tend to be price sensitive, airfares at all of the major carriers tend to move in sync. If one airline refuses to raise prices, then others are forced to roll back their attempted fare hikes. But with fewer airlines today, there are fewer potential "spoilers." In the last four years, Northwest Airlines, ATA, Skybus, Midwest Airlines, Continental Airlines and AirTran Airways have ceased to operate as independent entities. This is the primary reason why there have been 10 successful airfare increases in 2011.
United Continental is my top pick in the airline sector because it is the best positioned for a worst case scenario of increasing oil prices and a rapid drop in demand. The company ended Q3 2011 with $8.4 billion in cash and short term investments on its books. Delta, which is of similar size, ended the quarter with only $3.7 billion in cash and short term investments. But while those two carriers are highly profitable, AMR (the parent company of American Airlines) is on track to lose a substantial amount of money this year and next year.
The bottom line is this: While airlines may face continuing headwinds from high fuel prices and soft economies, United has a huge cash buffer to see it through any downturn. If conditions became as bad as some investors seem to expect, American Airlines would certainly be headed for bankruptcy. And since AMR has been unable to turn a profit even in good years for the industry, it's hard to see how it could secure financing to restructure. In an industry downturn, AMR would be much more likely to liquidate. United would be a huge beneficiary in that case, as AMR is its biggest competitor in many key markets.
Because of strong fundamentals and marginal bankruptcy risk, I rate UAL as a buy. But high oil prices and economic weakness are likely to pressure all airline stocks for the foreseeable future. Investors may have to be patient, but I expect that as UAL successfully weathers the seasonally weak Q4 and Q1 periods, the shares will rise in anticipation of a strong profit showing in Q2 and Q3 next year. Even with a fairly conservative FY 12 EPS estimate of $4.50 and forward valuation multiple of 6-7, UAL could be worth as much as $31.50 when the market recognizes its solid performance and potential.
Disclosure: I am long UAL.