By Brendan Gilmartin
Wal-Mart Stores (NYSE:WMT) is scheduled to report 3Q 2012 earnings before the opening bell on Tuesday, November 15. The release is typically available at 7:00 a.m. EST. Results from the world's largest retailer and constituent of the Dow Jones industrial average tend to influence the direction of the equity index futures. The shares also trade in Frankfurt, Germany.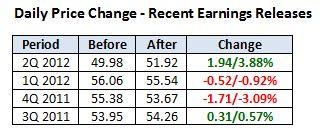 Outliers and Strategy (Key measures for Wal-Mart):
Earnings Per Share from Continuing Operations: The value for this measure is most often the figure that compares with consensus estimates. Based on the economic and sales environment in the U.S. and around the world, Wal-Mart said back in August it anticipates diluted EPS from continuing operations to range between $0.95 and $1.00.
Earnings Per Share Guidance (4Q 2012): This is a crucial forward-looking measure for Wal-Mart. The current consensus estimate for Q4 2012 is $1.45.
Earnings Per Share Guidance (FY 2012): Back in August, Wal-Mart said it was narrowing and increasing the full year guidance to a range of $4.41 to $4.51, up from $4.35 to $4.50. This data point contributed to the 4% rally in the shares during the ensuing trading session.
The current Street estimate is for EPS of $0.98, toward the high end of the company-issued range ($0.95 - $1.00). Revenues are seen rising 5.9% y/y to $107.98 billion. (Source: Yahoo Finance.)
Wal-Mart is trading at just 13.15x earnings, below the 5-year average of 15.5x and a mere 0.46x sales. The company is also paying a 2.4% dividend, while reducing operating expenses and a tighter capital cost structure to enhance shareholder value.
Recent News
11/11: JPMorgan Chase reiterated a Neutral rating and raised the price target from $54 to $64, according to Benzinga.com, citing recent initiatives aimed at driving U.S. same-store sales and focus on cost and improved leverage.
10/12: Wal-Mart announced the following from its meeting with the investment community:
--Wal-Mart forecast sales growth between 5% and 7% for FY2013. At the time, analysts were looking for 4.7% growth.
--Comparable store sales growth remains the first growth priority for the company's three operating segments, along with new store growth through more productive capital spending.
--Wal-Mart outlined a goal to reduce operating expenses as a percentage of sales "significantly" during the next five years.
Technical Review
Wal-Mart recently broke through resistance near $54 (a level coinciding with the 50-Day SMA), en route to a 52-week high of $59.40 (on an intraday basis) on November 8. The 20-Day SMA recently crossed well above the 50-Day & 200-Day – signs of strong momentum, with the Relative Strength Index near the key 70-level (typically signals an overbought scenario). Near-term, resistance is at the recent highs. Support is near the 20-Day SMA at $57, with further downside risk to $54 in the event of an earnings miss. (Chart courtesy of StockCharts.com.)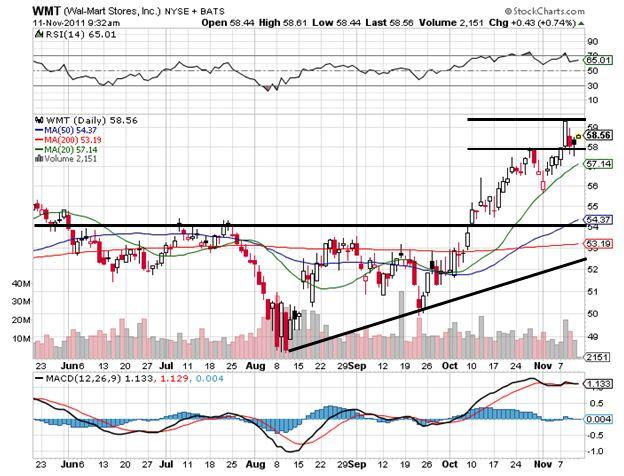 Summary
Wal-Mart shares are up more than 17% from the September lows, led in part by a rather upbeat meeting with analysts on October 12. The company unveiled a stronger than expected sales forecast for 2013, improvement in capital spending, a return to U.S. same-store sales growth, and efforts to significantly reduce operating expenses. Against this positive backdrop, Wal-Mart will have to deliver a solid third-quarter earnings release, complemented with an upbeat outlook for the balance of the year. With a strong sales forecast already on the table for 2013, Wal-Mart may also provide some insight on the outlook for earnings.
Disclosure: I have no positions in any stocks mentioned, and no plans to initiate any positions within the next 72 hours.
Disclaimer: By using this report, you acknowledge that Selerity, Inc. is in no way liable for losses or gains arising out of commentary, analysis, and or data in this report. Your investment decisions and recommendations are made entirely at your discretion. Selerity does not own securities in companies that they write about, is not an investment adviser, and the content contained herein is not an endorsement to buy or sell any securities. No content published as part of this report constitutes a recommendation that any particular investment, security, portfolio of securities, transaction or investment strategy is suitable for any specific person.