By Mark Bern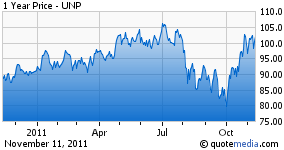 We didn't get put the stock on the first try, but we did collect the premium on the put we sold. Recall from my first article Union Pacific (NYSE:UNP) that the stock price was $85.22 (all prices and premiums quoted as of the market close on September 29, 2011) while the premium on the November $77.50 strike Put was $2.64. We collected $264 ($2.64 x 100) on the one contract that we sold, but we also paid a commission of $9 (assumed amount that is about the average of discount brokerage premiums; you can do better if you shop around). That left us with $255 net of commissions which represents a return of 3.3% for 42 days. If you annualized (using the method that I explained in detail within my first article the return you would come up with is about 16.45% without owning any stock. Not bad if we can maintain this level of return coming. I really don't care if I own stock or not if I can get a return like this consistently, but I don't think that we are likely to fair this well regularly over the long-term. But something more in the range of 15 percent may be achievable over the long haul. Returns will be less during more normal economic times with less volatility than we have been experiencing as of late.
For purposes of this series, I will not be breaking down the results of the calls. The example that was provided in the article was for illustration purposes only. I am providing better examples (in my humble opinion) on how and when to sell calls with a set of rules that I apply. For those who may be interested in the call side I have begun another series entitled "The Daily Call Sheet" (the initial article in that series can be found at this link) with suggested call premiums that meet my criteria on all the stocks within this series as well as many other widely held stocks. UNP has been listed in the table of my favorite calls on at least one occasion, maybe more. The series is only a week old.
I will include more information of call selection in this series in the future only after we have been put the stock. That will keep this series more focused upon the return to the complete strategy rather than mixing it up with other issues. We will build a portfolio of dividend-paying stocks over time and compare our return to the return of the broader market after two years.
Now, for the remainder of this article I will focus on two topics: 1) next steps with UNP and 2) explaining some more variations on the strategy. I hope you will stick around until I've had a chance to fully expand the possibilities, the risks and other considerations that apply to enhanced income investing from my perspective.
For those who read the earlier article on UNP, you will recall that I believe the company to be well-managed, and geographically dominant within the rail industry with good upside potential. It also pays a nice dividend to boot. I like UNP and think that it is a great investment for the long-term. At its current price of $100.38, I believe that the company still represents a good value. However, with all the uncertainty in the market today, I think the volatility will give us an opportunity to buy this company at a better price. The stock is nearer the high end of its range in recent quarters and the market seems to be verge of a correction. Actually, the market seems to be range bound. It will break out in one direction or the other eventually, but for the time being we could see the continuation of the range until a resolution of some sort is found for the European debt situation. Being near the top of the range, this is not the ideal time to sell puts unless you really want to own the stock and expect the economy to continue growing from here. But since we did get a good down day on Wednesday, we should be able to get another good premium similar to what we had on the first go round. My favorite put option on UNP at the moment is the January 2012 $90 strike with a premium of $3.00. After the commission you are left with a return of 3.26 percent, or 16.3 percent on an annualized basis. The exercise date is January 20, 2012, so you earn the 3.26 percent in just over two months. Not a bad return on cash these days.
But I expect that we end up seeing this option exercised by January 2012. If we do, we will have a cost basis of $87.00 ($90 - $3.00). Having said that, I would like to caution readers that there remains a possibility that we could see the markets swoon again due to stresses on the financial system caused by concerns over the sovereign debt crisis in Europe or a number of other non-company-specific factors. If you are concerned about such factors and believe that the market will drop back even further, you could wait for UNP to drop some more and sell a put at a lower strike. If you do, you could miss some of the income potential from the strategy while reducing your perceived risk. But that is a decision each investor needs to make for themselves. There are also some longer-term puts available that pay higher premiums, but because of the longer time to expiration the annualized return drops significantly. Then again, you would be locking in a good premium with a lower strike. If that suits your investment comfort level more, I would suggest that you consider the January 2013 put with a strike of $85 selling at a premium of $9.20. That would lock in a 9.28 percent annualized return over the next 14 months. If the option were to be exercised, your cost basis would be $75.80 ($85.00 - $9.20). For my hypothetical portfolio I will be using the shorter term (January 2012) put and I will be selling one contract to collect a total of $291 in premiums ($300 - $9 commission). This will provide a balance for diversification purposes should I end up with the stock.
I also like CSX (NYSE:CSX) and Norfolk Southern (NYSE:NSC) as alternatives to Union Pacific. If you prefer either of these companies over UNP, I would expect either to perform comparably. If you are considering either of these companies there are some attractive puts available. The stock is currently at $21.70 and the dividend yield is 2.2 percent. On CSX I would suggest selling the February $20 put for a premium of $1.15 (less the assumed commission of $9) to collect a net of $106 on each contract sold. The expiration date is February 17, 2012, or just over three months. You would realize a return of 5.3 percent ($106 / $2,000) for your three months of patience if the option is not exercised. If the stock price falls below $20 and you get put the stock, your cost basis will be $18.85 ($20 - $1.15). That represents a discount of nearly 27 percent. The dividend yield at that price would be 2.64 percent.
NSC also has an attractively priced put option available that expires on March 16, 2012 with a strike price of $67.50. The stock is currently trading at $73.79 and the dividend yield is 2.3 percent. The premium on the March 2012 $67.50 strike put option is $3.40 which would provide a return of 4.9 percent for just over four months. If you are put the stock your cost basis would be $$64.10 ($67.50 - $3.40). That is a discount of over 13 percent from the current price. The dividend yield at that price would be 2.7 percent.
So, now let's discuss some more variations to the strategy. First, let me reiterate that the two primary goals are to get paid on cash while we wait for a good price on a quality stock we want to own and to increase the yield we receive in cash on stocks that we already own. In this article, let me focus on the first part of the strategy because that is essentially where we are today in terms of building this hypothetical portfolio.
Another alternative is to consider selling the option before it can be executed if two things happen: 1) the price appreciates enough to make the trade worthwhile and 2) the price of the underlying stock gets close to the strike price.
Once you close that position, sell another call at a higher strike price to give yourself some breathing room. This is called "rolling" your position.
If you are a long-term holder, you don't want to let the option execute, if you can help it, unless the fundamentals have changed for the company or the valuation gets a little rich. Letting something go, especially at a good profit (and in a tax deferred account), is never a bad decision if there is a good reason.
Another wrinkle that I would like to expose (don't try to visualize that one) comes into play when an investor has accumulated a significant number of shares, say 1500, in one stock and wants to enhance their income/return on the position but doesn't want to risk losing it all by having the position called away should the price of the stock rise fairly fast. Actually there are at least two ways to go here. One involves selling calls with varying expirations; say 5 contracts (representing 500 shares) for January expiration, 500 for February, and 500 for April. The strike prices may be the same or staggered with the later expirations moving up slightly. If the price of the underlying stock is at $20 on the date that the investor is considering selling the call options, they might consider a January contract with a strike of $22, February could be $23 and April might be $24. Then if the price begins to rise above the $22 level, the investor could conceivably buy back the calls for the later months and reduce his or her risk of losing more than 500 shares.
The other method is to sell calls around a core holding. What I mean by this is that if the investor in the other example, owning 1500 shares, doesn't want to risk losing the entire position they could sell call options on a portion, say 500 shares and not put the other 1000 shares (the core) at risk. If the 500 shares are called away, the investor then sells 5 put options and patiently collects premiums until the stock is put to them. The investor can use in the money or out-of-the-money puts to accomplish this step. Even when selling in-the-money or at-the-money put options, the investor can reduce the cost basis of owning the stock. Let's take an example using CSX since it trades near $20. The stock is currently trading at $21.70. If the investor wants to own the stock, but would prefer to pay a little less, they could sell January put option contracts with a strike price of $21.67 for a premium of $1.47 which, if exercised would result in a cost basis of $20.20. That amounts to a discount from the current price of 6.9 percent. That would be an at-the-money put (or at least very close). If the investor used an in-the-money put the discount would usually be a little less.
There are probably many other methods or variations on these methods that others employ. If readers have other alternatives that they use I welcome all to share explanations of those methods in the comment section. That is one of the great aspects of Seeking Alpha; it is a place where we can share our experiences and strategies in a way that we all can learn and gain from each other.
If you are a new reader and are confused about what strategy I keep referring to please see the first article in the series for a primer. You can find it at this link.
Disclosure: I have no positions in any stocks mentioned, and no plans to initiate any positions within the next 72 hours.