By Brendan Gilmartin
Overview
Home Depot (NYSE:HD) is expected to report 3Q 2011 earnings before the opening bell on Tuesday, November 15. The home improvement giant is expected to report earnings at approximately 6:00 a.m. EST and follow with a conference call at 9:00 a.m. The results come a day after Monday's results from rival Lowe's (NYSE:LOW). Home Depot, for its part, is a member of the Dow Jones Industrial Average and is widely seen as a play on the index futures. Coming into the earnings, Home Depot appears to be the preferred name in the home improvement space among Wall Street analysts and fetches a slightly higher premium.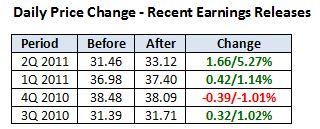 Outliers And Strategy
Key Measures:
Adjusted Earnings Per Share (EPS) and Non GAAP Earnings Per Share (EPS): The table parser typically produces values for these measures that compare with consensus estimates.
Revenues: Revenues are seen coming in just above $17 bln.
Earnings Per Share (EPS) Guidance (FY2011): Home Depot previously said it expects diluted EPS from continuing operations to be up approximately 16% to $2.34, compared with the prior outlook of $2.24.
Back in August, Home Depot also confirmed that it expects fiscal 2011 sales will be up approximately 2.5% from 2010.
Home Depot is expected to earn $0.58 per share (range is $0.55 to $0.60) (Source: Yahoo Finance). Revenues are expected to reach $17.09 bln, up 3.00% from the prior-year period.
Home Depot is now trading at just 16.6x earnings, a slight premium to rival Lowe's (15.2x) and the five-year average of 15.6x after recently nearing the 52-week high of $39.38.
Recent News
11/07: According to AP, RBC Capital upgraded Home Depot from Sector Perform to Outperform, as it appears spending on home-related activities has stabilized. Improving sales trends, stock levels and use of technology in stores, along with better customer service and an aggressive buyback program are other reasons for the update. The price target was raised from $38 to $42.
10/24: Citigroup raised its price target on Home Depot to $44, according to a report on Benzinga.com. The firm cited market share gains and expense control.
08/18: Home Depot declared a second quarter cash dividend of $0.25 per share.
Technical Review
Home Depot shares are up more than 32% from the August lows and now trade within 4% of the 52-week high of $39.38 (highest since July, 2007) established last February. Against this backdrop, the market is pricing in a strong earnings release for the 3Q period. From here, there is soft resistance at the recent high near $38, followed by the February peak. Support is at $37 (July highs), followed by $35 (coinciding with the 200-Day SMA). (Chart courtesy of StockCharts.com)
Click to enlarge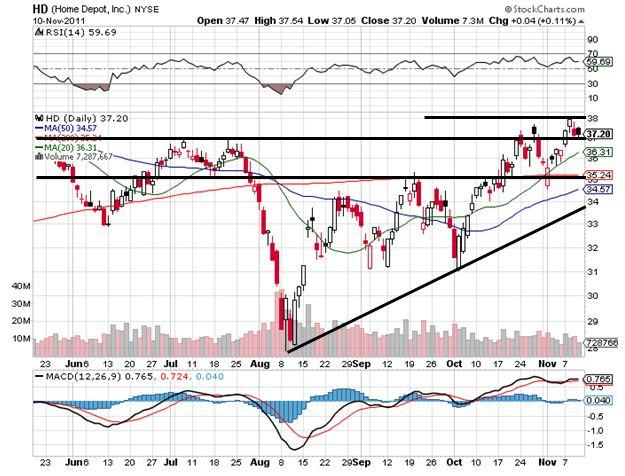 Click to enlarge
Summary
Home Depot shares have rallied sharply in recent months, benefiting from a pick-up in consumer spending, cost-cutting efforts, key enhancements to the consumer experience, the impact of recent storms in the Northeast U.S. and rising market share relative to its chief competitor, Lowe's. But with the shares up more than 30% since August and fetching a slight premium to its rival, much of the positive news may be priced in, with the stock near levels not seen since July, 2007. With that being said, it will take results for the 3Q period near the high end of analyst projections and a favorable outlook for the balance of 2011 and 2012 to push the shares above these lofty levels. The earnings release from Lowe's a day earlier could also influence the tone surrounding Home Depot's results on Tuesday (11/15).
Disclaimer: By using this report, you acknowledge that Selerity, Inc. is in no way liable for losses or gains arising out of commentary, analysis or data in this report. Your investment decisions and recommendations are made entirely at your discretion. Selerity does not own securities in companies that they write about, is not an investment adviser, and the content contained herein is not an endorsement to buy or sell any securities. No content published as part of this report constitutes a recommendation that any particular investment, security, portfolio of securities, transaction or investment strategy is suitable for any specific person.
Disclosure: I have no positions in any stocks mentioned, and no plans to initiate any positions within the next 72 hours.