Natural gas: Abundant, inexpensive, safe, clean burning and right here in North America. Some say it's the key to U.S. energy independence, others see only a value trap.
Lets look a little more closely at this suddenly abundant energy source.
Traditional Uses For Natural Gas
Natural gas - as shown in this overview - currently provides 24% of all U.S. energy needs. Major markets are: industrial, electric generation and heating (residential and commercial). Industrial and heating markets, due to the recession, are mostly stagnant. The trend is on, however, to replace "dirty" coal powered electric generating plants with clean burning natural gas ones.
Why Natural Gas Is So Plentiful
North America suddenly has a huge amount of natural gas thanks to advances in hydraulic fracturing and directional drilling in the shale beds which underlie much of the central and eastern U.S. Production from conventional sources - pockets of pressurized gas - is in decline but unconventional shale gas has more than made up the difference.
Aubrey McClendon, Chesapeake Energy's (NYSE:CHK) flamboyant (some say reckless) CEO, has pioneered the shale gas revolution in the U.S. Chesapeake may have been too successful. Shale drilling has unleashed so much gas into U.S. markets low prices now threaten its own profitability.
Natural gas is approximately the same price as 10 years ago while oil has tripled. See the comparison here. A dollar's worth of gas will now buy you about 3 times as much energy as a dollar's worth of oil.
Natural Gas's Big Problem
It's simply this: You can't move the stuff around - at least not cheaply - without pipelines. Liquid fuels such as oil are easily transportable by rail, truck or ship. Natural gas which needs pipes to reach customers.
In the absence of pipelines, expensive compression or super-cooling is necessary for transport. Natural gas is compressed for storage and vehicles are super-cooled for ocean transport via specially designed tankers.
Those Tempting Asian Markets
In Asia the price of natural gas is 3-4 times that of North America. Unfortunately, neither Canada nor the U.S. currently has liquefied natural gas (abbreviated LNG) export capability. Now, thanks to the profusion in gas supplies, an abrupt reversal is in progress. The rush is on to retrofit ports for LNG imports.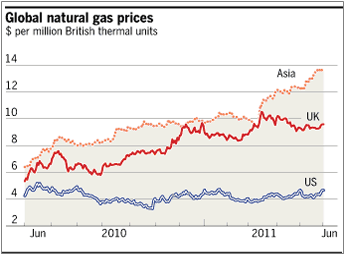 Source: ft.com
In May the U.S. Energy Department authorized Cheniere Energy (NYSEMKT:LNG) to export LNG from Sabine Pass Louisiana. Sabine Pass should be ready for LNG export in 2015.
Canada has recently granted a 20 year license for a consortium of companies that include Encana (NYSE:ECA), Apache (NYSE:APA) and EOG Resources (NYSE:EOG) to build an LNG export port at Kitmat in British Columbia.
What About Natural Gas Powered Vehicles?
Pakistan, Iran, Argentina and Brazil are leading the way in natural gas powered vehicles. Since the U.S. has rich sources it seems obvious that the market should take off here. Transitioning to natural gas powered vehicles would mean less oil consumption - weaning the U.S. from OPEC dependency. Honda (NYSE:HMC) now has a natural gas powered Civic which is or will soon be available nationwide.
The Honda Civic GX has an 8 gallon tank and gets about 38 miles per gallon on the highway. Compressed Natural Gas or CNG fueling costs are about one-third or less than gasoline.
The big problem of course is infrastructure. Sure, you can buy the Civic and fuel may be cheap. The problem is, outside of a few specialized localities, it not easy to refuel. It will take some time for natural gas refueling infrastructure to become available nationwide in the world's largest automotive market.
Fertilizer Production
A major cost in fertilizer production is natural gas. Low prices give North America fertilizer makers a competitive advantage.
Investing In Natural Gas
Natural gas prices show no sign of rising soon. Nonetheless, here are some direct and indirect ways you can invest in natural gas. Below is a random selection of companies which may benefit.
Chesapeake Energy has vast shale gas acreage. Apache also has large land holdings, oil reserves and a stake in LNG with its Kitmat interests. GMX Resources (GMXR) stock is some 95% off its 2008 highs - a bargain?
Natural gas MLPs such as PPA Natural Gas Storage (NYSE:PNG) and Enterprise Products Partners (NYSE:EPD) supply utilities with natural gas.
In transportation, Clean Energy Fuels (NASDAQ:CLNE) supplies natural gas for vehicle fleets. Fuel Systems Solutions (NASDAQ:FSYS) manufactures alternative fuel components. Westport Innovations (NASDAQ:WPRT) provides technologies that enable engines to run on alternative fuels.
Cheniere (LNG) builds LNG ports.
Can The U.S. Break Free Of OPEC Dependence?
With its new found bonanza of shale gas and oil, the surprising answer might just be yes, if we take the necessary steps.
Increasing gasoline taxes and the removal of oil, gas and ethanol subsidies would boost gasoline prices, reducing demand and perhaps accelerating the switch to natural gas for vehicles. Benefits would include less dependence on OPEC, a reduction in the trade deficit, and a reduced U.S. deficit. Subsidies are costly to taxpayers and distort markets.
The U.S. now knows it does indeed have large gas and oil resources. Does it have the will to make the tough decisions needed to reduce oil imports? If so, it may finally free itself from OPEC.
Disclaimer: This article is informative only - not personalized advice. I have no opinion as to the investment quality of companies mentioned. Chesapeake and GMX Resources are speculative positions for me. Do your own research and due diligence before investing.
Disclosure: I am long CHK, GMXR.