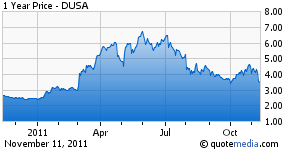 DUSA Pharmaceuticals, Inc. (NASDAQ:DUSA-OLD) – based in Wilmington, MA is a dermatology company engaged in the development and commercialization of Levulan photodynamic therapy (PDT). Utilizing their proprietary Kerastick 20% Topical Solution with PDT and the BLU-U brand light source for the treatment of non-hyperkeratotic actinic keratoses (AKs) of the face or scalp, the company aims to continue focusing on growing domestic PDT revenues and generate positive cash flows. AKs are precancerous skin lesions caused by chronic sun exposure that can develop over time into a form of skin cancer called squamous cell carcinoma (approximately 10% will turn cancerous). The Kerastick is a proprietary applicator that delivers Levulan, while the BLU-U is the patented light device, and they are regulated as a combination therapy with unified labeling. For a comprehensive overview of DUSA, see here. While the recent price action of the stock is enough to induce cardiac arrest in even the most composed volume and price volatility has decreased of late as the stock has fallen off investors' radar, Thursday's earnings release and conference call caused the stock to sell off sharply (approximately 13%), on what was a +112 point day in the Dow. Below I've summarized the highlights of the quarter, provided historical financial data, and updated forecasts.
3rd Quarter Highlights: The 3rd quarter featured a 10% year over year (YoY) increase in domestic Kerastick revenues (7% from a price increase, and 3% from a volume increase). The weak volume growth is a significant risk factor going forward, given that in the current healthcare environment cost increases significantly greater than the rate of inflation may not be possible. The $3.5 MM GAAP bottom line net income reflected the termination of a distribution agreement with Daewoong Pharmaceuticals (for Korea and Asia Pacific countries) for acceleration of deferred revenue of $1.4 MM and income from operations of $1.3 MM, as well as a decrease in warrant liability of $2.57 MM. As previously guided, the trial to expand the label to include shorter incubation times will begin in the 4th quarter. As a result, management expects a slight uptick in R&D costs going forward. While BLU-U devices sold exhibited a large, 54% increase over the prior year quarter, this is a result of the previous year's quarter being extremely low, and this now represents a normalized level.
Financials and Updated Forecast: DUSA uses a razor-razorblade business model (definition here). They make virtually no profit (<5% profit margin) on the sale of the BLU-U device and derive their profits from the Kerastick sales (~90% gross margin). Due to the seasonality of quarter over quarter comparisons, annual numbers are more relevant (see below). The company reached profitability on both a GAAP and non-GAAP basis for full year 2010; as well as, generated positive cash flow for the first nine months of 2011. As of September 30, 2011, total cash, cash equivalents, and marketable securities were $24.4 million. As the table and graph below show, the earnings are predictably seasonal and several trends are readily apparent. Backing out one time charges and international sales (which are already low), we can see the growth rate of the primary value driver, Levulan PDT (the razor blades). DUSA's cash stockpile is steadily growing, and although this quarter's low level of sales appear to represent a rough breakeven level with respect to cash flow, any additional sales flow to the bottom line; expenses and balance sheet line items do not greatly increase with larger sales of the Kerasticks.
click to enlarge images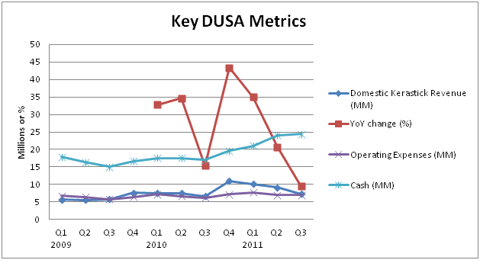 The company generated approximately $4.7 million in positive cash flow (change in cash and cash equivalents and marketable securities) during the first 9 months of 2011. Generation of approximately $2.3 to $3.0 MM in cash in the 4th quarter will lead to cash earnings of $7 to $7.7 MM for all of 2011 or $0.26 to $0.29/share with approximately $1/share in cash. Assigning a low multiple of 15 to the lower estimate provides a share price target of 3.9, well above the current share price. Current market capitalization is $87 MM with $24.4MM in cash, and no debt, for an enterprise value of $63 MM (not including NOLs). This of course raises the interesting question of: what will management do with the excess cash?
Conclusion and Future Directions: Unlike many small-cap biotech companies focused on developing candidates and securing FDA approval while fighting the cash burn, DUSA continues to commercialize its FDA approved levulan PDT and is generating significant positive cash flow. In the author's opinion, a lot of attention will be focused on the 4th quarter's results (historically the strongest quarter), now that year over year growth has diminished over recent quarters. If growth continues to be weak, which today's selloff seemed to imply, the market may assign a low P/E multiple and the stock may languish at these levels or lower. However, strong continued growth and a strong 4th quarter may significantly boost the share price.
Disclosure: I am long DUSA-OLD. Short November 5 calls