View: Chinese stocks look good value on a 6-12 months view, offer diversification
After being bombarded with bad news for months we've been digging around to find something more upbeat to chew over. Rather poignantly given the date (11/11/11) and their fondness for numerology our eyes turn to China. As ever there is a school still plugging the hard landing scenario as local asset (property specifically) bubbles deflate and a weakening export outlook pushes the economy over the edge. But looking at the data things might not be quite so bad.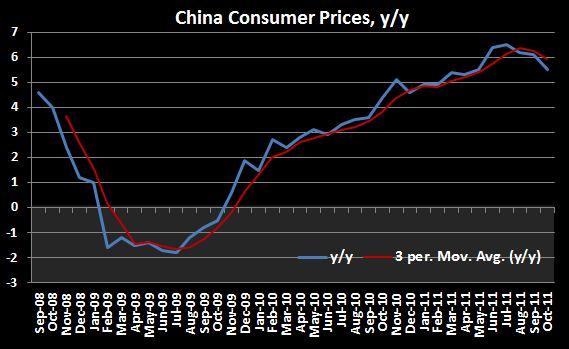 Click to enlarge
(Click to enlarge)
There are a number of factors at work; firstly inflationary pressures are easing off, in part due to Bank of China's earlier interest rate hikes feeding through as well as other less traditional steps taken to reign in the government fuelled credit boom. Additionally there is a helpful base effect at work and one of the principle drivers of the earlier inflation spike – the surge in commodity prices which resulted from the Fed's QE2 programme – is also abating. This drop off has already been seen in the CPI data and is supported by the money supply stats which have been trending lower since the start of 2010. This, in our view, creates a decent amount breathing space should any side effects wash over China from the eurozone debt crisis and/or soft US demand.
The trade figures released on Thursday morning were also quite supportive of the resilience argument. Although there was a weakening in exports (15.9% y/y vs. 16.1% median estimate) the import component continued to show robust growth picking up to 28.7% y/y vs. market expectations of 22.2%. It was this that drove the trade deficit below consensus rather than any surprise export collapse the wires editorial seemed to focus on. While there are often one off factors at work - the Chinese do after all have a habit of stockpiling goods when it suits them, as seen in the copper and oil import numbers this month - the broader domestic demand story continues to look encouraging.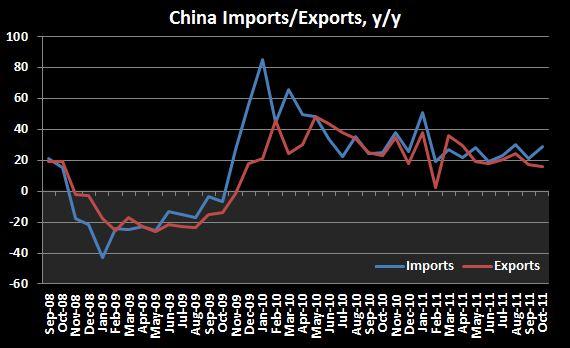 Click to enlarge
(Click to enlarge)
This can also be seen in the divergence between services and manufacturing PMI's and has no doubt also been helped out by accelerating wage inflation which may have eroded some Chinese competitiveness but looks to be an essential step to longer-term rebalancing away from savings to consumption. This should please the leadership, after all the focus of the twelfth five year plan (2011-2015) is to address both wealth inequality and increase domestic consumption. Such an outturn might look optimistic based on the risks stalking the global economy but we expect any material threat to be met forcefully, harking back to the aggressive stimulus (CNY4trn or approximately USD548bn) enacted in 2008 to combat the financial crisis and ensuing collapse in global trade. The government obviously has the financial firepower to enact similar measures should the need arise, unlike its developed peers. Additionally it has room to act on the currency, CNY appreciation already running at a slower pace than many expected.
Click to enlarge
(Click to enlarge)
Those fretting about bubbles deflating should also bear in mind the relative performance of the Chinese stocks since the S&P500 hit its low back on 6th March 2009. As can be seen on the chart Shanghai is up just 13% over this period vs. a gain of 59% for the Hang Seng and 60% for the DAX, most exposed to the European crisis. The mighty S&P meanwhile stands 81% above that famous 666 low. From an earnings perspective the SHCOMP doesn't look particularly expensive either, trading on a forward P/E of 11.8 while the Hang Seng, a suitable proxy (correlation 0.56) is now in single digits, in part due to the battering of the heavily weighted financial stocks. These multiples are not too far from the DAX it has to be said but the difference is the growth outlook is far superior out east. Chinese stocks also offer something of a diversification play. There is of course a correlation with core markets but the relationship is far looser than one might imagine, for example a daily correlation between Shanghai and the S&P is a measly 0.16 and to the DAX just 0.25.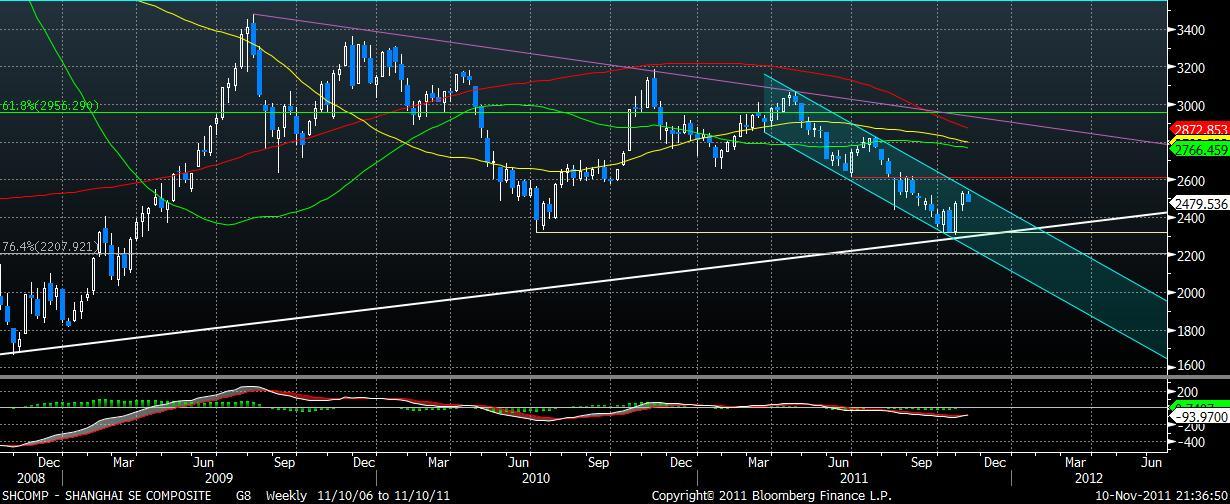 Click to enlarge
(Click to enlarge)
Given our bearish stance on global markets overall a buy recommendation looks premature and the immediate technical picture shows near-term pressure to the downside too. Indeed, the index is now running into channel resistance around 2,550 which has contained the market since the spring and above there faces a further block at 2,610. It's difficult to see a clean break near-term given the hostile European picture. On the plus side the market has managed to hold support at 2,280/2,320 where the longer-term weekly uptrend intersects the lows from June 2010. We will watch this marker closely as a failure here exposes the 2008 lows sub 1,700. We think a move back above 3,000 is possible if global markets can find a foothold, but at this juncture risk is rather asymmetric. Accumulating weakness is probably the best strategy for real money types, particularly if we see a price failure at 2,280 and volatility picks up. A better scenario however would be a break higher and pyramiding into a developing bull move.
Disclosure: I have no positions in any stocks mentioned, and no plans to initiate any positions within the next 72 hours.