Q3 RESULTS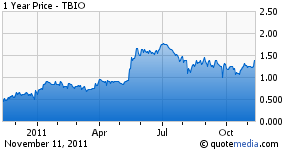 Transgenomic Inc. (NASDAQ:TBIO) reported financial results for the third quarter ending September 30, 2011 on November 9th. While revenue and gross margin came in lighter than what we forecast, some of this difference was made up with greater than anticipated trimming of operating expenses. While we have made some slight tweaks to our model, nothing in the earnings release or mentioned on the conference call provided any significant surprises or prompted any changes to our investment thesis or long-term outlook for Transgenomic.
Revenue
Q3 revenue came in at $8.25 million, up 87% y-o-y and was about 9% lower than our $9.07 million estimate. The majority of the difference between actual and our estimated number was a result of lower than modeled revenue from the Pharmacogenomics business. On an organic basis (i.e. - ex-FAMILION), revenue increased by approximately 19% y-o-y.
Laboratory Services revenue: Revenue from Laboratory Services, which includes TBIO's Neurology lab (or molecular reference lab), FAMILION franchise and the Pharmacogenomics research lab, was $4.65 million, up 268% y-o-y from $1.26 million in Q3 2010 but below our $5.11 million estimate. FAMILION, with $3.0 million ($2.91 million estimated) in sales, accounted for the majority of this growth, although the segment did post 31% organic growth as well. Organic growth came from 18% increase ($918k to $1,085k) in Neurology lab revenue and 60% increase ($346k to $552k) in Pharmacogenomics revenue. Neurology lab revenue came in ahead of our $860k forecast while Pharmacogenomics revenue was well below our $1.34 million estimate. Management noted on the call that they just received back two contracts related to its Pharmacogenomics lab services business - these will hopefully begin to contribute meaningfully to revenue in this segment in the near-term. In the FAMILION business, management noted on the call that they expect to launch their clopidogrel (i.e. - Plavix) response test this week concurrent with the American Heart Association Annual Scientific Sessions meeting. Transgenomic will be detailing the test to cardiologists via its FAMILION sales team which already has established key relationships in the test's target market.
On November 8th Transgenomic announced an agreement with ScreenCell whereby Transgenomic will distribute ScreenCells filtration products. The products are used to isolate and collect rare circulating tumor cells (CTCs) from blood. Transgenomic will initially sell the devices to their pharmaceutical customers and expects to eventually develop specific assays combining both CTC technology with their high sensitivity ICE-COLD PCR technology. The CTC technology broadens Transgenomic's detection capabilities whereby they will be able to detect both circulating tumor cells as well as circulating mutated DNA. Management noted that interest in CTC from pharmaceutical companies and other research organizations is significant.
Instruments revenue: Revenue from the Instruments business, which includes sales of proprietary and OEM molecular diagnostic instruments and related consumables, was $3.6 million, an increase of 15% from $3.2 million in Q3 2010 but below our $4.0 million estimate. Bioinstruments revenue increased 70% to $2.3 million ($2.1 million estimate) and benefitted from 3 orders that were placed in Q2 but weren't booked as revenue until Q3 (as also noted on the Q2 call). Meanwhile, bioconsumables revenue fell 28% and missed our $1.8 million estimate by about $500k.
On November 7th Transgenomic announced a distribution agreement with A. Menarini Groups whereby Menarini will act as the exclusive European distributor for Transgenomic's new WAVE MCE (Micro-Capillary Electrophoresis) testing instrument and related consumables. Menarini is a large medical device distributor in Europe and should provide Transgenomic with significant sales and marketing reach in that area of the world. WAVE MCE is expected to launch via Menarini in early 2012. This distribution agreement, coupled with near-term expected launches of new assays, could reignite growth of Transgenomic's instrument's business. As a result of the announcement of the Menarini distribution agreement, we have made some updates to our forecasted instruments business revenue - most notably that we now model this business to return to annualized growth beginning in 2013 (changed from 5% contraction in 2013 and flat to slight growth beginning in 2014).
Transgenomic also announced that they are nearing completion of their first assay incorporating ICE-COLD PCR. The assay, which detects drug resistance to mutations in K-RAS gene, is expected to enter clinical testing in Q4 and should be commercially available shortly afterwards. Launch of the assay will be a significant symbolic milestone for Transgenomic, as ICE-COLD PCR is expected to be a big long-term driver of the both the Pharmacogenomics and Bioconsumables businesses.
Gross Margins
Gross margin came in at 53.9% in Q3, below our 58.6% estimate. The difference largely due to margin in the Instruments business coming in well below our forecast (48.3% actual vs. 57.3% estimate). Meanwhile, the Laboratory Services margin was 58.1%, slightly below our 59.6% estimate but relatively very strong compared to the 29% logged for the full-year 2010, which was prior to the FAMILION acquisition. Efficiencies and synergies gained as a result of the FAMILION acquisition and leveraging fixed costs over a bigger revenue base has pushed Transgenomic's combined gross margin from 49.4% in the first nine months of 2010 to 56.2% through the first nine months of 2011. We model the current year gross margin to come in at approximately 56% and to creep upwards in later years with growth in the Pharmacogenomics business, which has mostly a fixed cost base which should be highly leverageable.
Operating Expenses
Operating expenses were $634k less than our estimate ($4.9 million actual vs. $5.5 million estimate), partially reflecting no stock option expense in the quarter and about $100k less than estimated R&D expense ($515k actual vs. $606k estimate).
Net Income / EPS
Net Income and EPS came in at ($1.55) and ($0.03) compared to our $0.04 and $2.71 million estimate. The difference is highly distorted, however, as we had to make essentially blind guesses to the expense on preferred stock line item - which is driven by the value of the embedded convertible options in the preferred stock, which is a function of the change in Transgenomic's stock price over the course of the quarter. This is also a non-cash expense. If we remove the effect of this from the income statement, actual and estimated net income and EPS would have been approximately ($954)k / ($0.02) and ($700)k / ($0.01).
Concurrent with the earnings release, Transgenomic announced that the holders of their Series A convertible preferred stock agreed to amend certain terms of the securities, including the elimination anti-dilution provisions and redemption features. The changes have the effect of reclassifying the preferred stock from a liability on the balance sheet to shareholders equity - which, going forward, eliminates the non-cash expense that has hit the income statement. In exchange for amending the terms, the preferred shareholders received common stock valued at approximately $300k.
Cash
Transgenomic exited Q3 with $1.4 million in cash and equivalents, compared to $2.6 million at the end of Q2. Cash used in operations was $986k in Q3 but stripping out changes in working capital, this was an inflow of $18 (i.e. - basically break-even). Cash used in investing activities was negligible.
OUR 2011 OUTLOOK
We model 2011 revenue of $31.5 million, down from our $33.0 million estimate prior to Q3 results. Our current revenue estimate implies growth of 57% from 2010 (flat on an organic, ex-FAMILION, basis). We look for Laboratory Services and Instruments to generate revenue of $18.1 million and $13.5 million, respectively. We think EPS comes in at ($0.25) in 2011 or about ($0.11) if the preferred stock revaluation expense and QTDP grant income are eliminated.
Laboratory Services
Our $18.1 million revenue estimate for Laboratory Services includes $15.6 million ($4.1MM ex-FAMILION) from the Clinical Lab segment and $2.5 million from Pharmacogenomics. We assume sales of the FAMILION tests, which are seasonally soft in 1H due to the reset of insurance deductibles at the beginning of the year, to grow sequentially from Q3 but on an annual basis come in about 12% lower than 2010. We think FAMILION returns to growth in 2012, benefitting from new product launches, including the imminent introduction of the Plavix response test. We model revenue from Transgenomic's legacy clinical lab (neurology) business to grow about 14% in 2011. Meanwhile, the pharmacogenomics business should experience strong growth throughout 2011 - we look for $2.4 million in revenue from this segment, implying growth of 80% from 2010.
Instruments
We model the equipment portion of Transgenomic's instrument business to fall 13% in 2011 to $7.3MM (average of ~ $1.8MM/qtr) but revenue from the consumables business to hold up much better due to new cancer kit launches and selling to a larger installed base. We model bioconsumables to fall 8% in 2011 to $6.2MM. Benefitting from the Menarini distribution agreement, along with new consumable product launches including several new cancer kits, we think the instruments business can stem the slide in revenue in 2013 and return to growth the following year.
RECOMMENDATION / VALUATION
Given that we model Transgenomic to post negative income and EPS through 2013, valuing the company using a near-term P/E multiple is not reasonable. Instead, we value the company using competitor price/sales multiples, calculated using estimated 2012 revenue. We looked at ten competitors which had at least one analyst estimate for 2012 sales - P/S multiples range from a low of 0.7x to a high of 16x. We removed both the high and low ratio in order to reduce the bias from outliers to the overall averages This left average comp P/S of 4.7x.
We model Transgenomic to post revenue of $36.3MM in 2012. Using the comp P/S ratio values TBIO at approximately $3.50/share. Based on the price that the shares currently trade at ($1.35), we think the stock continues to be significantly undervalued and, as such, we are maintaining our Outperform rating.
Disclosure: I have no positions in any stocks mentioned, and no plans to initiate any positions within the next 72 hours.
Disclosure: I/we have no positions in any stocks mentioned, and no plans to initiate any positions within the next 72 hours.
Business relationship disclosure: I work as a Consultant Analyst for Zacks Investment Research. The article is written by me and is 100% my opinion. I receive compensation from Zacks for writing equity research reports and providing valuation analysis on this company's stock and expect to do so in the future. Zacks receives compensation from the company. Please see the Zacks Disclaimer for further information: http://scr.zacks.com/Disclaimer/default.aspx