Throwing aside whether or not gold is in a bubble, gold exchange traded funds seem to be a crowded trade lately.
Options traders are positioning for more upside in gold ETFs by snapping up bullish call options at a brisk pace.
Bullish sentiment reflected in options on SPDR Gold Shares (GLD) is at the highest level since early August.
On Friday, Bloomberg reported gold traders and analysts are the most bullish in at least seven years as the eurozone debt crisis continues to heat up. Investors are buying the metal as the quickest pace since the summer, according to the report.
Gold prices were working their way back toward $1,800 an ounce following a brief foray above that level earlier this week.
"The major risk is that a sharp decline in global stock markets will lead to renewed margin calls and fund liquidations," said Adrian Day, president of Adrian Day Asset Management, in the Bloomberg report. That may prompt "many managers to sell gold, a highly liquid asset."
Many investors hopping on the gold bandwagon are relatively young, in the 20s and 30s, MarketWatch reported Friday.
"It was only a matter of time," said Divnain Malik, head of retail sales at Gold Bullion International, in the article. The younger demographic "seems to be catching on." The 25-to-35 year-old age bracket is the firm's fastest growing segment of buyers.
PowerShares DB Gold Double Short ETN (DZZ), ProShares Ultrashort Gold ETF (GLL) and PowerShares DB Gold Short ETN (DGZ) are among the exchange traded products that profit when gold prices fall.
ProShares Ultrashort Gold ETF
Click to enlarge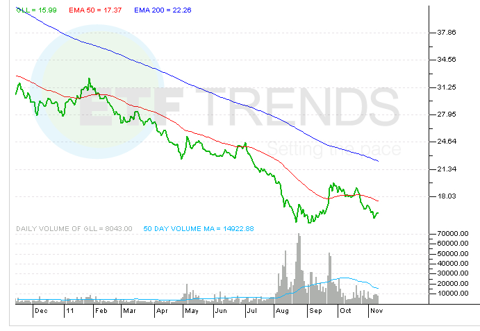 Disclosure: Tom Lydon's clients own GLD.