On Thursday, November 10, 2011, Chimera Investment Corporation (NYSE:CIM) filed with the SEC that it would not be able to file its 10-K quarterly report for the third quarter within the prescribed time period.
Chimera is a hybrid mortgage REIT. Mortgage REITs ("mREITs") buy mortgage paper as an investment, or in order to re-securitize them and sell them to another mREIT or some other entity that is investing in real estate loans. Non-agency and/or hybrid mREITs like Chimera, MFA Financial (NYSE:MFA) and Invesco Mortgage Capital (NYSE:IVR) hold mortgage paper without government agency backing. Chimera is related to Annaly Capital Management, Inc. (NYSE:NLY), the largest agency mortgage, and is managed by FIDAC, a subsidiary of Annaly. Other Agency mREITs include American Capital Agency (NASDAQ:AGNC) and Hatteras Financial (NYSE:HTS).
Chimera stated within this SEC filing that the delay is related to an accounting issue regarding the company's treatment of other-than-temporary impairments (OTTI). Chimera had previously evaluated certain investments in securities for OTTI under ASC 320 Investments-Debt and Equity Securities. Chimera stated that it now has determined that its investments in securities rated less than AA, non-rated non-Agency securities and other subordinate securities should be evaluated for impairment under ASC 325- Investments-Other – Beneficial Interest in Securitized Transactions.
The global financial crisis caused many mortgage-backed securities (MBSs) to decline below their amortized cost basis. Such securities are impaired under U.S. generally accepted accounting principles (GAAP). Assessing OTTI is complex and almost always involves substantial judgment regarding specific facts and circumstances associated with each individual security.
The greater the decline in fair value (severity) and the longer the security was impaired (duration), the more likely the impairment is OTTI. There are two accounting models used for assessing OTTI: (1) FSP FAS 115-1/FASB ASC 320-10-35, or the investment security model, which is the general model that applies to debt and equity securities; and (2) EITF 99-20/FASB ASC 325-40, or the beneficial interest model, which applies to securities that are interests in assets rated below AA or that can be prepaid in such a manner that substantially all of the recorded investment would not be recovered.
Generally speaking, for securities in the scope of the beneficial interest model, if the investor intends to sell the security or it is more likely than not that a sale will be required, then the security is OTTI under the investment security model and should be 
written down to fair value through earnings. Conversely, if the investor does not intend to sell the security and it is not more likely that a sale will be required, then the securities should be evaluated for OTTI under the beneficial interest 
model. Therefore, it is possible that such an accounting change could be brought about by changes to estimated probabilities of required sales or an investor changing their possible actions on some later date. Such future predictions are at least partially subjective.
The SEC has previously indicated that it is acceptable to determine whether a security is within the scope of the beneficial interest model at acquisition and on an ongoing basis, such as evaluating a change at each period-end. Therefore, it is possible that Chimera's change in accounting treatment for some of these securities is based upon a judgment made at the end of the second or third quarter and not due to prior inappropriate treatment. It could also mean that certain securities showed a considerable reduction to their cash flow.
Beneficial interest model impairment recognition is similar to the investment security model, except credit loss is determined based on discounting cash flows expected to be collected through the yield currently used to accrete the beneficial interest rather than using the original effective interest rate. Essentially, the accounting would be revised to use newer information about a security that has substantially changed.
Given the limited information provided within Chimera's notification of late filing, it is difficult to quantify what change in security valuation this may create. In many ways, this change in accounting practices is a move toward a standard that was created in contemplation of the type of distressed MBSs that Chimera holds. The change in accounting should not alter the actual performance of these securities, but it could help develop a better prediction of their future performance.
Chimera did not provide a press release for this SEC filing, which may have caused many investors to wonder why Chimera was down so much on Thursday, November 10, 2011. The company was down 6.88% at the close of the day, returning to the low end of its recent trading range. See Chimera's recent chart:
Click to enlarge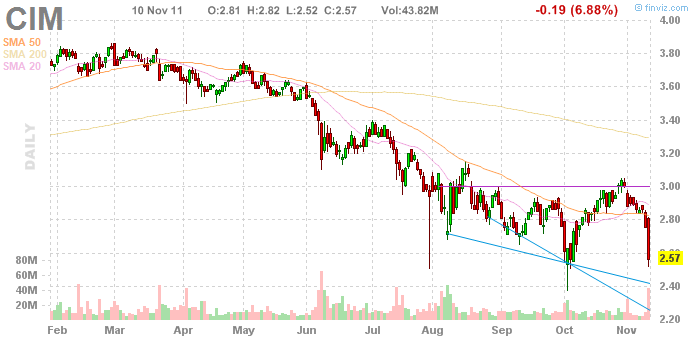 Click to enlarge
This drop appears largely based upon the added uncertainty that Chimera's filing generated, including a fear of diminished future payouts from the mREIT's non-agency portfolio. Such fears may be overestimating both the cause and effect of this re-evaluation that does appear correct in light of Chimera's long-term holding of non-agency securities. Nonetheless, until Chimera does provide a report for the third quarter and lay to rest the present accounting fears, investors should brace themselves for another potential shoe to drop.
Disclaimer: This article is intended to be informative, and should not be construed as personalized advice, as it does not take into account your specific situation or objectives.
Disclosure: I am long NLY, CIM.